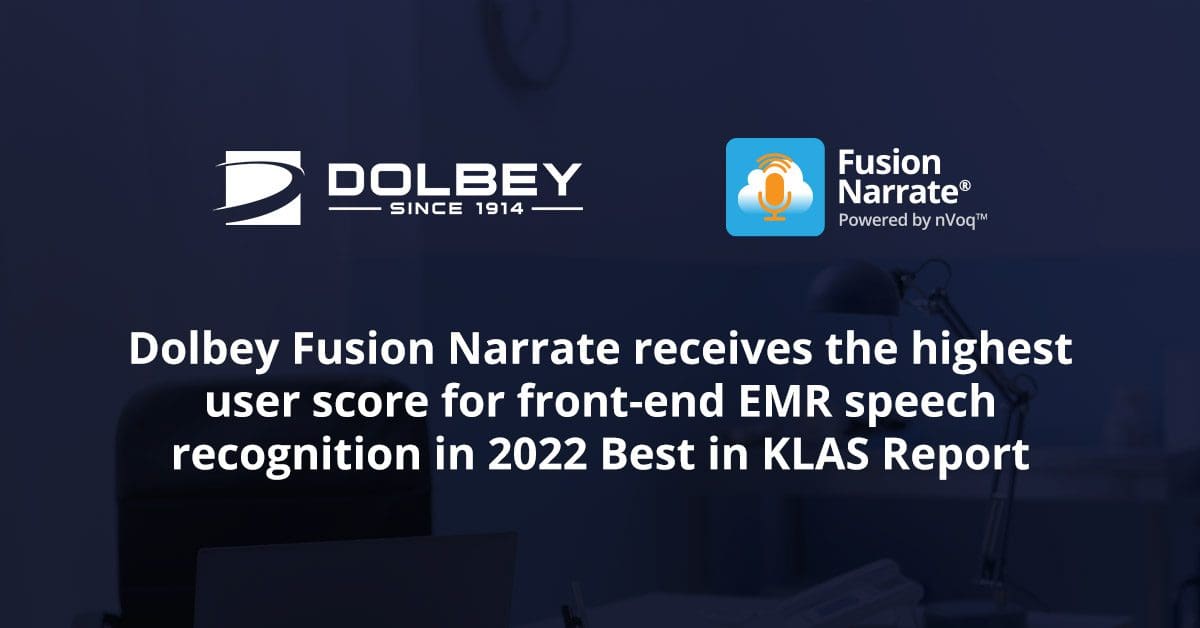 CINCINNATI, OH – Mar 28, 2022 – Dolbey, a leading provider of cloud- and premise-based speech recognition solutions for healthcare, was recognized for notable performances across its solutions in the 2022 Best in KLAS: Software & Services report.
In this report, Dolbey received the highest user score for Fusion Narrate® powered by nVoq™ within the Speech Recognition: Front-End EMR product category, with an overall performance score of 90.8. This marks the third year in a row that Dolbey speech recognition solutions have received the highest user score in this category.
In the Speech Recognition: Front-End Imaging product category, Fusion Expert® powered by SpeechMagic™ received the second highest user score: 88.7, scoring close behind MModal Fluency for Imaging which received a score of 89.0. The report also notes that 100% of surveyed Fusion Expert users agreed that Dolbey keeps all promises and that Fusion Expert is part of their long-term plans.
"Each year, thousands of healthcare professionals across the globe take the time to share their voice with KLAS. They know that sharing their perspective helps vendors to improve and helps their peers make better decisions. These conversations are a constant reminder to me of how necessary accurate, honest, and impartial reporting is in the healthcare industry. The Best in KLAS report and the awards it contains set the standard of excellence for software and services firms," stated Adam Gale, Co-Founder and CEO of KLAS Research.
"Dolbey is honored to receive top-score recognition from our customers, and KLAS, for a third time in a row in the Speech Recognition: Front-End EMR category. For decades, we have listened closely to our healthcare partners in order to execute our mission of providing excellent solutions and personalized customer care," stated John Dolbey, SVP and General Manager at Dolbey. "Our customers make us better, and we will keep listening. As KLAS continues to be the most direct and insightful survey system for the healthcare market, we look forward to hearing more and more from the experts on the front line in our industry."
About Dolbey
Dolbey's award-winning healthcare suite of solutions improve productivity while delivering better documentation, improving patient care. Since 1914, Dolbey has consistently evolved its products, incorporating the latest technologies available to meet the demands of the healthcare community. Today, Dolbey's suite of products includes speech recognition (premise or cloud-based), CAPD, CDI, CAC, transcription and dictation. To learn more about Dolbey's speech recognition solutions, visit www.dolbeyspeech.com.
About KLAS
KLAS is a data-driven company on a mission to improve the world's healthcare by enabling provider and payer voices to be heard and counted. Working with thousands of healthcare professionals, KLAS collects insights on software, services and medical equipment to deliver reports, trending data and statistical overviews. KLAS data is accurate, honest and impartial. The research directly reflects the voice of healthcare professionals and acts as a catalyst for improving vendor performance. To learn more about KLAS and the insights it provides, visit www.klasresearch.com.
For further information or other inquiries, please contact Brian Gaysunas at 800-756-7828 ext. 210 or at bgaysunas@dolbeyco.com.