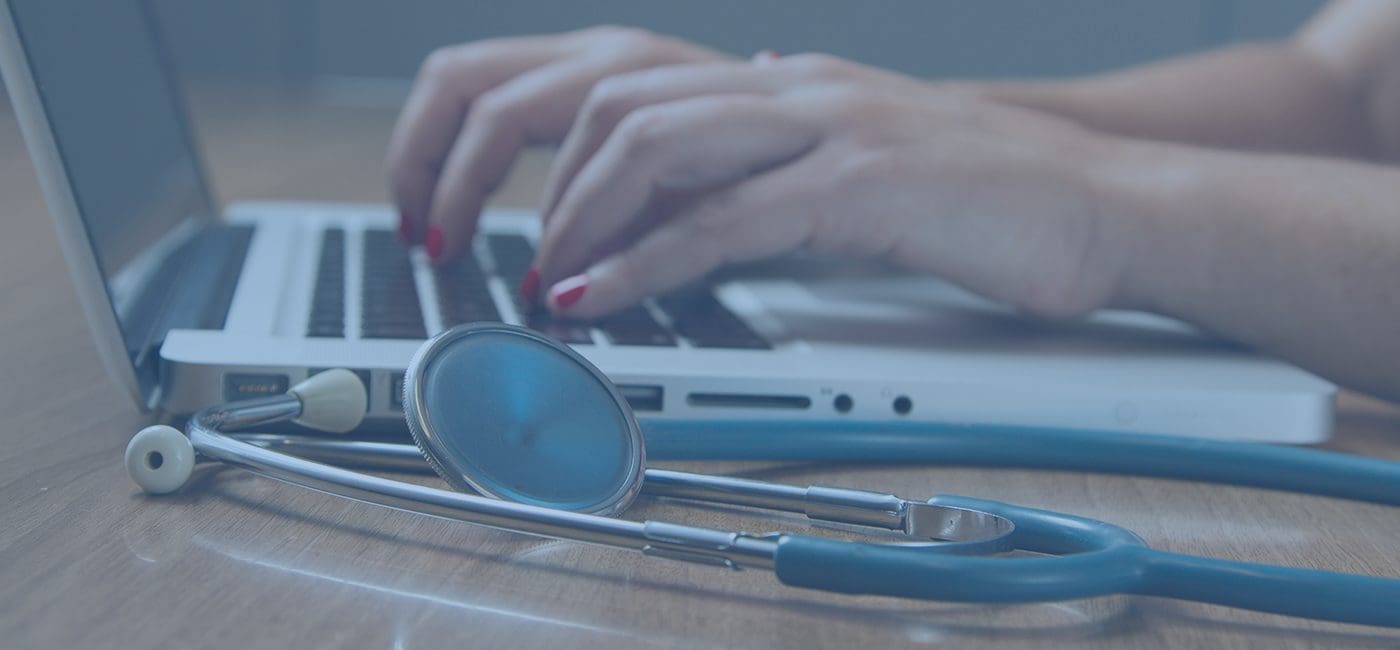 By Angela Lima, BS, CCS, CDIP, CIC, COC for For the Record
Libman Education's survey found that 87% of respondents plan to increase their coding expertise.
As you read this article, you're probably sitting in your home office, drinking your third (or fourth) cup of coffee, and perhaps even wearing your favorite pair of slippers. That's because, according to Libman Education's HIM census, 86% of HIM professionals indicate they now work entirely or partially from home. The survey, conducted in May, features responses from more than 1,500 participants nationwide.
Although this shift has created a better work-life balance for many people, it has also forced coding professionals to address two critical questions: How can we ensure consistent and compliant coding while working remotely? And how can we pursue—and thrive—in new and emerging roles?
We asked several seasoned industry consultants to help answer these questions. First, some action items for coding managers.
Build a reference library. Arm coders with resources so they feel confident in the codes they assign—especially as coding guidance changes and evolves with COVID-19.
"In my 18 years of coding, this is the first time I've ever seen such huge coding changes midstream between annual updates," says Cari Greenwood, RHIA, CCS, CPC, CICA, an independent coding consultant. "I think COVID-19 has really highlighted the need for ongoing coding education and resources. You have an emergency preparedness plan for hurricanes and fires, but what about if there's a pandemic—and you have all of these coding changes to implement? How quickly can remote coders shift and learn something new in a short amount of time?"
Greenwood suggests bookmarking specific resources provided by the Centers for Disease Control and Prevention, National Institutes of Health, Centers for Medicare & Medicaid Services, AHIMA, and AAPC.
Organizations can also expand this library beyond COVID-19 to include all types of coding resources and internal decisions, says Lynn Kuehn, MS, RHIA, CCS-P, an independent health care consultant. "The most important thing is to be able to resolve questions quickly and accurately, disseminate that information, and memorialize it via the reference library," she says. "That helps keep remote coders as productive as possible."
Here's how it works for several of her clients: When a coder is unsure how to code a particular case (or two coders don't agree on a code), they send it to their team leader. If the team leader is unable to reach a resolution, they send the case to Kuehn, who acts as an arbitrator and provides a written opinion based on official resources. The information is then included in the library for all staff to reference.
"Facilities must understand that productivity comes from knowledge," Kuehn says. "If coders have tools they can use to find answers, productivity will always be better."
Ensure consistent messaging. To promote coding consistency, coding managers should ask staff to participate in the same educational opportunities (eg, webinars, online courses, or podcasts)—particularly around the application of new codes, guidelines, and regulations. There will likely be fewer denials when everyone hears the same message based on official guidelines.
Look for scenario-based training. Fifty-two percent of respondents said keeping up with annual coding changes is a concern. Forty-nine percent said preparing for ICD-11 and other major revisions is a concern. The message is clear: Coders want more education. However, not just any education—the goal is to help coders apply what they learn so they don't become encoder-dependent.
Foster camaraderie. Even though being able to function independently is important, the last thing any coding manager wants is for remote coders to frequently rely on Google when coding questions arise. Why? It may be difficult to determine whether the information is based on official guidance or someone's personal opinion. Keeping the lines of communication open between coworkers—even in a virtual work environment—ensures coders can turn to one another for help.
"My fear is that managers will say, 'There's nothing we can do,' instead of trying to find a workaround," says Kim Huey, MJ, CHC, CPC, CCS-P, PCS, CPCO, an independent coding and reimbursement consultant. For example, coders can benefit greatly from physician-led virtual educational sessions, virtual coding roundtables, and messaging apps, she says.
Focus on cross-training. Some questions to consider: Which coders do you anticipate being pulled into COVID-19 coding should another surge occur? Who will cover for those coders, and are they properly cross-trained? Remember that cross-training isn't just about coding, Greenwood says. Managers can also train coders to audit, perform clinical documentation improvement, and more to help address needs.
Engage the most experienced coders. Don't lose the institutional knowledge. What skills do the next generation of coders need, and how can managers leverage existing staff to mentor others? This is especially important as experienced coders face retirement.
Looking Ahead
As patient volumes continue to increase, health care organizations have begun to refill and even add new coding positions. "We haven't had a mass hiring like this since we were trying to get ready for ICD-10," Kuehn says.
The future is ripe with opportunities for those who are what Kuehn terms "intellectually curious": "These are the coders who want to know the science behind the diagnosis and procedure," she says. "They see coding as a profession, not a job. They want to investigate each case and know they have the right answer. These are the coders who will be successful. They're the ones who will bring the most value to an organization."
Auditing is an area in which coders will be increasingly in demand, whether it's to oversee new hires working remotely, validate outsourced coding, or even audit the internal auditors to make sure everyone applies rules and regulations consistently. Not surprisingly, 61% of respondents want to increase their auditing experience. Of these, 25% want to increase their inpatient auditing abilities specifically.
What are organizations looking for in an auditor? Sixty-four percent of respondents said the ability to communicate followed by broad coding skills (57%) and good interpersonal skills (49%).
Another new and emerging role is that of coding policy writer and regulatory expert—someone with significant coding experience who is charged with staying abreast of coverage and policy changes, ensuring all policies reflect the most up-to-date information and educating staff accordingly, says Victoria Jennings, RHIA, CCS, CPC-A, new provider coding educator with Millennium Physician Group, a large multispecialty physician group with more than 500 providers throughout Florida.
"Creating a policy is particularly important for the gray areas," she says. "We shouldn't have people guessing on the gray areas. Those areas are gray for a reason, and that's where coding inconsistencies can happen."
Career Advancement
However, despite these opportunities, nearly one-half of the respondents (49%) said they are concerned about increasing their skills to advance their careers. They have other concerns as well. (See the sidebar below.)
Consider the following advice:
Communicate goals and aspirations. For example, coders could ask their manager: "I love coding emergency department cases, but I'd like to take my skills to the next level. What do you recommend? What are the needs in our department, and can I get trained so I can help?"
Share coding knowledge for the greater good of the organization. For example, coders can ask themselves these questions: "Did a recent code change create the need for greater documentation specificity? If so, how can I educate physicians virtually about that change? Does the organization plan to add a new service line? If so, what are the coding implications, and what does the organization need to do to prepare?" Educating others about necessary steps and considerations is paramount.
Invest in your own education. In health care, there's always something new to learn. An investment in education is an investment in yourself. It's part of a coder's professional development, and it can help advance careers and add value to the organization. For example, is there a new vaccine? What's the corresponding code? Is there a new surgery? Watch a video to understand the correct ICD-10-PCS root operation. What about a newly approved service for telehealth? How do payer requirements apply?
The more skills coders have in their toolbox, the more likely they are to withstand future industry changes regardless of what form those changes take. The good news is that 87% of respondents wish to increase their coding expertise, with inpatient coding being at the top of the list followed by increasing proficiency in medical specialty coding and risk adjustment coding. Other skills on the wish list? See the sidebar below.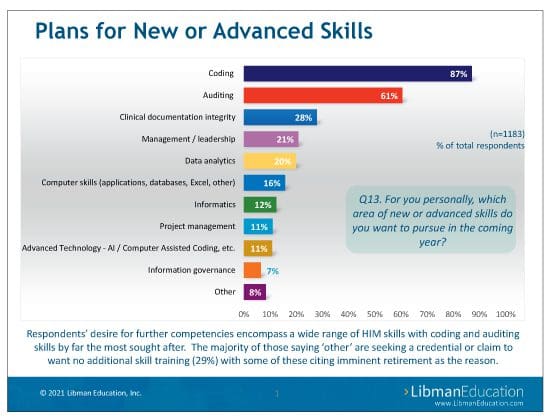 "No one can ever take knowledge away from you," Huey says, adding that coders need to be proactive in their approach. "Too many coders wait to get the memo. They need to read and stay on top of information," she says.
Remain nimble. This includes being willing to embrace new responsibilities. For example, as outpatient services decreased during COVID-19, outpatient coders were retrained for inpatient coding or deployed to other service areas within the hospital. As outpatient services began to return, some inpatient coders were pressed into outpatient coding. Being willing to take on new tasks makes coders increasingly valuable during times of uncertainty. Likewise, coders who embrace a new EHR or other application challenges are more likely to succeed.