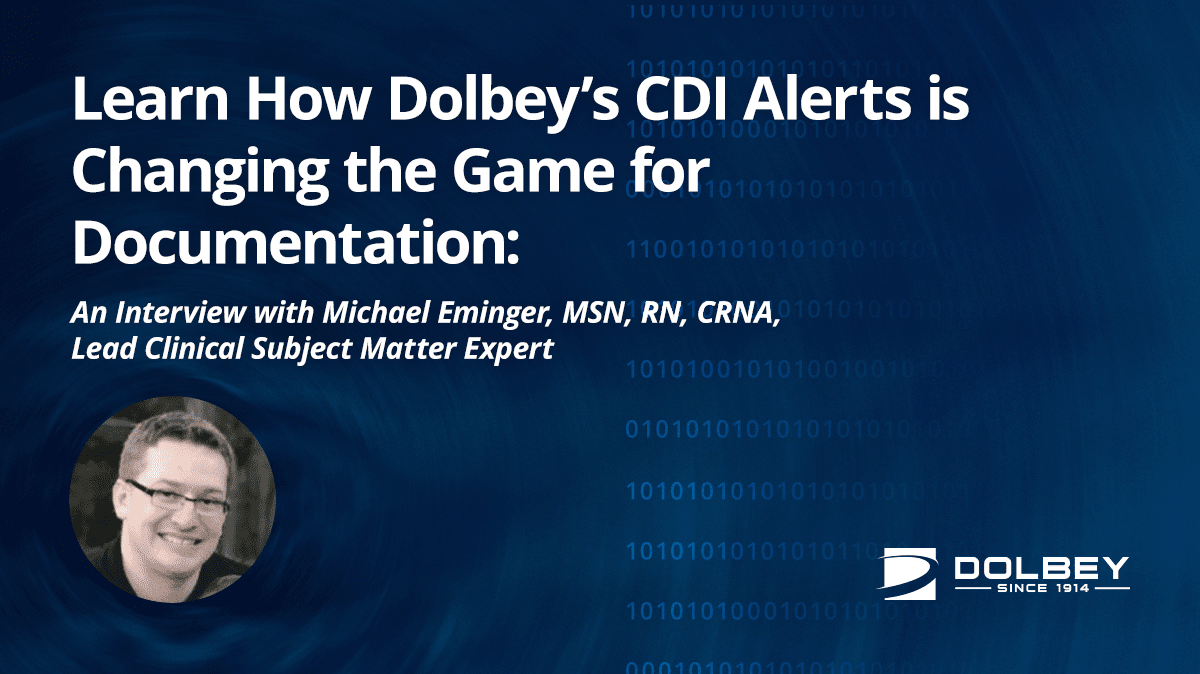 The team at Dolbey unveiled their newest innovation, CDI Alerts™, at the 2023 ACDIS National Conference in May. CDI Alerts is an add-on feature for the already robust Fusion CDI software, used by hospitals' clinical documentation integrity staff (CDIS) to assist in capturing the most accurate documentation possible. But how exactly is CDI Alerts changing the game for documentation? I asked Dolbey's Lead Clinical Subject Matter Expert, Michael Eminger MSN, RN, CRNA a few questions to get a better understanding of the newest advancement in CDI. Check out our interview below:
RT: In a few sentences, can you explain what CDI Alerts is?
ME: CDI Alerts is a module within Fusion CAC that generates automated messages to prioritize workflow for the clinical documentation integrity (CDI) team. CDI Alerts is used to detect potential inaccuracies, inconsistencies and/or discrepancies in clinical documentation. These alerts help CDI teams to prioritize the charts based on potential query opportunities and move charts with the most need for improvement to the top of workflow. CDI Alerts displays a topic along with a message, so the CDI team is aware of the possible issue that the system identified. 
RT: Describe the inspiration behind the development of this new feature?
ME: The real inspiration behind this product is improving patient care. With CDI Alerts, we strive to ensure that a patient's medical record is comprehensive and precise, providing all healthcare providers and clinical staff with an accurate and complete understanding of the patient's condition. With greater accuracy in the medical records, patient outcomes and overall care will be improved.
RT: What are the biggest benefits and advantages to using CDI Alerts?
ME: The primary advantage of utilizing CDI Alerts is its ability to pinpoint charts that require attention, specifically those with inaccuracies, inconsistencies, and missing or incomplete information. This targeted approach ensures that the CDI staff's valuable time is utilized most efficiently. What sets CDI Alerts apart from other solutions is that it not only prioritizes charts but also provides clear justifications for the prioritization, along with the evidence required to construct a well-informed query to be sent to the physician. By presenting this valuable information upfront, CDI Alerts significantly reduces the time the CDI staff spends sifting through documents to locate evidence supporting their queries resulting in greater productivity and focus on addressing critical chart deficiencies.
RT: Can you explain the underlying technology behind CDI Alerts and how it identifies potential documentation gaps or areas for improvement? 
ME: CDI Alerts utilizes a patent pending combination of technologies including advanced machine learning and artificial intelligence. When information is added to the chart, it prompts algorithms to run and thoroughly analyze the patient's chart. These algorithms search for errors within the chart. Subsequently, it searches the chart for supporting evidence, which is then used to construct a query aimed at rectifying these gaps in the documentation. This sophisticated process ensures that CDI Alerts is equipped to enhance the correctness and completeness of the patient's medical records, contributing to improved overall patient care.
RT: What else do you want potential customers to know about CDI Alerts?
ME: I want to emphasize that our software is not designed to replace CDI staff; instead, it is intended to empower them to maximize their potential. It complements and enhances their abilities, making their work more efficient and effective. But it is essential to understand that this software is not a one-size-fits-all solution. Each customer has the flexibility to customize the discrete values collected, ensuring that the software aligns precisely with their specific needs and requirements. Furthermore, transparency is crucial to us. We have built-in reporting on CDI Alerts that provides valuable feedback to Dolbey's clinical team. This continuous feedback loop allows us to improve and fine-tune our software consistently, ensuring it remains the best possible solution for our customers. Another significant advantage of our software is that it does not require a lengthy learning period. Once implemented, it immediately starts making a positive impact.
---