KLAS Report
Dolbey's Fusion CAC
The Dolbey Fusion CAC computer-assisted coding solution has been ranked Best in KLAS for the sixth year in a row. Dolbey's Fusion CAC is utilized by hospitals and health systems to streamline the entire revenue cycle process. Fusion CAC uses a single engine that leverages artificial intelligence (AI) and advanced machine learning (ML) technologies to enhance documentation integrity, proper reimbursement and regulatory compliance.
"There is no greater compliment than the approval of our partners, our customers. The feedback from KLAS Research culminates with the Best in KLAS award, but we value the feedback all year long. It guides our efforts to make sure our solution and our service are meeting expectations."

— Heather Gladden, CCS, Product Manager, Dolbey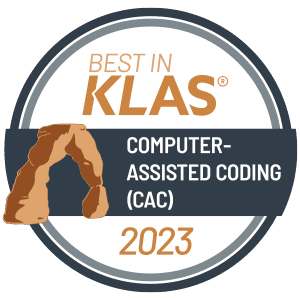 Best in KLAS
for the 7th year in a row
Fusion CAC
Computer-Assisted Coding
2017, 2018, 2019, 2020, 2021, 2022 and 2023
How do Computer-Assisted Coding (CAC) solutions compare? [*]
"The people at Dolbey are extremely easy to work with and knowledgeable about what they are doing and what the product can do. The vendor is very transparent about what they are capable of, and that makes their product even better. They have a lot of expertise on the coding side, and that translates into their software. Dolbey is very open to suggestions from their clients, and they implement those suggestions."
Director
Relationship - December 2022
"Fusion CAC is very user friendly. A coder can go in and learn the product by themself. It is a great product for workflow and usability. There have been a lot of improvements when it comes to workflow. Building our own validation results was a big one. The validation results prevent the coder from completing the account unless certain things are completed, so it helps prevent things from being missed."
Manager
Functionality and Upgrades - Novemeber 2022
"With Fusion CAC, we have increased productivity with coding and CDI. We also use a feature to code and close numerous accounts every month without anybody touching them. That feature saves us the trouble of finding a new coder."
Manager
ROI/COST - September 2022
"What I like about Dolbey is their management. I have been with them for a long time, and we usually deal with the same people. Even if the normal people are not there, the person that we get still has the same loyalty to their company; that is always the same regardless of who we get. The vendor's people are very helpful, and they problem solve. I like that. They always check up on us to see whether everything is working okay and whether there is anything they can do or escalate. They are proactive."
Director
Relationship - January 2023
"One of our IT people expressed that another vendor should be more of a true partner like Dolbey has been. If we are having a problem, Dolbey's executives will call us to see what they can do. The executives are very engaged. The company is excellent. We are working with Dolbey on a project that has gone very well so far. I don't have any doubt that the product will work as they have told us it will and as we have asked for it to work."
Director
Relationship - September 2022
"The implementation was very smooth. Dolbey goes above and beyond to get the job done and make things work. They are very responsive on support as well and communicate about how a ticket is progressing. They make sure we know where things stand and don't close tickets until we have had full communication."
Director
Service and Support - December 2022
"Anytime I reach out to Dolbey, the people are very friendly. Everybody knows everybody by name. The vendor is super responsive and helpful."
Manager
Relationship - September 2022
"Our coding productivity went way up after we went with Fusion CAC. Our output is now higher, and we have fewer errors. Fusion CAC is a great system."
VP/ Other Executive
ROI/ Cost - March 2022
"We were using a tremendous number of outside coders when we started, and we almost immediately eliminated all of them once we implemented Fusion CAC. The system has significantly improved coder productivity. The implementation went well, and Dolbey gave us everything they promised. I would definitely recommend Fusion CAC."
Manager
ROI/ Cost - June 2022
"Everyone was pretty excited to have Fusion CAC because we learned the hard way how much time it takes to code in our traditional EMR system versus in Dolbey's system. I needed Fusion CAC in my life."
Analyst/ Coordinator
ROI/ Cost - June 2022
"When we started computer-assisted coding, we reduced our coding staff by almost 50%. Now that we have integrated another piece into the product, our coders and CDI team are working from a single platform; that has saved us a lot of time and effort."
Director
ROI/ Cost - September 2022
"The vendor just started doing a Dolbey community, and whenever there is an update, they have a little webinar where they go over all of the updates. We really like the webinars, and they set Dolbey apart from some of their competitors. The creation of the Dolbey community was very unique. It is an area where we can post questions and have a discussion thread on different issues that we are finding, and those things are open to all Fusion CAC users."
Manager
May 2023
We keep our promises.
Witness it first hand, directly from our Fusion CAC customers:
Testimonials taken from KLAS Reports 2020-2023
Service and Support
The support is excellent. If Dolbey can't handle something, they get somebody else. We do have executive involvement. Dolbey goes out of their way to help us meet our needs. Our hospital is very custom oriented for certain things. We have older systems that we have to work with, and Dolbey goes out of their way to help us solve problems. Dolbey is always striving to improve everything. They just came up with something recently that was a showstopper for us. They were able to test it on their side, and it works fine. It is great.
Analyst/Coordinator
February 2022
| |
The vendor will listen to our ideas. Many of our requests have been put in future upgrades. Dolbey's software is very easy to customize and work with. We have hiccups with technology, but Dolbey is always so diligent to work and resolve any workflow issues we have to get us back up and running. They pinpoint what the trouble is and then restore things for us. Dolbey has always been great in dealing with those things. I believe this company is going to continue to grow, listen to our needs, and meet our needs.
Manager
October 2021
| |
Our medical-record folks are really impressed by Fusion CAC. They haven't had any major complaints. Dolbey is very good at fine-tuning the system when there are problems. Dolbey works diligently until the system is doing what it is supposed to be doing. Dolbey's customer service is exemplary.
Analyst/Coordinator
March 2021
| |
Functionality and Upgrades
When managing coders, we need good metrics to judge their productivity and quality. Fusion CAC is very handy for us because it allows us to automate our processes. CAC tools don't usually have productivity metrics built into them, but this one does.
Director
December 2021
| |
One of the things that people are always concerned about when moving to a new CAC product is how the work that they do on that product will affect their encoders. It is hard for vendors to give providers a good demonstration of that. Saying that the solution works and showing that it works aren't the same as providers trying out the solution in their own environments. People need to understand that one of the benefits of Fusion CAC is that it will automatically open up an encoder. Then, providers aren't just running a separate session. They are running a session within a CAC system. That is wonderful because of how integrated it makes the experience. We don't really have to do anything. The integration between our encoder and Fusion CAC is very slick and seamless.
Director
December 2021
| |
I am in love with Dolbey's product. It is intuitive. Dolbey has streamlined our processes. We have made a lot of custom enhancements to the system so that we can do the things that we need to do. It autocodes pieces of our account. We have automated reports that go out to various departments for deficiency. The system is working well for us.
Manager
September 2021
| |
In terms of the product working as promoted, there were no surprises. In fact, the product is even a little better than what the vendor proposed. They were conservative, and we were skeptical as to whether the vendor could deliver what they said they would deliver. But they do deliver across the board. When we onboard coders, the product is easy for them. I rarely have any issues with our training. We even did an integration with our quality department, and the people picked the system up almost instantaneously.
Analyst/Coordinator
September 2021
STARS NOT AVAILABLE
I like the way our interface is set up to be pulled to Fusion CAC from our EMR so that we know things like patient demographics and dispositions and whether we need to make edits. Maybe a case manager contacts us and says that originally a patient was going home, but now they are now going to a skilled facility. That change is made using a dropdown. We select what we need, and making a change is as easy as highlighting, launching our encoder, and running our coding pathway. I like the fact that on our code summary tab, we can rearrange codes without having to relaunch our encoder.
Analyst/Coordinator
August 2021
| |
Fusion CAC is great when it comes to the ease and simplicity of the screen. I have seen some systems that are very overwhelming. They aren't user friendly, and we have to dig for what we are looking for. With Fusion CAC, everything is right at our fingertips. In great detail, Dolbey went over where information could be found. When it comes to us tuning codes, or if we are picking something up that maybe wasn't suggested by the software, it is easy to highlight and launch our encoder and plug that code in. The code automatically attaches to the document.
Analyst/Coordinator
August 2021
| |
I have had organizations inquire about Fusion CAC and come to see it. I tell them I don't ever want to lose Fusion CAC. I tell them about how well it has worked for us. I tell them about how using the product is a lot quicker for all of our coders. Knowing what Dolbey offers and hearing what other organizations' processes are now, I know that their minds are going to be completely blown when they go live with the system. Fusion CAC is going to assist coders with reports and chart assignments. There are things other organizations do manually where their coders have to select charts each day and code based on those charts. With Fusion CAC, the organization can set parameters. So with coder A, certain charts fall in their queue, and with coder B, certain charts fall in their queue. I have shared that information and have showed organizations how to tune code suggestions. I think that a group I shared Fusion CAC with was impressed enough with what they saw that they decided to pursue it for their facility.
Analyst/Coordinator
August 2021
| |
Since we have gone live, there have been a lot of improvements to the system. Dolbey is great at taking suggestions from clients and improving the system. And they have made a lot of strides in improving the reporting functionality. For the account search feature, Dolbey has made it so we can automate more of the reports. We build a report, and it is automatically emailed to us however often we want. The vendor has also added quite a few other reports based on requirements that different clients ask for. Those also can be automated and emailed periodically, and that is nice.
Manager
July 2021
| |
Relationship
I have not had any issues. Dolbey has been able to do anything they said they would. Fusion CAC works great, I like that I can put my own spin on things and that everything doesn't have to be done by Dolbey. They give advice and guidance as needed, and I know that anytime issues come up, they will get it into the next version and push it out as soon as possible. Dolbey will stay in contact to see whether any help is needed during testing.
Analyst/Coordinator
February 2022
| |
Healthcare is always changing, so our focus may need to change in different areas. Dolbey has been so easy to work with. If we need to monitor something, we ask them to build us a report, and they help us build our own reports. Dolbey will also build a standard report if other customers could use it as well, and they go ahead and release it out to everyone. Medicine changes every year, and Dolbey has been great to keep up with all of this.
Manager
October 2021
| |
If we could give Dolbey an even higher score, we would. We hold all of our vendors to the same level of accountability, and that is probably hard for the vendors. Once someone has a vendor like Dolbey, it is hard to accept anything else. From a project-deliverable perspective, Dolbey is spot on. They hit their deadlines. For the initial implementation and subsequent upgrades, I don't remember Dolbey ever missing a deadline. That doesn't happen. In fact, Dolbey is usually ahead of schedule.
Analyst/Coordinator
September 2021
Stars Not Available
ROI/Cost (care and feeding)
Fusion CAC is an excellent product. It gave us a very quick return on our investment. When we originally put the solution in, we saw an immediate drop in our own build and immediate increases in our case-mix index and overall coding quality. I always tell people that this product will make them look good because it will help them so much in their day-to-day work. It helps us with things that are uncoded. If those things go down, Then our case-mix index will go up. All of our financial people are concerned about that. The solution also helps us with our risk-adjustment-factor scores and Hierarchical Condition Category captures. It also helps us with our carbon copy and blind carbon copy captures. Other vendors' solutions don't do those things.
Director
December 2022
| |
Fusion CAC is easy to use and easy to train others on. I am able to drive the product myself. It is a great solution for a small facility like ours. I would go as far as to say that Fusion CAC has increased our internal staff's productivity.
Manager
October 2021
| |
Dolbey goes out of their way to make sure we get our money's worth. Dolbey tells us that they don't want us to pay for something unnecessarily. They are very conscious of cost. Dolbey is great. I can't say enough good things about them.
Manager
September 2021
| |
Implementation and Training
The solution's implementation can be done in a few months, and a lot of the implementation is done by Dolbey. Providers have to map their documents over to the solution, but that only causes a short disruption to their workflows. From there, the solution will only be an enhancement to their workflows.
Director
December 2021
| |
I was really impressed with Dolbey's go-live and build processes. Their team was extremely responsive. They specifically listened to what our needs were on the CDI side, and they worked hard to make those things happen. We never felt like we were being blown off or ignored. We felt like the vendor considered everything, and they did as much as they could to get the product to work in the easiest and best way for our team.
Manager
September 2021
| |
When we did our last upgrade, we had to basically retrain all of the coders. Dolbey set up so many sessions to make sure that everybody had a chance to come in and wasn't put out of his or her way to come in and learn new things. Dolbey had workbooks, and they customized their help documentation to our hospital specifically so that we wouldn't see a screen from another health system, and that was good.
Analyst/Coordinator
March 2021
| |
When KLAS asked "Would you buy again?",
100% of respondents answered YES!
Want to learn more? Contact us!
Selected commentary collected about Dolbey Systems, Inc., Fusion CAC, Computer Assisted Coding Report 2019-2021,
© 2019-2021 KLAS Research. Visit klasresearch.com for a complete view.