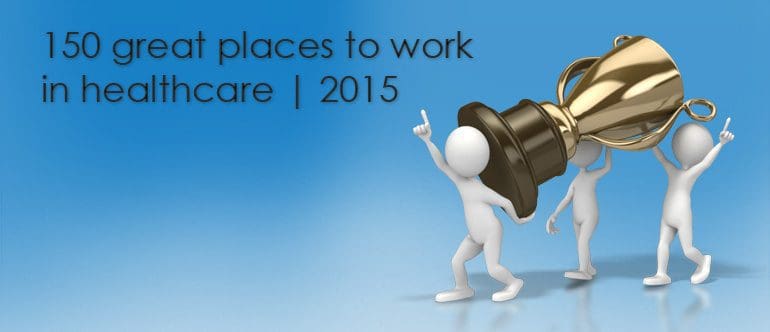 By Staff at Becker's Hospital Review
Becker's Healthcare is pleased to release the 2015 edition of "150 great places to work in healthcare."
The 2015 list includes both healthcare providers — medical groups, ambulatory surgery centers, home health providers and hospitals and health systems — along with other types of healthcare-specific companies, such as consulting firms, technology providers, professional organizations and more.
The list was developed through a combination of nominations and editorial research. The organizations on this list were chosen for their benefits offerings, wellness programs, commitment to diversity and inclusion, professional development opportunities and environments that promote employee satisfaction and work-life balance. Many of these organizations have been recognized by national, state or local organizations for their workplace culture or employee satisfaction scores.
Editor's note: This list is not intended to be a ranking, and organizations are displayed in alphabetical order. This list is not an endorsement of included healthcare providers, and organizations cannot pay for inclusion on this list.
ABM Healthcare Support Services
Location: St. Clair Shores, Mich. Type of company: Healthcare supplier Meet the organization: With 3,160 employees, ABM Healthcare Support Services offers a range of services — from clinical engineering to security from hospitality to food and nutrition — to more than 300 hospitals in the United States. [READ MORE]
AccelSPINE
Location: Dallas Type of company: Medical device designer and manufacturer Meet the organization: AccelSPINE is a young and growing company that employs more than 40 and is led by President and CEO Daniel Chon. [READ MORE]
Adena Health System
Location: Chillicothe, Ohio Type of company: Hospital/health system Meet the organization: Adena Health System, a nonprofit system, includes three hospitals and five regional clinics with a total of 311 beds. [READ MORE]
Adventist Health System
Location: Altamonte Springs, Fla. Type of company: Hospital/health system Meet the organization: Adventist Health System is a faith-based health system with nearly 73,000 employees. [READ MORE]
Ambulatory Surgical Center of Stevens Point
Location: Stevens Point, Wis. Type of company: Ambulatory surgery center Meet the organization: The Ambulatory Surgical Center of Stevens Point is a free-standing surgical center located in central Wisconsin that was developed by a small group of local physicians in 2006. [READ MORE]
Association of periOperative Registered Nurses (AORN)
Location: Denver Type of company: Professional organization Meet the organization: AORN is a national, nonprofit membership association with 107 employees that represents more than 160,000 perioperative nurses across the country. [READ MORE]
athenahealth
Location: Watertown, Mass. Type of company: Health IT Meet the organization: athenahealth employs more than 3,670 people across eight locations, spanning from Belfast, Maine, to San Francisco to Chennai, India. [READ MORE]
Atlantic Health System
Location: Morristown, N.J. Type of company: Hospital/health system Meet the organization: This five-hospital system is affiliated with The Mount Sinai Hospital and Icahn School of Medicine at Mount Sinai in New York City. [READ MORE]
Bailey Medical Center
Location: Owasso, Okla. Type of company: Hospital/health system Meet the organization: Bailey Medical Center, a 73-bed acute-care hospital, offers comprehensive services, including general surgery, obstetrics, gynecology, orthopedics and emergency care, among others. [READ MORE]
Banner Casa Grande Medical Center
Location: Casa Grande, Ariz. Type of company: Hospital/health system Meet the organization: Banner Casa Grande Medical Center is a full-service, nonprofit hospital with 843 employees. [READ MORE]
Baptist Health Care
Location: Pensacola, Fla. Type of company: Hospital/health system Meet the organization: Baptist Health Care is a nonprofit, four-hospital system with 6,500 employees. [READ MORE]
Baptist Health South Florida
Location: Miami Type of company: Hospital/health system Meet the organization: With more than 14,000 employees, Baptist Health South Florida has received several marks of distinction for workplace excellence, including nods from Fortune magazine, Working Mother magazine and is also recognized as one of the "World's Most Ethical Companies" by the Ethisphere Institute, among others. [READ MORE]
Barnabas Health
Location: West Orange, N.J. Type of company: Hospital/health system Meet the organization: Barnabas Health is an integrated healthcare delivery system with 21,221 employees. [READ MORE]
Baylor Jack and Jane Hamilton Hospital
Location: Dallas Type of company: Hospital/health system Meet the organization: BHVH opened in 2002 as the first joint venture hospital of Baylor Health Care System. [READ MORE]
Benefis Health System
Location: Great Falls, Mont. Type of company: Hospital/health system Meet the organization: Benefis Health System is a nonprofit community health system and employs nearly 3,000 individuals. [READ MORE]
Bon Secours Health System
Location: Richmond, Va. Type of company: Hospital/health system Meet the organization: Bon Secours is a nonprofit Catholic health system sponsored by Bon Secours Ministries. [READ MORE]
Boston Medical Center
Location: Boston Type of company: Hospital/health system Meet the organization: Boston Medical Center is the 496-bed, nonprofit teaching affiliate for Boston University School of Medicine that includes approximately 5,490 full-time employees. [READ MORE]
Brigham and Women's Hospital
Location: Boston Type of company: Hospital/health systemMeet the organization: A teaching affiliate of HarvardMedicalSchool, Brigham and Women's Hospital is one of the more distinguished hospitals in the country. [READ MORE]
Cabell Huntington Hospital
Location: Huntington, W.Va. Type of company: Hospital/health system Meet the organization: CabellHuntingtonHospital is a nonprofit, regional referral center with about 2,540 employees. [READ MORE]
Cardinal Health
Location: Dublin, Ohio Type of company: Healthcare products manufacturer and distributor Meet the organization: Cardinal Health delivers a quarter of all medications that are prescribed in the U.S. each day and provides products and services for nearly half of all surgeries performed. [READ MORE]
CarePayment
Location: Lake Oswego, Ore. Type of company: Patient financial engagement Meet the organization: Founded in 2004 and backed by Aequitas Capital Management, CarePayment partners with healthcare providers to offer patients a zero percent APR open line of credit to better manage their out-of-pocket medical expenses. [READ MORE]
Carolina Neurosurgery & Spine Associates
Location: Charlotte, N.C. Type of company: Physician practice Meet the organization: Carolina Neurosurgery & Spine Associates, which was established in 1940, is one of the oldest and largest neurosurgical practices in the country. [READ MORE]
Carroll Hospital Center
Location: Westminster, Md. Type of company: Hospital/health system Meet the organization: Carroll Hospital Center is one of the largest employers in Carroll County with about 2,025 employees. [READ MORE]
Central Florida Health Alliance
Location: Leesburg, Fla. Type of company: Hospital/health system Meet the organization: With 2,845 employees, Central Florida Health Alliance is a leading healthcare provider in its region with two acute-care hospitals and a rehab hospital. [READ MORE]
Central Park ENT and Surgery Center
Location: Arlington, Texas Type of company: Ambulatory surgery center Meet the organization: Central Park ENT & Surgery Center has 45 employees and locations in Arlington, Dallas and Fort Worth. [READ MORE]
Cerner
Location: Kansas City, Mo. Type of company: Electronic health records provider Meet the organization: Cerner's health IT solutions are used at more than 18,000 facilities worldwide, and the company, led by CEO Neal Patterson, employs approximately 14,200 people around the globe. [READ MORE]
Children's Health System of Texas
Location: Dallas Type of company: Hospital/health system Meet the organization: Children's Health System of Texas is the fifth largest pediatric provider in the nation. [READ MORE]
Children's Healthcare of Atlanta
Location: Atlanta Type of organization: Hospital/health system Meet the organization: Children's Healthcare of Atlanta is the largest pediatric provider in Georgia and one of the largest pediatric systems in the nation. [READ MORE]
Children's Hospital Los Angeles
Location: Los Angeles Type of company: Hospital/health system Meet the organization: Children's Hospital Los Angeles has approximately 5,200 employees including 800 physicians. [READ MORE]
Children's Hospital of Philadelphia
Location: Philadelphia Type of organization: Hospital/health system Meet the organization: Children's Hospital of Philadelphia is the first U.S. hospital to be devoted exclusively to pediatric care. [READ MORE]
Children's Mercy Hospital
Location: Kansas City, Mo. Type of company: Hospital/health system Meet the organization: Children's Mercy Hospital Kansas City has been ranked nationally in nine pediatric specialties by U.S. News & World Report, and it was the first hospital in either Missouri or Kansas to earn Magnet designation. [READ MORE]
Children's Hospital of Colorado
Location: Aurora, Colo. Type of company: Hospital/health system Meet the organization: For more than a decade, Children's Hospital has been consistently ranked by U.S. News & World Report as one of the top 10 children's hospitals nationally, and in 2014, six of Children's specialty areas were among the country's top 10. [READ MORE]
CipherHealth
Location: New York City Type of company: Vendor Meet the organization: This startup company with 62 employees is a vendor of post-discharge engagement solutions. [READ MORE]
Cleveland Clinic
Location: Cleveland Type of organization: Hospital/health system Meet the organization: Cleveland Clinic is among the nation's best hospitals, as U.S. News & World Report ranked it as the No. 4 hospital in the nation for 2014-15. [READ MORE]
Coastal Carolinas Health Alliance
Location: Wilmington, N.C. Type of company: Hospital alliance Meet the organization: CCHA has a small crew of just 11 employees. The organization is an alliance group of 15 hospitals located in southeastern North Carolina and northeastern South Carolina. [READ MORE]
College of American Pathologists
Location: Northfield, Ill. Type of company: Nonprofit medical society Meet the organization: CAP is a nonprofit medical specialty society and the leading organization of more than 18,100 board-certified pathologists. [READ MORE]
Community Hospital Corp.
Location: Dallas Type of company: Hospital management and consulting Meet the organization: CHC owns, manages and consults with hospitals through three organizations: CHCHospitals, CHC Consulting and CHC ContinueCARE. [READ MORE]
Community Medical Centers
Location: Fresno, Calif. Type of organization: Hospital/health system Meet the organization: The Community Medical Centers system has achieved an overall 90th percentile ranking for employee engagement on an Advisory Board survey among 300 hospitals and 300,000 respondents. [READ MORE]
Community Nurses
Location: St. Marys, Pa. Type of company: Home health agency Meet the organization: Community Nurses is a nonprofit, Medicare-certified, state-licensed home health agency with 215 employees and 100 volunteers. [READ MORE]
Connally Memorial Medical Center
Location: Floresville, Texas Type of organization: Hospital/health system Meet the organization: Connally Memorial Medical Center houses 44 beds and employs 325 workers. [READ MORE]
Covenant Health
Location: Lubbock, Texas Type of organization: Hospital/health system Meet the organization: Covenant Health is the largest health system in the region, and serves approximately 1.2 million people across 62 counties. [READ MORE]
Curaspan Health Group
Location: Newton, Mass. Type of company: Healthcare software developer Meet the organization: With a staff of 145, Curaspan develops patient care transition software that connects healthcare providers, payers and suppliers. [READ MORE]
Dartmouth-Hitchcock
Location: Lebanon, N.H. Type of organization: Hospital/health system Meet the organization: Dartmouth-Hitchcock health system was founded in 1893 and includes New Hampshire's only Level I trauma center and air ambulatory service. [READ MORE]
DaVita HealthCare Partners
Location: Denver Type of organization: Healthcare provider Meet the organization: DaVita HealthCare Partners has 60,425 employees. [READ MORE]
Doctors Hospital of Sarasota
Location: Sarasota, Fla. Type of organization: Hospital/health system Meet the organization: Doctors Hospital of Sarasota is a 168-bed acute and general care facility with 651 employees. [READ MORE]
EmCare
Location: Dallas Type of company: Physician practice management company Meet the organization: EmCare is one of the largest physician practice management companies in the nation, boasting 12,000 employees and locations nationwide. [READ MORE]
Emmi Solutions
Location: Chicago Type of company: Healthcare technology company Meet the organization: The 130-person staff at Emmi Solutions has a wide age range, from 22 years old to 67 years old. [READ MORE]
Emory Healthcare
Location: Atlanta Type of organization: Hospital/health system Meet the organization: Emory Healthcare is the largest healthcare system in Georgia. [READ MORE]
Epic
Location: Verona, Wis. Type of company: Electronic health records provider Meet the organization: Epic is a large, privately held health IT company best known for its electronic health record system. [READ MORE]
Evansville Surgery Center Associates
Location: Evansville, Ind. Type of organization: Ambulatory surgery center Meet the organization: Evansville Surgery Center Associates is the city's first freestanding multispecialty outpatient surgery center. [READ MORE]
Froedtert Health and the Medical College of Wisconsin
Location: Milwaukee Type of organization: Hospital/health system Meet the organization: Froedtert Health and the Medical College of Wisconsin consists of three hospitals, 781 beds, more than 25 locations and more than 2,000 physicians. [READ MORE]
Gundersen Health System
Location: La Crosse, Wis. Type of organization: Hospital/health system Meet the organization: Gundersen Health System is a physician-led, nonprofit healthcare network that includes one of the nation's largest multi-specialty group medical practices and a teaching hospital. [READ MORE]
Hackensack University Medical Center
Location: Hackensack, N.J. Type of organization: Hospital/health system Meet the organization: Hackensack UMC was founded in 1888 as BergenCounty's first hospital and had just 12 beds. Today, it has 775 beds and 7,653 employees, and has earned numerous awards. [READ MORE]
HCA Information Technology and Services
Location: Nashville, Tenn. Type of company: Health IT Meet the organization:  The organization has about 4,410 active employees. [READ MORE]
Health Catalyst
Location: Salt Lake City Type of company: Healthcare data warehousing and analytics vendor Meet the organization: Health Catalyst has 290 employees, many of whom enjoy flexible work schedules, unlimited PTO, good work/life balance, team camaraderie, shared mission and goals, company movie nights and other events. [READ MORE]
Health Outcomes Sciences
Location: Overland Park, Kan. Type of company: Software platform provider Meet the organization: HOS, a Precision Healthcare company with 25 employees, offers an innovative software platform that delivers personalized estimates of patient risk and appropriateness. [READ MORE]
HealthcareSource
Location: Woburn, Mass. Type of company: Healthcare vendor Meet the organization: With 210 employees, HealthcareSource builds talent management software solutions exclusively for the healthcare industry. [READ MORE]
Heart Hospital Baylor Plano
Location: Plano, Texas Type of organization: Hospital/health system Meet the organization: Heart Hospital Baylor Plano, part of Baylor Scott & White Health, opened in January 2007 and is the largest cardiovascular specialty hospital in the U.S. [READ MORE]
Hendrick Health System
Location: Abilene, Texas Type of organization: Hospital/health system Meet the organization: Hendrick Health System consists of a 522-bed medical center, a women's center, rehabilitation hospital and cancer center. [READ MORE]
Henry Ford Health System
Location: Detroit Type of organization: Hospital/health system Meet the organization: Henry Ford Health System was founded in 1915 by automobile pioneer Henry Ford. Now, 100 years later, the nonprofit system employs more than 23,000 people. [READ MORE]
Holy Cross Hospital
Location: Fort Lauderdale, Fla. Type of organization: Hospital/health system Meet the organization: Holy Cross Hospital, part of Livonia, Mich.-based Trinity Health, houses 559 beds and has a staff of 3,000 employees. [READ MORE]
Holy Family Memorial
Location: Manitowoc, Wis. Type of organization: Hospital/health system  Meet the organization: The Holy Family Memorial network includes a 62-bed medical center and 15 clinics, retail pharmacies, walk-in care and a medically based wellness center. [READ MORE]
HHS
Location: Austin, Texas Type of company: Service provider Meet the organization: HHS is a service provider that offers career advancement opportunities for employees. Many employees start as floor technicians and rise in the ranks to become assistant directors, then directors, then vice presidents. [READ MORE]
Houston Methodist
Location: Houston Type of company: Hospital/health system Meet the organization: Houston Methodist is comprised of seven hospitals, 1,960 operating beds and more than 17,000 employees, including 4,500 physicians. [READ MORE]
Humana
Location: Louisville, Ky. Type of company: Payer Meet the organization: Humana is a healthcare company that markets and administers health plans. [READ MORE]
Huntsville Hospital
Location: Huntsville, Ala. Type of company: Hospital/health system Meet the organization: Founded in 1895, Huntsville Hospital is a locally owned, nonprofit community hospital that has grown to include more than 900 licensed acute-care beds and more than 7,500 employees. [READ MORE]
Iatric Systems
Location: Boxford, Mass. Type of company: IT integration company Meet the organization: Iatric Systems is a healthcare IT integration company that remotely employs more than 340 people and enjoys a low employee attrition rate. [READ MORE]
Impact Advisors
Location: Naperville, Ill. Type of company: Healthcare IT consulting Meet the organization: Impact Advisors is a nationally recognized, award-winning healthcare IT consulting firm that employs approximately 160 people. [READ MORE]
Imprivata
Location: Lexington, Mass. Type of company: Healthcare IT vendor Meet the organization: With nearly 400 employees, Imprivata is a leading provider of authentication and access management solutions for the healthcare industry. [READ MORE]
Intermountain Healthcare
Location: Salt Lake City Type of company: Hospital/health system Meet the organization: Intermountain Healthcare is an integrated healthcare system comprised of 22 hospitals, 185 clinics, a health plans division and various other healthcare services. [READ MORE]
Johns Hopkins Medicine
Location: Baltimore Type of company: Hospital/health system Meet the organization: Johns Hopkins Medicine is a $7 billion integrated system that employs more than 41,000 full-time faculty and staff. [READ MORE]
King's Daughters Medical Center
Location: Brookhaven, Miss. Type of company: Hospital/health system Meet the organization: King's Daughters Medical Center has more than 120 licensed beds and more than 600 employees. [READ MORE]
Lake Area Medical Center
Location: Lake Charles, La. Type of company: Hospital/health system Meet the organization: Lake Area Medical Center was opened in 1984 to serve Lake Charles, La., the surrounding communities and people of Southwest Louisiana. [READ MORE]
Lakeland Regional Health
Location: Lakeland, Fla. Type of company: Hospital/health system Meet the organization: With 851 beds, Lakeland Regional Medical Center, part of Lakeland Regional Health, is the fifth largest hospital in Florida. [READ MORE]
Lee's Summit Medical Center
Location: Lee's Summit, Mo. Type of company: Hospital/health system Meet the organization: Lee's Summit Medical Center is a full-service 64-bed acute-care hospital that offers emergency, trauma, cardiovascular, surgical and imaging inpatient services. [READ MORE]
LocumTenens.com
Location: Alpharetta, Ga. Type of company: Healthcare staffing company Meet the organization: Founded in 1995, LocumTenens.com, as part of the Jackson Healthcare family of companies, now makes up the third largest healthcare staffing company in the nation. [READ MORE]
Lovelace Westside Hospital
Location: Albuquerque Type of company: Hospital/health system Meet the organization: Lovelace Westside Hospital as an 80-bed facility with more than 300 employees that serve Rio Rancho, N.M., and Westside Albuquerque residents. [READ MORE]
Lowell General Hospital
Location: Lowell, Mass. Type of company: Hospital/health system Meet the organization: Founded in 1891, Lowell General Hospital is an independent, nonprofit community hospital that serves the Greater Lowell area and surrounding communities. [READ MORE]
Massachusetts General Hospital
Location: Boston Type of company: Hospital/health system Meet the organization: Founded in 1811, Massachusetts General Hospital is the third oldest general hospital in the U.S. [READ MORE]
Mayo Clinic
Location: Rochester, Minn. Type of company: Hospital/health system Meet the organization: With more than 2,100 physicians and scientists; 2,500 residents, fellows and students; and 28,400 allied health staff, Mayo Clinic provides comprehensive diagnosis and treatment in virtually every medical and surgical specialty. [READ MORE]
MD Anderson Cancer Center
Location: Houston Type of company: Hospital/health system Meet the organization: Created in 1941, the University of Texas MD Anderson Cancer Center is one of the world's largest and most respected centers devoted exclusively to cancer patient care, research, education and prevention. [READ MORE]
MedAmerica
Location: Emeryville, Calif. Type of company: Healthcare management services Meet the organization: Founded in 1975, MedAmerica manages hospital-based physician group practices across the acute care continuum and provides strategies, solutions and systems for clients to navigate the healthcare landscape. [READ MORE]
Medline
Location: Mundelein, Ill. Type of company: Healthcare supply distributor Meet the organization: Medline is one of the largest privately held manufacturers and distributors of healthcare supplies in the country. [READ MORE]
MemorialCare Health System
Location: Fountain Valley, Calif. Type of company: Hospital/health system Meet the organization: MemorialCare Health System is a nonprofit integrated delivery system that includes six hospitals, medical groups, a health plan, and numerous outpatient health centers, imaging centers and surgery centers. [READ MORE]
Memorial Healthcare System
Location: Hollywood, Fla. Type of company: Hospital/health system Meet the organization: Established in 1953, Memorial Healthcare System has grown to become one of the largest public healthcare systems in the country. [READ MORE]
Memorial Sloan Kettering Cancer Center
Location: New York City Type of company: Hospital/health system Meet the organization: More than 130 years old, Memorial Sloan Kettering Cancer Center is one of the oldest and largest private cancer centers in the world. [READ MORE]
Mercy Health System
Location: Janesville, Wis. Type of company: Hospital/health system Meet the organization: Established more than 125 years ago, Mercy has grown to include three hospitals and employs more than 3,800 people. [READ MORE]
Meridian Health
Location: Neptune, N.J. Type of company: Hospital/health system Meet the organization: Meridian Health is a nonprofit system comprised of six hospitals and offers home health services, skilled nursing and rehabilitation centers, ambulatory care, ambulance services and outpatient centers. [READ MORE]
Methodist Health System
Location: Dallas Type of company: Hospital/health system Meet the organization: Founded in 1927, Methodist Health System now employs more than 7,600 people and has nearly 1,200 active physicians. [READ MORE]
Methodist Le Bonheur Healthcare
Location: Memphis, Tenn. Type of company: Hospital/health system Meet the organization: Founded in 1918, Methodist Le Bonheur Healthcare has grown from one hospital into an eight-hospital system that also includes home health services, outpatient surgery centers, minor medical centers, diagnostic centers, sleep centers and physician practices. [READ MORE]
Miami Children's Hospital
Location: Miami Type of company: Hospital/health system Meet the organization: Miami Children's Hospital employs more than 3,500 people and has 650 physicians across 40 pediatric specialties. [READ MORE]
Missoula Bone & Joint Surgery Center
Location: Missoula, Mont. Type of company: Hospital/health system Meet the organization: Founded more than 50 years ago, Missoula Bone & Joint Surgery Center is an orthopedic surgery clinic and ambulatory surgery center. [READ MORE]
Nanticoke Health Services
Location: Seaford, Del. Type of company: Hospital/health system Meet the organization: This small nonprofit community health system has a staff of 950, and includes a hospital, three urgent care clinics and a physician network of more than 35 providers. [READ MORE]
National Medical Billing Services
Location: St. Louis Type of organization: Revenue cycle management company specializing in ambulatory surgery centers and affiliated physician groups Meet the organization: National Medical Billing Services provides ASCs in 25 states with billing and coding solutions. [READ MORE]
NaviNet
Location: Boston Type of organization: Healthcare technology company Meet the organization: NaviNet is a real-time healthcare communications network. It has worked with more than 40 leading health plans nationwide for more than 16 years. [READ MORE]
Net Health
Location: Pittsburgh Type of organization: Health IT company Meet the organization: Net Health provides software solutions for outpatient care facilities and offers fully interoperable EHR solutions. [READ MORE]
Northwestern Memorial HealthCare
Location: Chicago Type of company: Hospital/health system Meet the organization: After acquiring two hospitals in September 2014, Northwestern Memorial HealthCare now includes four hospitals, more than 60 satellite clinics and is nearly 20,000 employees strong. [READ MORE]
Novia Strategies
Location: Poway, Calif. Type of organization: Healthcare consulting Meet the organization: Novia Strategies is a team of more than 50 employees and 100 independent contractors who are healthcare leaders and clinicians by background. [READ MORE]
OakLeaf Surgical Hospital
Location: Altoona, Wis. Type of organization: Hospital/health system Meet the organization: OakLeaf Surgical Hospital is a physician-owned hospitaldedicated to surgery, with more than 60 surgeons providing services across 15 specialties. [READ MORE]
Ochsner Health System
Location: New Orleans Type of organization: Hospital/health system Meet the organization: Ochsner Health Systemis one of the country's largest independent academic health systems. [READ MORE]
OhioHealth
Location: Columbus, Ohio Type of organization: Hospital/health system Meet the organization: OhioHealth is a nonprofit, faith-based health system with more than 28,000 associates, physicians and volunteers serving at more than 70 locations in the Columbus area. [READ MORE]
Orthopaedic Hospital of Wisconsin
Location: Glendale, Wis. Type of organization: Hospital/health system Meet the organization: The Orthopaedic Hospital of Wisconsin is a physician-owned specialty hospital born out of a partnership between a group of physicians and Milwaukee-based health system, Columbia St. Mary's. [READ MORE]
Park Ridge Health
Location: Hendersonville, N.C. Type of organization: Hospital/health system Meet the organization: Park Ridge Health is a 103-bed health system and part of Altamonte Springs, Fla.-based Adventist Health System. [READ MORE]
Phoenix Children's Hospital
Location: Phoenix Type of organization: Hospital/health system Meet the organization: The 385-bed Phoenix Children's Hospital is Arizona's only licensed children's hospital. [READ MORE]
PhyMed Healthcare Group
Location: Nashville, Tenn. Type of organization: Anesthesia services provider Meet the organization: PhyMed Healthcare Group is a physician-led anesthesia, perioperative and pain management services provider with 37 locations nationwide. [READ MORE]
Physicians Endoscopy
Location: Jamison, Pa. Type of organization: ASC development and management company Meet the organization: Physicians Endoscopy owns and operates more than 35 endoscopic ASCs across the country, partnering with the organizations to assist physicians with ASC development, management and billing. [READ MORE]
PinnacleHealth System
Location: Harrisburg, Pa. Type of organization: Hospital/health system Meet the organization: PinnacleHealth is a nonprofit health system that has been providing care for Pennsylvania residents since 1873. [READ MORE]
Pocono Health System
Location: East Stroudsburg, Pa. Type of organization: Hospital/health system Meet the organization: This is a nonprofit, community hospital with approximately 1,978 employees and more than 200 physicians. [READ MORE]
Point B. Inc
Location: Seattle Type of organization: Management consulting firm Meet the organization: With offices in Chicago, Dallas, Denver, Phoenix, Portland, Seattle and across California, Point B. Inc employs about 550. [READ MORE]
PracticeLink.com
Location: Hinton, W.Va. Type of organization: Physician career advancement services Meet the organization: PracticeLink is powered by a staff of 37 who work to connect physicians with career opportunities at more than 5,000 facilities around the country. [READ MORE]
Press Ganey
Location: South Bend, Ind. Type of organization: Healthcare performance improvement and analytics Meet the organization: Press Ganey provides patient experience measurement, analytics, reporting, advisory and consulting services for more than 11,000 healthcare facilities worldwide. [READ MORE]
ProMedica
Location: Toledo, Ohio Type of organization: Hospital/health system Meet the organization: ProMedica is a large, nonprofit healthcare system with roughly 17,000 employees. [READ MORE]
Regional One Health
Location: Memphis, Tenn. Type of organization: Hospital/health system Meet the organization: Regional One Health is a nonprofit integrated healthcare delivery system with approximately 2,651 employees. [READ MORE]
Reliant Medical Group
Location: Worcester, Mass. Type of organization: Multispecialty medical group practice Meet the organization: Founded in 1929 as Fallon Clinic, Reliant Medical Group has grown into an organization with more than 2,500 providers and employees. [READ MORE]
Riverside Medical Center
Location: Kankakee, Ill. Type of organization: Hospital/health system Meet the organization: The 325-bed Riverside Medical Center is an organization employees stay with for the long haul: 32 percent of its nearly 3,000 employees have 10 or more years of service with the hospital and 13 percent have 20 or more years of service. [READ MORE]
Ronald Reagan UCLA Medical Center
Location: Los Angeles Type of organization: Hospital/health system Meet the organization: This hospital — ranked as the No. 1 hospital in the state by U.S. News & World Report for 2014-15 — sprawls four acres and includes the RonaldReaganUCLAMedicalCenter, a neuropsychiatric hospital and a children's hospital. [READ MORE]
Rush University Medical Center
Location: Chicago Type of organization: Hospital/health system Meet the organization: Rush is a highly ranked academic medical center and has been serving Chicago since 1837. [READ MORE]
San Antonio Orthopaedic Group & The Orthopaedic Surgery Center of San Antonio
Location: San Antonio Type of organization: Private practice and ASC Meet the organization: This orthopedic practice has been named one of San Antonio's "Best Places to Work" six years in a row by the San Antonio Business Journal. [READ MORE]
Schneck Medical Center
Location: Seymour, Ind. Type of organization: Hospital/health system Meet the organization: This Indiana medical center has more than 800 employees, with 200 physicians, 300 volunteers and more than 200 students. [READ MORE]
Scripps Health
Location: San Diego Type of organization: Hospital/health system Meet the organization: Nearly 13,000 employees power Scripps Health, a system of four hospitals sprawling five campuses. [READ MORE]
Sg2
Location: Skokie, Ill. Type of organization: Healthcare consulting Meet the organization: Sg2 offers more than 1,200 hospitals and health systems analytics-based expertise to improve integration, efficiency and quality. [READ MORE]
Southern Ohio Medical Center
Location: Portsmouth, Ohio Type of organization: Hospital/health system Meet the organization: Southern Ohio Medical Center is a 220-bed nonprofit hospital with roughly 2,400 employees, including 140 physicians and specialists. [READ MORE]
Ste. Genevieve County Memorial Hospital
Location: Ste. Genevieve, Mo. Type of company: Hospital/health system Meet the organization: Ste. Genevieve County Memorial is a 25-bed critical access hospital located in southeastern Missouri near the Mississippi River. [READ MORE]
St. Jude Children's Research Hospital
Location: Memphis, Tenn. Type of company: Hospital/health system Meet the organization: St. Jude Children's is the first and only National Cancer Institute-designated Comprehensive Cancer Center devoted to children, and it is working to drive the childhood cancer survival rate to 90 percent in the next decade. [READ MORE]
St. Vincent's HealthCare
Location: Jacksonville, Fla. Type of company: Hospital/health system Meet the organization: St. Vincent's is a faith-based nonprofit system with three hospitals, one of which opened in October 2013 and added 375 full-time positions to ClayCounty. [READ MORE]
Strata Decision Technology
Location: Chicago Type of organization: Healthcare software vendor Meet the organization: Serving more than 1,000 healthcare organizations, Strata Decision Technology is a 127-employee company driven by the social mission to improve healthcare. [READ MORE]
Stryker
Location: Chicago Type of organization: Healthcare vendor Meet the organization: Stryker has been creating innovative medical technologies used across the world for the past 60 years. [READ MORE]
Surgical Care Affiliates
Location: Deerfield, Ill. Type of organization: ASC operator Meet the organization: With more than 6,000, employees, SCA operates more than 182 surgical facilities across 34 states — including ambulatory surgery centers, surgical hospitals and one sleep center — in partnership with approximately 2,000 physicians and in affiliation with 41 health systems. [READ MORE]
Sutter Davis Hospital
Location: Davis, Calif. Type of company: Hospital/health system Meet the organization: This 48-bed hospital is part of Sutter Health Sacramento Sierra Region. [READ MORE]
Swedish Medical Group
Location: Seattle Type of company: Medical group Meet the organization: Swedish Medical Group, which employs about 2,120 people, is the medical group division of Swedish Health Services under parent company Providence Health & Services. [READ MORE]
SwedishAmerican Health System
Location: Rockford, Ill. Type of company: Hospital/health system Meet the organization: SwedishAmerican is a nonprofit locally governed healthcare system with about 3,040 employees located in the second largest city in Illinois. [READ MORE]
Talent Plus
Location: Lincoln, Neb. Type of organization: Human resources consulting firm Meet the organization: With its 150 employees' positive culture, workplace practice and emphasis on the value of people, Talent Plus helps organizations select top performers in every healthcare role from the bedside to leadership. [READ MORE]
Tanner Health System
Location: Carrollton, Ga. Type of company: Hospital/health system Meet the organization: Tanner Health is one of Georgia's largest health systems and is the second largest employer in CarrollCounty with 2,800 employees. [READ MORE]
TeamHealth
Location: Knoxville, Tenn. Type of company: Clinician services provider Meet the organization: TeamHealth is one of the largest providers of outsourced physician staffing solutions for hospitals in the U.S. [READ MORE]
TouchPoint Support Services
Location: Atlanta Type of organization: Healthcare provider/contract hospitality services Meet the organization: TouchPoint Support Services, a company of 7,250 employees, was formed in 2011. [READ MORE]
TriHealth
Location: Cincinnati Type of company: Hospital/health system Meet the organization: TriHealth is a five-hospital system that strives to be an "employer of choice" for its more than 11,500 employees, and the system has some awards to furnish that claim. [READ MORE]
Twin Lakes Regional Medical Center
Location: Leitchfield, Ky. Type of company: Hospital/health system Meet the organization: This 75-bed community hospital has just under 400 employees and serves a six-county area with a population of more than 90,000. [READ MORE]
UAB Medicine
Location: Birmingham, Ala. Type of company: Hospital/health system Meet the organization: One of Alabama's largest employers, UAB Medicine is an academic medical center with roughly more than 15,000 employees that is ranked highly for clinical excellence by U.S. News & World Report and other organizations. [READ MORE]
UMC Health System
Location: Lubbock, Texas Type of company: Hospital/health system Meet the organization: UMC Health System sees more than 400,000 patients at its main campus and 23 regional health centers. [READ MORE]
UnitedHealth Group
Location: Minneapolis Type of organization: Managed care and insurance Meet the organization: One of the nation's largest companies based on revenue, UnitedHealth Group has 168,000 employees in 21 countries. [READ MORE]
Unity Medical and Surgical Hospital
Location: Mishawka, Ind. Type of company: Hospital/health system Meet the organization: After opening in November 2009, Unity Medical and Surgical Hospital — a physician-owned acute-care hospital with 29 private rooms — now employs 136 people. [READ MORE]
University Hospitals
Location: Cleveland Type of company: Hospital/health system Meet the organization: University Hospitals is the second largest private employer in Northeast Ohio, with more than 24,000 employees and physicians. [READ MORE]
University of Michigan Health System
Location: Ann Arbor, Mich. Type of company: Hospital/health system Meet the organization: University of Michigan Health System employs more than 18,500 people and includes the No. 2 hospital in Michigan, according to U.S. News & World Report's 2014-15 rankings. [READ MORE]
University of Wisconsin Hospital and Clinics
Location: Madison Type of company: Hospital/health system Meet the organization: This 566-bed academic medical center employs about 8,600 in Wisconsin's state capital. [READ MORE]
Updox
Location: Dublin, Ohio Type of organization: Customer relationship management solutions Meet the organization: More than 45 EHR vendors, representing 150,000 physicians, use Updox as their health information service provider. [READ MORE]
UR Medicine's Thompson Health
Location: Canandaigua, N.Y. Type of company: Hospital/health system Meet the organization: Thompson Health, an affiliate of the University of Rochester Medical Center, employs 1,400 associates and offers care to more than 165,000 people in the greater Finger Lakes region of New York. [READ MORE]
WellStar Health System
Location: Marietta, Ga. Type of company: Hospital/health system Meet the organization: WellStar is a nonprofit health system employing more than 12,000 team members in five hospitals and various other clinics and centers. [READ MORE]
West Coast Medical Resources
Location: Clearwater, Fla. Type of organization: Medical distributor Meet the organization: West Coast Medical Resources is a surgical surplus company founded in 1997. [READ MORE]
Woman's Hospital
Location: Baton Rouge, La. Type of company: Hospital/health system Meet the organization: Woman's Hospital is the only freestanding nonprofit hospital dedicated to providing comprehensive services to women and infants in Baton Rouge and the surrounding region. [READ MORE]
Yale-New Haven Hospital
Location: New Haven, Conn. Type of company: Hospital/health system Meet the organization: Yale-New Haven Hospital is the second largest employer in the New Haven area with more than 12,000 employees. [READ MORE]