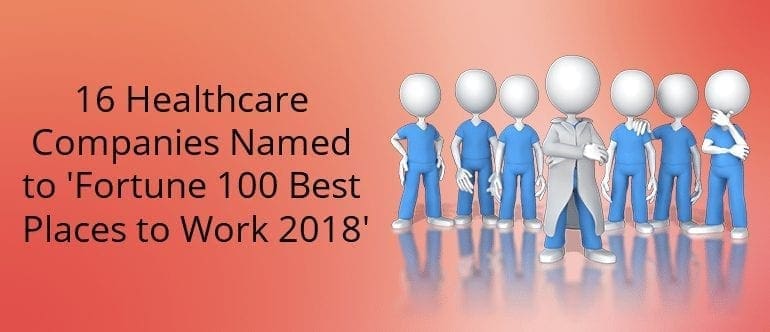 By Alyssa Rege and Megan Knowles for Becker's Hospital Review
Fortune named 16 healthcare companies to its 21st annual list of the best companies to work for in the U.S.
To compile the list, Fortune gathered feedback from over 315,000 employees across the country. To be considered, companies needed to have at least 1,000 employees and provide enough survey responses to achieve a 95 percent confidence level with no more than a 5 percent margin of error.
Here are the 16 healthcare companies that made the list.
8. Genentech (South San Francisco)
15. Texas Health Resources (Arlington)
21. Southern Ohio Medical Center (Portsmouth)
25. Baptist Health South Florida (Coral Gables)
41. Scripps Health (San Diego)
49. Regeneron (Tarrytown, N.Y.)
57. St. Jude Children's Research Hospital (Memphis, Tenn.)
65. BayCare Health System (Clearwater, Fla.)
69. CHG Healthcare Services (Midvale, Utah)
74. Atlantic Health System (Morristown, N.J.)
76. Encompass Home Health (Dallas)
77. Children's Healthcare of Atlanta
90. OhioHealth (Columbus)
91. Methodist Le Bonheur Healthcare (Memphis, Tenn.)
95. Novo Nordisk (Plainsboro, N.J.)
97. AbbVie (North Chicago, Ill.)