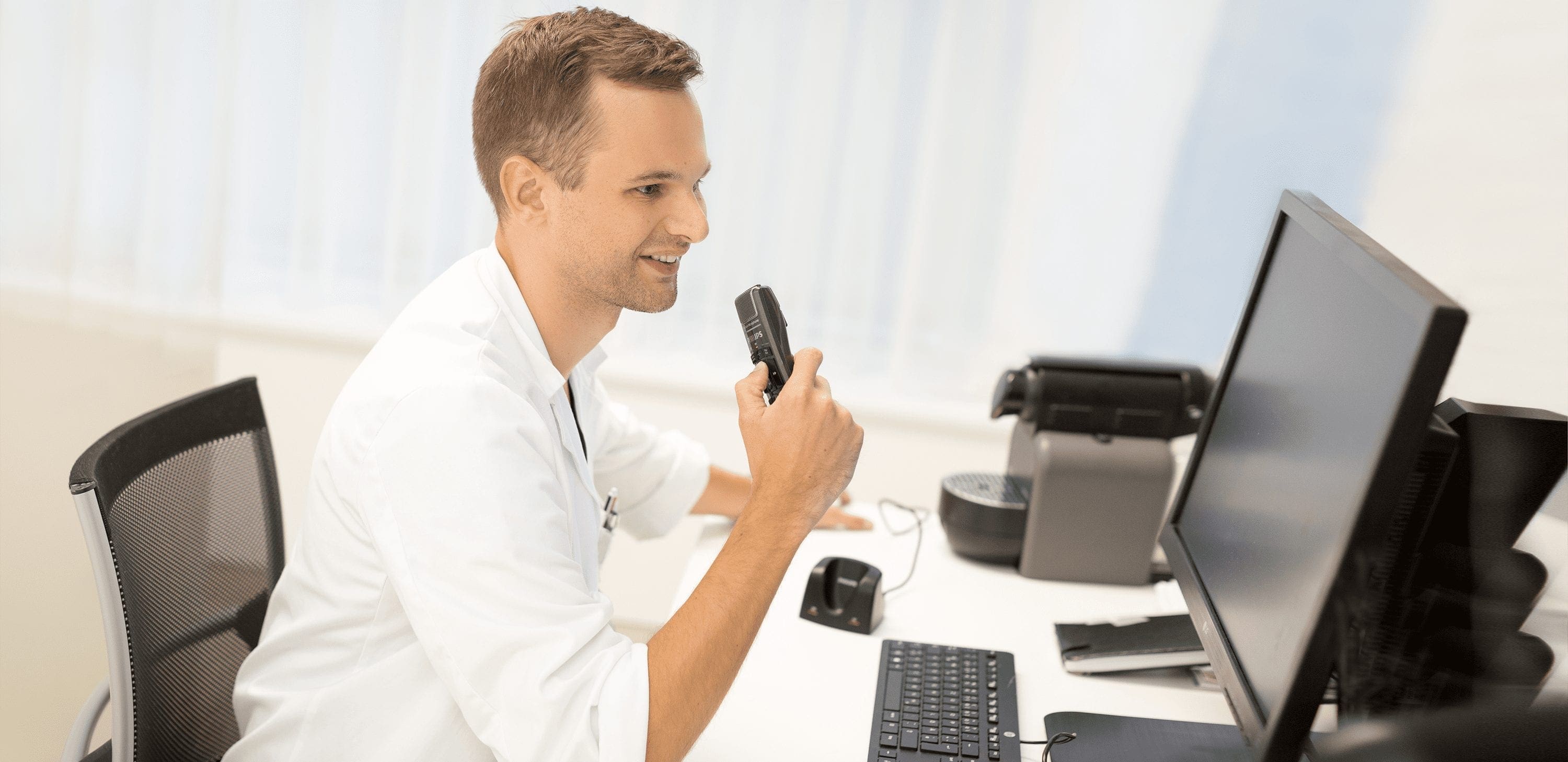 By Linda Jones, Speech Recognition Analyst at Dolbey

When a facility is looking for speech recognition technology, it must ensure it chooses a highly accurate and reliable application.  While this can be a daunting task, an even bigger challenge is selecting a solution that can obtain widespread adoption throughout the facility. When researching and comparing speech recognition programs, focusing on the following three items can accomplish both:
1. Technology Capabilities
The selection and deployment of a speech recognition program that allows clinicians to improve documentation quality is the most crucial aspect in achieving widespread adoption.  Recent advances in speech recognition, including Artificial Intelligence (AI) and Machine Learning (ML), have advanced recognition to the point that individual voice training of the system is no longer necessary.  Today's programs are far more accurate, customizable and 'intelligent' out of the box. Many speech recognition programs promote their advances in AI and ML technology; the key is finding a software application that sets itself apart by wrapping around the technology in a way that enhances clinician workflows and increases efficiency.  Not only should the speech recognition solution provide excellent recognition, but it can also navigate the user to that section with a single command from anywhere in the chart.
2. Training
It is essential to ensure a speech recognition program provides a robust, multi-focused training plan that addresses the clinicians needs while accommodating their schedule.  The key to high adoption is to get started on the right foot with a flexible training plan.   A speech recognition program that combines a variety of training techniques before, during and after implementation will equip the clinician with the information they need at the exact time and place they need it.  A strong program provides access to a range of resources including at-the elbow and remote workflow evaluation, instructional videos, online tutorials, and a comprehensive knowledgebase.  In addition to clinician training, a 'train-the-trainer' approach will allow the on-site staff to have knowledge of the technology and assist or troubleshoot problems.  Knowledge is power, and by giving clinicians a solid foundation of knowledge, they become empowered and more in charge of their time which directly impacts adoption.
3. Support
A speech program that includes a high level of customer service during all stages of implementation boosts the clinician adoption.  It is essential to have an avenue of communication that fits the needs of each user.  Communication leads to the timely identification of issues and resolutions with limited impact on the clinician's workflow.  For the customer that prefers to pick up the phone and report a problem, it is imperative to find a program that has access to a live person who can accurately evaluate the issue and engage the appropriate resources for a prompt resolution. For problems encountered while using the software, the program should have a communication tool built into the product allowing clinicians to report issues to a support technician.  Look for a program that includes digital forms of communication, such as email or online support, that enables resources across the facility to obtain assistance for non-critical items at the most convenient time or manner.  Choosing a speech recognition program with several different support options will increase clinician confidence in the product.
Selecting a speech recognition program that delivers quality documentation is essential.  To achieve widespread adoption, however, facilities should also guarantee their speech program has multi-tiered, ongoing training and access to 24/7/365 product support.  A speech program that meets or exceeds expectations in each area will achieve widespread and continued clinician adoption.