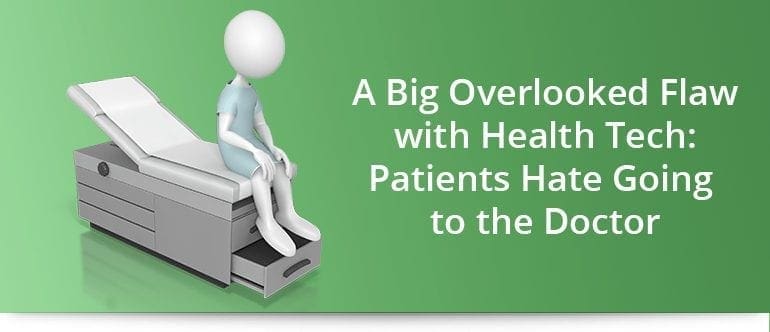 By Christina Farr for CNBC
Digital health is one of the hottest spaces for investment, with companies raising $1.6 billion in venture capital in the first quarter of 2018 alone. Apple, Alphabet and Amazon are also making moves in the space with their own health-tracking apps and devices.
These companies are getting really good at screening populations of people for health problems before they develop into serious medical issues.
But they struggle to help patients with greater medical needs.
Medical experts say that digital health can't do much for users that are already sick, or at high risk of a serious medical condition. Many of these companies won't diagnose disease for regulatory reasons, even if they're picking up strong signals through sensors and algorithms, so instead they'll suggest that a user see their doctor.
That's the case with smart watches from Apple and Fitbit, which are increasingly picking up on serious problems like sleep apnea, a sleep breathing issue, and atrial fibrillation, a heart rhythm disorder, but can't do much more than steer these patients to medical care.
The glaring problem? Patients do not like going to the doctor.
Ample studies have found that many avoid it because the experience sucks, while others are put off by the cost.
"All the things done well by digital health — they're simple, fun, visual with great user experience — are still missing from most clinical visits — so it remains pretty unpleasant to be a patient," said Jeffrey Wessler, a cardiology fellow at Columbia University Medical Center and the founder of a digital health company called Heartbeat.
"To me, this gap gets closed by bringing the clinical experience up to the same standards as our digital health solutions."
In other words, digital health companies need to get inside the clinic or hospital through partnerships or new products, rather than just focusing on the experience outside of traditional health care.
Wessler is moving in that direction with Heartbeat which is leveraging existing digital health solutions but also rethinking the in-person primary care experience to help people at risk for heart disease.
Others in the medical sector agree this is a serious problem that needs to be addressed.
Digital health today is hampered by this "see your doctor" endpoint, explains Joel Dudley, director of the Institute for Next Generation Healthcare at Mount Sinai.
He believes that the industry can move from acting as a "funnel or a stopgap rather than a revolution," once the right pieces are in place.
One potential solution will be to incorporate telemedicine, or virtual doctor's visits, into the experience of care so that patients can immediately get a phone call or video consult. And that way, digital health companies can be assured that they've at least talked to a medical expert, rather than ignored the problem.
Doctors can also learn from digital health apps and services by improving their practices so that patients won't dread or avoid an upcoming visit.
If this gap isn't closed, he fears, "digital health solutions will really just create more separation between patient and care provider."