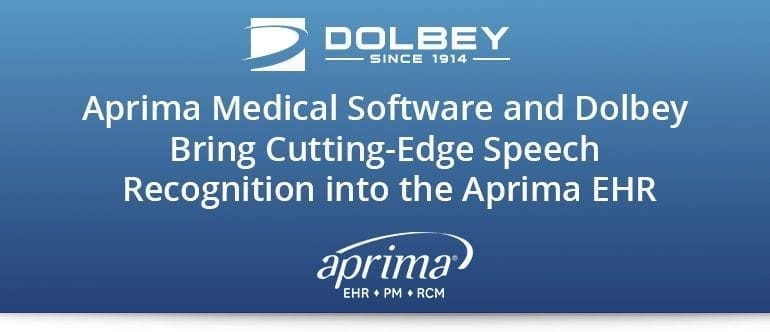 By APRIMA Medical Software on Cision PR Newswire
Integration of highly accurate, cloud-based speech recognition with voice command macros into the Aprima EHR will help make its users more efficient.
DALLAS, Aug. 17, 2018 /PRNewswire/ — Aprima Medical Software, a leading provider of innovative electronic health record (EHR), practice management (PM) and revenue cycle management (RCM) solutions for medical practices, announced today that it has partnered with Dolbey and Company to integrate Dolbey's powerful cloud-based speech recognition solution, Fusion Narrate ™ powered by nVoq™, into the Aprima EHR.
The Fusion Narrate platform includes patent-pending shortcuts called Vision Clicks. These navigation tools allow Aprima users to create voice commands that can navigate through the EHR. Moreover, the Dolbey VR system can suggest edits within a provider's workflow. If a doctor dictates that a patient has hypertension, for example, a Dolbey alert prompts the user to add what kind of hypertension, allowing the physician to improve his or her documentation and reducing the need for physician queries.
"We are excited to partner with Aprima, which offers one of the best EHRs on the market," said Bob Leslie, senior vice president and general manager for Dolbey. "The integration of our product into the Aprima clinical workflow will enable providers to become more efficient and to improve their documentation and coding. The addition of 'Vision Clicks' to our top-of-the-line speech recognition engine will help providers move faster around the EHR as they document patient care."
Over the last seven years, Dolbey has received more KLAS awards for speech recognition than any other company. Dolbey's partnership with nVoq for a Cloud-Based Speech Recognition platform has brought leading-edge neural network and machine learning technology to Dolbey's suite of products. This technology offers superior accuracy, scalability, and reliability to the providers. "We pride ourselves on doctors being able to document faster in Aprima than most other EHR systems," said Michael Nissenbaum, president and CEO of Aprima. "The addition of Dolbey's superb speech recognition tools, now equipped with voice command macros, will make our providers even more efficient. That's why we're entering this partnership; we think it will add tremendous value to customers who already document via voice, and grab the attention of those who have previously avoided voice for any number of reasons."
About Dolbey
Dolbey and Company's and Dolbey Systems' award-winning healthcare solutions deliver superior documentation, boosting productivity and improving patient care. Since 1914, Dolbey has advanced the latest technologies to meet the evolving demands of the healthcare community, including Speech Recognition, CAPD, CDI, CAC, Transcription, and Dictation. For more information, please call us at 800-756-7828 or email us at info@dolbey.com.
About Aprima Medical Software, Inc.
Aprima provides innovative electronic health record (EHR), practice management (PM), population health and revenue cycle management (RCM) solutions for medical practices and has been named the 2018 Best in KLAS Small Practice Ambulatory EMR/PM (1-10 physicians). Aprima serves physicians in primary care and more than 70 specialties with a fast, flexible design that adapts automatically to a physician's workflow and sets the benchmark for ease-of-use, speed, and flexibility.
For two decades, the company has delivered quality solutions that have helped tens of thousands of users enhance patient care and satisfaction, as well as improve their practices' bottom lines. The Aprima EHR/PM solution sets the benchmark for ease-of-use, speed and flexibility, thanks to its single application, single database and customizable design that adapts automatically to individual physician workflows. Aprima has a proven track record of compliance with government initiatives, including the MACRA/MIPS program, has been awarded pre-validation status for NCQA PCMH recognition and won the Frost & Sullivan 2017 Award for Product Leadership. Based in Richardson, Texas, the company performs all development, support, and implementation from within the U.S. To learn more about how Aprima can help your practice, please visit www.aprima.com, call us at 844 4APRIMA or email us at info@aprima.com.