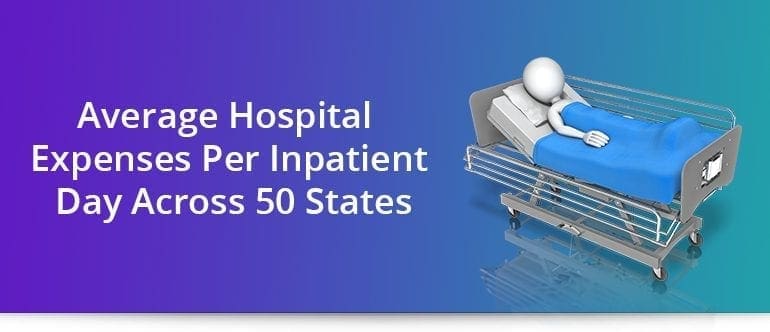 By Ayla Ellison for Becker's Hospital Review
Below are the adjusted expenses per inpatient day in 2016, organized by hospital ownership type, in all 50 states and the District of Columbia, according to the latest statistics from Kaiser State Health Facts.
These figures, which are based on information from the 2016 American Hospital Association Annual Survey, include all operating and non-operating expenses for registered U.S. community hospitals, defined as public, non-federal, short-term general and other hospitals. The figures are an estimate of the expenses incurred in a day of inpatient care and have been adjusted higher to reflect an estimate of the volume of outpatient services, according to the Kaiser Family Foundation.
United States
State/local government hospitals — $2,052
Nonprofit hospitals — $2,488
For-profit hospitals — $1,889
Alabama
State/local government hospitals — $1,421
Nonprofit hospitals — $1,655
For-profit hospitals — $1,456
Alaska
State/local government hospitals — $1,541
Nonprofit hospitals — $2,569
For-profit hospitals — $2,991
Arizona
State/local government hospitals — $2,034
Nonprofit hospitals — $2,675
For-profit hospitals — $1,959
Arkansas
State/local government hospitals — $1,724
Nonprofit hospitals — $1,717
For-profit hospitals — $1,656
California
State/local government hospitals — $3,068
Nonprofit hospitals — $3,833
For-profit hospitals — $2,189
Colorado
State/local government hospitals — $2,423
Nonprofit hospitals — $3,119
For-profit hospitals — $2,692
Connecticut
State/local government hospitals — $3,717
Nonprofit hospitals — $2,680
For-profit hospitals — $2,636
Delaware
State/local government hospitals — N/A
Nonprofit hospitals — $3,162
For-profit hospitals — $1,578
District of Columbia
State/local government hospitals — N/A
Nonprofit hospitals — $2,875
For-profit hospitals — $2,364
Florida
State/local government hospitals — $2,190
Nonprofit hospitals — $2,320
For-profit hospitals — $1,682
Georgia
State/local government hospitals — $754
Nonprofit hospitals — $1,956
For-profit hospitals — $1,809
Hawaii
State/local government hospitals — $1,274
Nonprofit hospitals — $2,705
For-profit hospitals — N/A
Idaho
State/local government hospitals — $1,733
Nonprofit hospitals — $3,329
For-profit hospitals — $2,141
Illinois
State/local government hospitals — $2,810
Nonprofit hospitals — $2,460
For-profit hospitals — $1,688
Indiana
State/local government hospitals — $1,533
Nonprofit hospitals — $2,633
For-profit hospitals — $2,360
Iowa
State/local government hospitals — $1,505
Nonprofit hospitals — $1,524
For-profit hospitals — $1,562
Kansas
State/local government hospitals — $1,316
Nonprofit hospitals — $1,835
For-profit hospitals — $2,026
Kentucky
State/local government hospitals — $1,898
Nonprofit hospitals — $1,861
For-profit hospitals — $1,720
Louisiana
State/local government hospitals — $1,767
Nonprofit hospitals — $1,951
For-profit hospitals — $1,877 
Maine
State/local government hospitals — $1,567
Nonprofit hospitals — $2,298
For-profit hospitals — $920
Maryland
State/local government hospitals — N/A
Nonprofit hospitals — $2,702
For-profit hospitals — $1,191
Massachusetts
State/local government hospitals — $1,850
Nonprofit hospitals — $3,168
For-profit hospitals — $1,838
Michigan
State/local government hospitals — $1,366
Nonprofit hospitals — $2,298
For-profit hospitals — $2,200
Minnesota
State/local government hospitals — $1,225
Nonprofit hospitals — $2,477
For-profit hospitals — N/A
Mississippi
State/local government hospitals — $970
Nonprofit hospitals — $1,304
For-profit hospitals — $1,757
Missouri
State/local government hospitals — $1,681
Nonprofit hospitals — $2,426
For-profit hospitals — $2,024
Montana
State/local government hospitals — $533
Nonprofit hospitals — $1,528
For-profit hospitals — $2,363
Nebraska
State/local government hospitals — $915
Nonprofit hospitals — $2,127
For-profit hospitals — $2,069
Nevada
State/local government hospitals — $1,933
Nonprofit hospitals — $2,195
For-profit hospitals — $1,715
New Hampshire
State/local government hospitals — N/A
Nonprofit hospitals — $2,479
For-profit hospitals — $1,988
New Jersey
State/local government hospitals — $4,570
Nonprofit hospitals — $2,749
For-profit hospitals — $1,858
New Mexico
State/local government hospitals — $3,029
Nonprofit hospitals — $2,759
For-profit hospitals — $2,203
New York
State/local government hospitals — $2,813
Nonprofit hospitals — $2,512
For-profit hospitals — N/A
North Carolina
State/local government hospitals — $1,973
Nonprofit hospitals — $1,931
For-profit hospitals — $1,510
North Dakota
State/local government hospitals — N/A
Nonprofit hospitals — $1,980
For-profit hospitals — $4,501
Ohio
State/local government hospitals — $2,696
Nonprofit hospitals — $2,707
For-profit hospitals — $2,656
Oklahoma
State/local government hospitals — $1,347
Nonprofit hospitals — $1,893
For-profit hospitals — $2,010
Oregon
State/local government hospitals — $3,820
Nonprofit hospitals — $3,522
For-profit hospitals — $2,442
Pennsylvania
State/local government hospitals — $760
Nonprofit hospitals — $2,384
For-profit hospitals — $1,942
Rhode Island
State/local government hospitals — N/A
Nonprofit hospitals — $2,851
For-profit hospitals — $2,071
South Carolina
State/local government hospitals — $2,346
Nonprofit hospitals — $1,966
For-profit hospitals — $1,503
South Dakota
State/local government hospitals — $435
Nonprofit hospitals — $1,352
For-profit hospitals — $3,460
Tennessee
State/local government hospitals — $1,547
Nonprofit hospitals — $1,959
For-profit hospitals — $1,656
Texas
State/local government hospitals — $2,427
Nonprofit hospitals — $2,578
For-profit hospitals — $1,873
Utah
State/local government hospitals — $2,885
Nonprofit hospitals — $2,973
For-profit hospitals — $2,417
Vermont
State/local government hospitals — N/A
Nonprofit hospitals — $2,244
For-profit hospitals — N/A
Virginia
State/local government hospitals — $3,266
Nonprofit hospitals — $1,824
For-profit hospitals — $1,835
Washington
State/local government hospitals — $3,375
Nonprofit hospitals — $3,582
For-profit hospitals — $2,570
West Virginia
State/local government hospitals — $891
Nonprofit hospitals — $1,861
For-profit hospitals — $1,235
Wisconsin
State/local government hospitals — $2,526
Nonprofit hospitals — $2,360
For-profit hospitals — $2,780
Wyoming
State/local government hospitals — $1,157
Nonprofit hospitals — $3,592
For-profit hospitals — $2,300