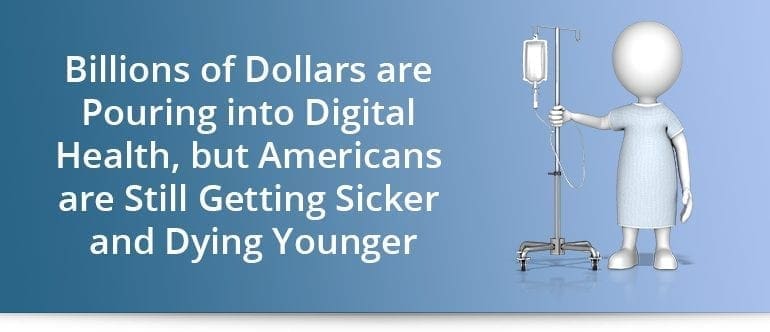 By Christina Farr for CNBC
Silicon Valley has spent years promising to disrupt the $3.5 trillion health-care industry.
In 2018, venture investors — from the Bay Area, Boston and elsewhere — poured billions of dollars into the sector, funding start-ups that aim to bring down the costs of care while improving quality and access to the right providers. Some of the hottest trends include virtual care solutions, wearables, medication management apps and new tools that allow physicians to engage with their patients between visits.
That all sounds great. And software is supposed to improve every industry. But when it comes to health care, it leaves one important question unanswered: Why aren't we getting any healthier?
Recent reports from the Centers for Disease Control and Prevention suggest that life expectancy is dropping for the first time in decades. Suicide, alcoholism and the opioid epidemic are all partly to blame. Millennials are also overweight at a level that has them on pace to be part of the most obese generation in history. And despite anti-tobacco campaigns, smoking continues to be a problem, with some deaths attributable to chronic lower-respiratory diseases.
CNBC spoke to a half-dozen researchers and venture capitalists to get their view as to why an increase in capital isn't having the desired effects on society.
Too early
Perhaps the most obvious explanation is that the technologies are still young.
Most of the investing in digital health started five to seven years ago. Before that, many doctors were still using pen and paper for documentation. It takes time to get the industry on board, and sales cycles in health care are particularly slow.
"Some of the the benefits of these new tools won't be realized for a long time," said James Murphy, a health services researcher at UC San Diego Health and a radiation oncologist. "It's really hard to tease out the impact of digital health. Maybe we're helping people but we're not detecting it."
The wrong targets
Health-care spending and venture spending aren't going to the same places.
The most expensive people to treat are patients with chronic illnesses, like diabetes and heart disease. But many of the digital health companies are going after young and relatively healthy people who are looking for premium care or who want to track their workouts.
Take Forward, for example. It's a new primary care offering founded by a former Google executive that charges users $149 a month and doesn't currently take insurance (although the company has said it hopes to eventually bring down the cost). Then there are smartwatches and wearables, which often cost hundreds of dollars and are geared younger audiences.
In addition to a lack of money, what about people who don't have adequate access to transportation, an internet connection, social support or housing?
Digital health uses "limited information about the natural contexts in which people are living their daily lives," said David Conroy, professor of kinesiology and human development at Penn State University.
People still matter
Start-up funding has been directed largely at virtual approaches to treating patients. If you can train a coach with artificial intelligence to recognize certain symptoms and to treat them, technology can replace humans. Doctors and coaches are expensive to hire and retain.
But smartphone notifications and gaming techniques have limitations. Behavior change in medicine is notoriously hard, and might even be too challenging in many cases for an app to solve.
"Digital health tools have been attractive to people who are already healthy, rather than those who would most benefit from health behavior change," according to Danielle Arigo, an assistant professor of psychology.
Arigo says that bringing about change in populations with diabetes and other chronic illnesses is complex and often takes multiple attempts.
"We don't yet understand what kind and how much engagement is needed, and this likely varies by person," she said.