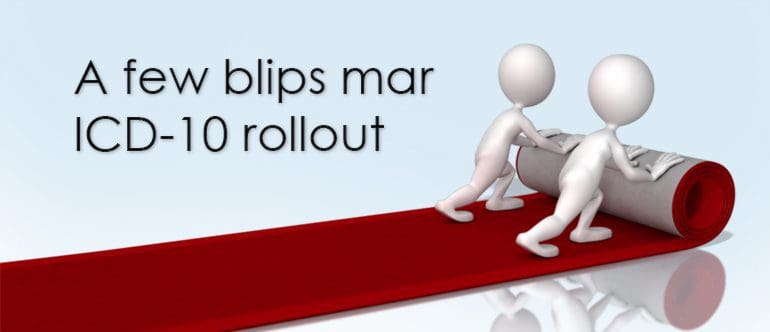 By Joseph Conn for Modern Healthcare
It's been mostly smooth sailing with a few rough spots one month into the national conversion to the International Classification of Diseases, 10th Revision, of diagnostic and procedural codes, better known as ICD-10.
The CMS issued a statement Thursday saying Medicare fee-for-service claims "are processing normally," with 4.6 million a day being run through the agency's Medicare Administrative Contractors (MACs), the same daily throughput as the agency's "historical baseline."
The rate of Medicare claims rejected due to incomplete or invalid information is 2%, the same as normal, according to the CMS. The total Medicare claims denial rate for all reasons is 10.1%, up from a 10% baseline, the CMS said.
"That's a little blip, no more than noise," said Stanley Nachimson, principal of health IT consultant Nachimson Advisors, and an ICD-10 expert.
While reports from the field mostly confirm the government's claim, there have been a few blips. Robert Tennant, health information technology policy director for the Medical Group Management Association, said his physician medical group practice leader membership have been dealing with some "sporadic issues" with the MACs, but not commercial plans.
"One problem area has been rejections of claims for screenings, such as a colonoscopy," Tennant said. "Providers need to put on the claim a non-specific code, since there is no diagnosis, and some of the MACs had issues with those."
"There have been some hiccups here and there, mostly just with faulty loading of LCDs (local coverage determinations)," said Holly Louie, president elect of the Healthcare Billing and Management Association and chair of its ICD-10 committee. "But they have been very prompt and very responsive in fixing those problems."
RelayHealth, a claims clearinghouse, has publicly posted on its ICD-10 Central website national revenue-cycle management data on four key metrics about the ICD-10 conversions – days to final bill, days to payment, reimbursement rate and denial rate.
For October, only the denial rate has been above normal compared to monthly averages for July through September, and that only slightly. The denial rate for Oct. 1–28 has been 1.7% of all Medicare and commercial claims compared with 1.5% for July and 1.6% for August and September.
The success of the rollout appears to be uneven across the country, however. Molina Healthcare of Ohio, a Medicare and Medicaid managed-care contractor, had a 2.8% denial rate. Mississippi's Medicaid program had 54.1% of claims denied; Indiana Medicaid 14.1%, according to the website.
At MedAssets, the claims rejection through its clearinghouse service rose to 2.3% in October, compared with 1.8% for September, said Amy Amick, head of the company's revenue cycle management division in Plano, Tex. Not quite half of those rejections are attributable to ICD-10, Amick said.