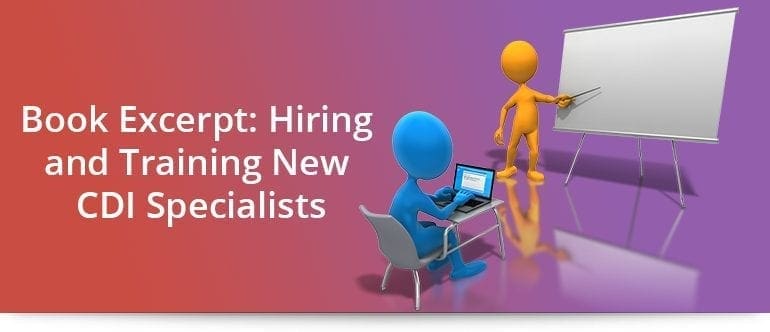 By Sheila Duhon, MBA, RN, CCDS, A-CCRN, CCS for ACDIS CDI Blog
Hiring the best possible CDI specialists is undoubtedly the most crucial piece of the puzzle when forming a new CDI program or expanding an existing one. A CDI specialist is a uniquely qualified individual—this is not a career path for the faint of heart or for those who view the role as a reward for service in the acute care clinical setting, one step closer to retirement. When building a CDI program from the ground up, there are some required characteristics leaders should look for in order to place the most qualified person in the role. The CDI team comprised of a balanced mix of backgrounds is often the strongest team in terms of skillset and affect.
The job of a CDI specialist is not merely an office job that requires reviewing the medical record with the occasional query for clarification to obtain a CC or MCC for coding and reimbursement purposes. CDI has progressed far beyond the early days of maximizing the DRG for optimal reimbursement and case mix index (CMI). CDI professionals need to have a strong clinical and coding background, combined with the critical-thinking skills to investigate a record closely and put the "clinical puzzle" together. Additionally, CDI specialists must possess strong interpersonal skills to communicate with, and educate, physicians.
A truly qualified CDI specialist is a master of many skills, including:
Clinical acumen
Coding knowledge
Critical thinking
Data analysis
Time management
Ability to adapt to changing workflow processes and platforms
Exceptional interpersonal skills to relate to clinicians and operational teams fluently
Computer and software skills
Complicating things further, the CDI specialist needs to be able to use all these skills in both face-to-face and electronic communications.
This is not an easy or common combination to find. As such, the individuals meeting the specific criteria are often in high demand and the shortage of truly qualified individuals dictates that some organizations "grow their own" CDI specialists to fill the gap. Many organizations mentor highly skilled clini­cians or advanced HIM/coding professionals and teach the CDI process and skills by means of on-the-job training, internally sponsored computer-based curricula, in-person training such as boot camps, or a combination of these approaches and more.
Combining the appropriate clinical and coding foundational background with the right personality is the key to finding the best, and ultimately the most successful, CDI specialist.