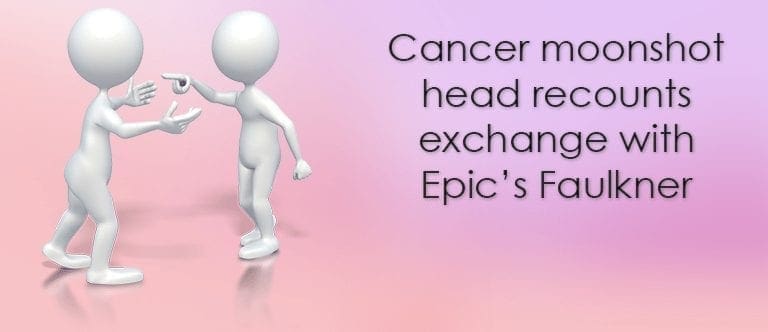 By David Pittman, With help from Darius Tahir for Politico
BIDEN, EPIC TALK MEANING OF 'EASY TO UNDERSTAND': Former Vice President Joe Biden took to task an Epic executive who questioned during a January meeting of the Cancer Moonshot why patients should have their full medical record, a Biden aide recounted Tuesday. Epic CEO Judy Faulkner asked Biden during an (until now) private meeting between EHR executives and administration officials, "Why do you want your medical records? They're a thousand pages of which you understand 10," recalled Greg Simon, who worked on the moonshot and is now president of the Biden Cancer Initiative.
Biden responded, "None of your business," according to Simon, who detailed the conversation during a MedCity conference in Philadelphia. "If I need to, I'll find someone to explain them to me and, by the way, I will understand a lot more than you think I do," the former VP said.
"And it went downhill from there," Simon said.
— Someone familiar with the exchange tells us that Epic's comments were focused on the just-passed 21st Century Cures Act, which sets a goal of having patient records in a "single, longitudinal format that is easy to understand." The company's argument: How is having a thousand pages easy to understand?
The exchange was about a subjective portion of a recently enacted law. Epic supports a patient's right to access their full medical record, the company said.
Simon told Morning eHealth later via email the issue was that EHR companies "want to make … and are required to make … only summaries available." Instead, Simon prefers to "focus on [the] complete digital record."
Simon's account of the event offers a glimpse at the frustration the Obama White House faced in getting EHR companies to share patient records, despite giving billions in incentives for doctors and hospitals to buy systems. The software wasn't reaching its potential despite years of investments. "We've made billionaires of the executives of these companies," Simon said of EHR vendors. "They've had fun. Now, it's our turn. Let's get this thing changed."