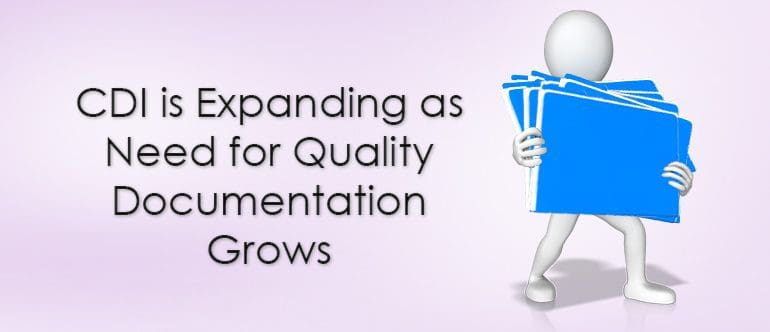 Article by Tammy Combs. This article was originally published on the Journal of AHIMA website on June 23, 2016 and is republished here with permission.
Clinical documentation improvement (CDI) programs are quickly emerging in various areas of the healthcare arena. We now see these programs specializing both prior to and beyond the acute hospital admission. Just as healthcare doesn't stop when a patient is discharged, health problems begin before admission takes place. Prior to admission, an assessment must be made to determine if an admission is needed. After discharge, there is ongoing follow up and treatment to help patients return to normal daily life activities.
The documentation doesn't start or stop at the acute admission either. The impact of CDI can be felt in many healthcare settings. Some of the areas that are beginning to implement CDI programs include the emergency department, long term care, home health, inpatient psychiatry, and inpatient rehab. The seven characteristics of high quality documentation that CDI emphasizes are important no matter what the care setting may be. These characteristics dictate that documentation should be:
Legible
Reliable
Precise
Complete
Consistent
Clear
Timely
Even though the foundation of high quality documentation is the same, the review process and opportunities will vary by location. It is important for the CDI professional to understand the detailed documentation requirements in any setting in which they review medical records. Let's take a look at some of the differences between care settings.
Emergency Department (ED): In the emergency department, it is imperative that the documentation fully supports the evaluation and management level and the outcome of the visit. Emergency room providers must fully support the reason for discharging or admitting the patient. The ED note is an important part of the patient story.
Home Health: Home health agencies are a valuable resource for patients who are ready for discharge but are in need of nursing care that can be delivered in the home setting. Home health nurses are required to fill out the Outcome and Assessment Information Set (OASIS), which focuses on the patient's conditions and expected therapy needs.
Inpatient Psychiatry: It is crucial for all acute medical conditions to be stable before admission into a psychiatry unit. The focus of care should be on the psychiatric issues that are preventing the patient from functioning outside of the hospital setting. Psychiatry providers use the Diagnostic and Statistical Manual of Mental Disorders, 5th Edition (DSM-5) to bring in the needed specificity of all mental conditions. The DSM-5 helps providers document psychiatric conditions in great detail. With the focus on psychiatric conditions, however, chronic comorbidities may not be documented to the highest level of specificity.
Inpatient Rehab: Inpatient rehab facilities (IRF) are in place to prepare the patient for a return to normal function. They use the Patient Assessment Instrument (PAI) for their documentation. This assessment tool will place patients into groups based on the clinical picture and expected resource that will be utilized. Rehab facilities must closely document the therapy needs of the patient to support continued rehabilitation within a facility.
Long Term Care: In long term care, nurses have to fill out the Minimum Data Set (MDS), which has fifteen categories of information that must be documented. Residents in long term care are well enough to move beyond acute care but still require some nursing assistance. In this setting it is imperative that the resident's functional status is clearly defined and identification of all medical conditions are made to give a clear picture of the patient's health status.
As you can see, provider documentation is crucial to support patient care in all settings. Each of the settings mentioned above has their own prospective payment system (PPS). Just like acute care, high quality documentation is the only way to support appropriate PPS assignment and truly reflect all of the diagnoses being treated and echo the quality of care that was provided.
What areas are you seeing CDI expand in your own organization? Any settings different than the ones mentioned above?