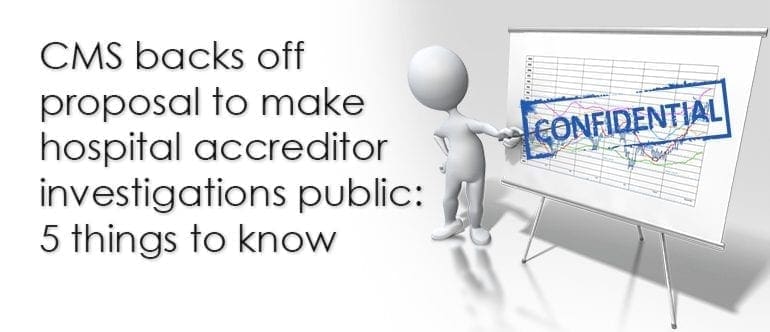 By Brian Zimmerman for Becker's Infection Control & Clinical Quality
Federal health officials withdrew a proposal to require healthcare facility accreditors to publicly release details on safety issues they encounter during inspections of hospitals and other healthcare facilities, according to a ProPublica report.
Here are five things to know.
1. In April, CMS issued a proposal that would require public accreditors — such as The Joint Commission and the Center for Improvement in Healthcare Quality — to publicly divulge findings from hospital inspections. Collectively, accreditors, not the government, oversee 90 percent of hospitals.
2. On Wednesday, CMS withdrew the proposal, saying federal law prohibits the agency from publicly releasing findings from such inspections.
"CMS is committed to ensuring that patients have the ability to review the findings used to determine that a facility meets the health and safety standards required for Medicare participation," the agency said in a fact sheet. "However, we believe further review, consideration and refinement of this proposal is necessary to ensure that CMS establishes requirements, consistent with our statutory authority, that will inform patients and continue to support high quality care."
3. The reversal on the proposal comes despite CMS' concern that investigations conducted by accreditors may miss serious safety issues. In a July report to Congress, the federal agency said its review of 2015 data revealed accreditors often missed serious safety issues during inspections that state health inspectors detected shortly after.
4. Accreditors took issue with the April proposal, questioning both its legality and possible efficacy in addressing patient safety concerns.
"The provision will adversely affect the collaborative efforts of accrediting bodies and healthcare organizations to improve patient safety and engage in continuous quality improvement," the Joint Commission said in June, according to ProPublica. "Ultimately, there will be increased patient harm and lower quality."
5. Consumer groups and patient safety advocates backed CMS' April proposal. Leah Binder, president and CEO of The Leapfrog Group, criticized the agency's decision to back away from the measure.
"This is disgraceful, unfair to patients as well as employers and other purchasers of healthcare," Ms. Binder told ProPublica in an email. "The public deserves full transparency on how the healthcare industry performs. Instead, transparency has been sacrificed to accommodate special interests that lobby to avoid disclosing embarrassing information about healthcare quality."