Continuing Struggle: Correct Code Assignment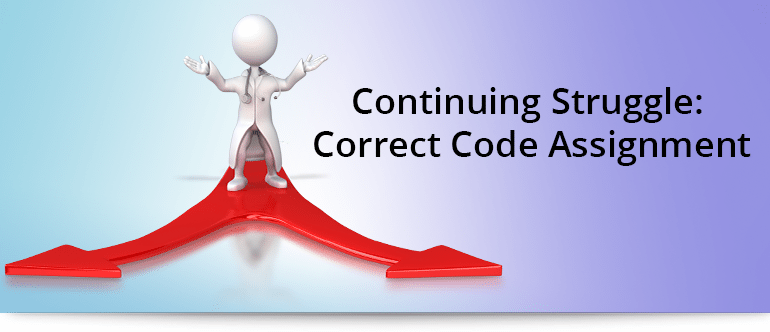 By Rhonda Buckholtz, CPC, COPC, CPMA, CPCI, CHPSE, CRC, CDEO, CGSC, CPEDC, CENTC by ICD10 Monitor
As coders, we often struggle with assigning the correct codes. There are many gray areas in the guidelines and instructional notes, and sometimes even conflicting information can be found. This leads to frustration and miscoding, which can then lead to audits and repercussions.
What can also be an issue, though, is the coder failing to understand the actual clinical condition being treated and not fully utilizing evidence-based medicine guidelines or clinical indicators in determining if the correct documentation is already in the medical record.
There has been a huge shift in the importance of diagnosis coding over the past years, especially with the implementation of ICD-10-CM. The cost of healthcare has continued to increase while payments to individual providers decrease. Many quality programs now exist, and the goal is to eventually get to Advanced Payment Models (APMs). One of the larger pushes we have seen has been associated with risk adjustment coding; health plans can help manage risk and receive increased payments for having sicker patients.
According to the Medicare Expenditure Panel Survey (MEPS), an estimated 25.9 percent of adults have two or more treated chronic conditions, and they account for 57 percent of all healthcare expenditures. Among adults ages 18-44, a total of 94.4 percent have no treated chronic conditions or only one treated chronic condition. Among adults age 45-64, only 34.4 percent have no treated chronic conditions or only one treated chronic condition. Of adults age 65 and older, 42.3 percent have two to three treated chronic conditions, and 23.2 percent have four or more treated chronic conditions.
Average total healthcare expenditures were higher for adults with two to three versus zero or one treated chronic conditions within each of the age groups and for all three race/ethnicity groups.
The top 10 costliest conditions are diabetes, heart disease, cancer, mental disorders, trauma-related disorders, osteoarthritis, asthma, hypertension, and hyperlipidemia.
Evidence-based medicine (EBM) has garnered increased attention in the past decade as well. It is a platform of the best evidence used to make clinical decisions regarding treatment of a patient. It integrates clinical experience and patient values with research information. It is constantly evolving with new data, technology, and outcomes.
EBM is used to develop clinical indicators, coverage decisions, and payer policies. Often you will recognize this as the criteria used to get treatments authorized, such as surgical procedures, lab work, or X-rays.
Clinical indicators rely on evidence-based medicine. For those working in surgical practices, you are likely very familiar with these guidelines, as many times when we need to get services or items approved, it is the data we give to the health plan to do so. Outside of that, though, they give us well-defined information regarding the clinical conditions.
Due to the change in coding patterns (and of course, increased reimbursement) ICD-10-CM is now an area being looked into by the U.S. Department of Health and Human Services (HHS) Office of Inspector General (OIG). The increase in risk now demands that all coding guidelines be followed to allow assignment of the correct diagnosis codes – and to challenge those guidelines when they don't make clinical sense.
Overuse, increased utilization, and errors on audits have made the OIG take a hard look at Medicare Advantage payments.
According to the OIG:
"Payments to Medicare Advantage organizations are risk-adjusted on the basis of the health status of each beneficiary. Medicare Advantage organizations are required to submit risk adjustment data to Centers for Medicare & Medicaid Services in accordance with Centers for Medicare & Medicaid Services instructions (42 CFR § 422.310(b)), and inaccurate diagnoses may cause Centers for Medicare & Medicaid Services to pay Medicare Advantage organizations improper amounts (Social Security Act §§ 1853(a)(1)(C) and (a)(3)). In general, Medicare Advantage organizations receive higher payments for sicker patients. Centers for Medicare & Medicaid Services estimates that 9.5 percent of payments to Medicare Advantage organizations are improper, mainly due to unsupported diagnoses submitted by Medicare Advantage organizations. Prior OIG reviews have shown that medical record documentation does not always support the diagnoses submitted to Centers for Medicare & Medicaid Services by Medicare Advantage organizations. We will review the medical record documentation to ensure that it supports the diagnoses that Medicare Advantage organizations submitted to Centers for Medicare & Medicaid Services for use in Centers for Medicare & Medicaid Services's risk score calculations and determine whether the diagnoses submitted complied with Federal requirements."
https://oig.hhs.gov/reports-and-publications/workplan/summary/wp-summary-0000150.asp
Understanding the role you play in influencing the coding patterns of physicians and the full implication of not using the correct codes is important for the health of your practice. I encourage all coders to learn more about the clinical conditions associated with the patient encounters they are coding, as well as taking a deep dive into coding guidelines for continued education.