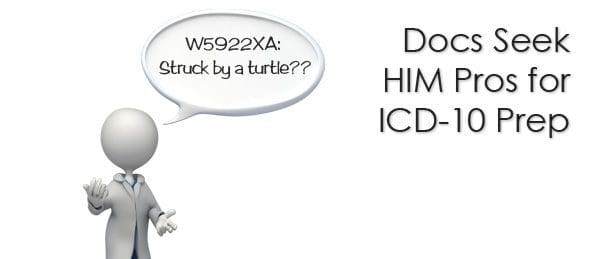 By Jennifer Bresnick for HealthIT Analytics
The ICD-10 transition is a large, complex, and complicated task for the healthcare industry, but if one thing is clear about the drawn-out process, it's that many providers are lagging behind where they should be to meet the October 1, 2015 deadline.  Despite a lengthy preparation period and years of warnings that ICD-10 will happen at some point, a number of physicians are struggling with the concept of leaving the ICD-9 world, and are casting around for help as they are pulled into the detail and specificity of the more advanced coding system.
After running a series of focus groups with physicians from all types of practices, research from AHIMA reveals a significantly opportunity for health information management professionals to lend a helping hand to these worried and reticent providers.
Published in the most recent edition of Perspectives in Health Information Management, the study enlisted twelve physicians from multiple specialties, provider sizes, and practice types to discuss their attitudes, opinions, fears, and predictions about ICD-10.  They found a general sense of trepidation about the change, which many advocates believe will produce more granular data for accurate reimbursements, a better ability to record the histories of complex patients, and more ample data for clinical analytics.
Not everyone is convinced that the benefits are worth the financial investment and the hours of education, training, and workflow adjustments that will be required to make a successful switch, but physicians who recognize the growing immediacy of the problem are willing to seek help.  While some indicated that they believe their EHR and billing system vendors are responsible for providing technical aid and education, others would prefer to turn to those with expertise in HIM.
"An HIM professional could help with the EMR conversion timeline.  Anything to support my practice and make it efficient, to comply and to maximize reimbursement," said one participant. "Feed me information about that."
"HIM could be involved in developing training materials that are palatable for physicians, who typically don't want to spend very much time on training for things like this," added another. "It's hard to engage them, so finding a set of materials that they will respond to positively would be valuable."
HIM staff can be particularly helpful for physicians in the area of clinical documentation improvement (CDI), as ICD-10 requires more complete, accurate, and detailed data from the very start.  Understanding just how much documentation is required for billers and coders to assign the most applicable ICD-10 code is not always easy for physicians, who often interpret some terms differently than the back-end staff.  Using HIM staff to raise the level of data governance through CDI can also help providers with other important initiatives such as quality improvements or higher reimbursements.
In relation to ICD-10, physicians are looking for specific resources that may fall under the purview of HIM staff.  Coding crosswalks, which map ICD-9 codes to their ICD-10 counterparts, are in particularly high demand.  Short and simple summaries of key issues such as the top ten common mistakes of rejected claims or "ICD-10 for dummies" were also sought by physicians who feel they don't have the time or the attention span for educational programs that may go far beyond what the really need to handle their piece of the transition process.
"Where HIM can help you is to get that structured documentation to make it simple and easy," said a participant.  "[They can] help you and your team understand where people fit in that diagnostic criteria, and then help you to monitor and give reports on your data so that you will be able to look at the quality of care and outcomes and have some confidence that the diagnosis codes that you are stratifying with are accurate and being used appropriately."