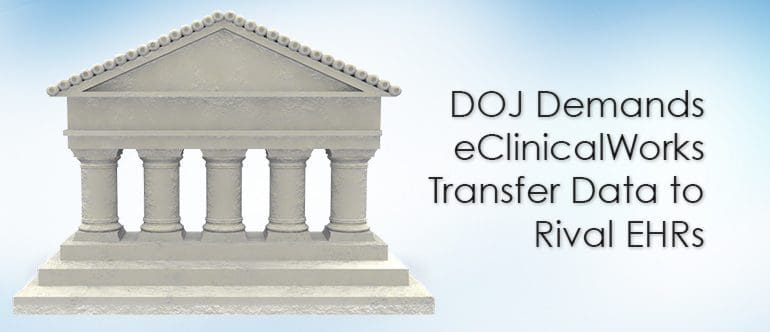 By Tom Sullivan for Healthcare IT News
As if the hefty settlement fine execs had to pay wasn't enough, the vendor also has to offer free upgrades, transfer customer's data to rival EHR vendors for free, and employ an independent personal watchdog.
EHR vendor eClinicalWorks got slammed Wednesday with a $155 million penalty by the federal government, but that is far from the worst part of the deal it struck with officials. Rather, the vendor accepted some curious terms in a 5-year settlement agreement that the Office of the Inspector General called innovative.
The fine stemmed from a whistleblower suit alleging that it falsely obtained certification for meeting certain criteria as part of the meaningful use EHR reimbursement program. eClinicalWorks disputes the charges but said it settled anyway to avoid the "cost and uncertainty inherent in protracted litigation."
[Also: eClinicalWorks to pay $155 million to settle suit alleging it faked meaningful use certification]
But buried down in the legalese of the settlement notice the Department of Justice posted is the fact that eClinicalWorks agreed to a corporate integrity agreement, or CIA, that mandates the EHR vendor retain an Independent Software Quality Oversight Organization. Such an organization will essentially operate as personal watchdog assessing eClinicalWorks quality control and compiling reports for both eClinicalWorks and the U.S Office of the Inspector General.
Wait, there's more.
"The CIA also requires eClinicalWorks to allow customers to obtain updated versions of their software free of charge and to give customers the option to have eClinicalWorks transfer their data to another EHR software provider without penalties or service charges," the notice said. "eClinicalWorks must also retain an Independent Review Organization to review eClinicalWorks arrangements with healthcare providers to ensure compliance with the Anti-Kickback Statute."
[Also: eClinicalWorks whistleblower: NYC health department was indifferent to EHR flaws]
At this point it's hard to pinpoint which will be worse: Customers leaving for rival EHR vendors gobbling up precious market share or being forced to give those medical practices and hospitals that do stick with them free upgrades.
And in a market that many analysts say is poised for consolidation, mergers and acquisitions and the usual bloodbath of failed vendors, either of those options is invariably going to hurt.