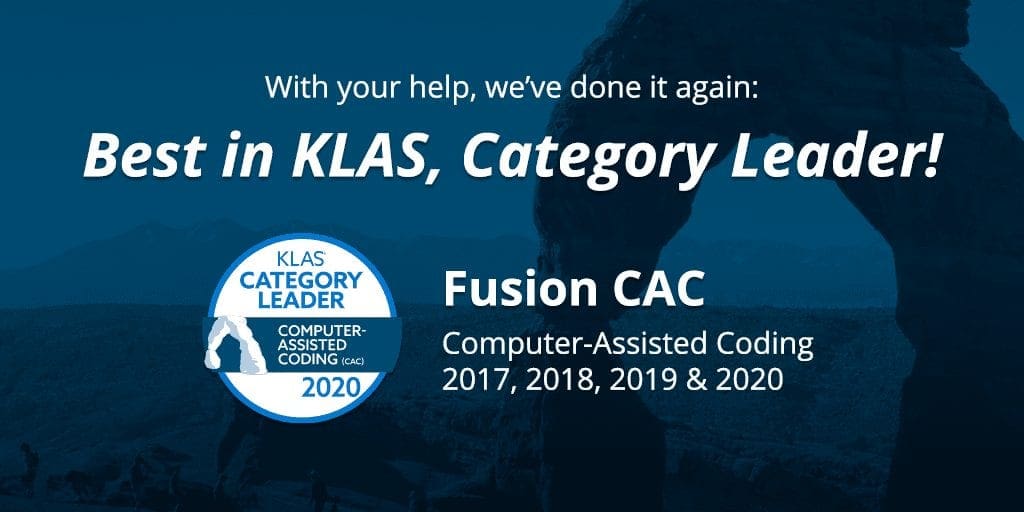 CONCORD, Ohio, March 3, 2020 (Newswire.com) – Dolbey is a leading provider of medical coding and billing software that drives greater accuracy and higher productivity in medical coding by using artificial intelligence and machine learning. KLAS Research announced that Dolbey was awarded the 2020 Category Leader designation for Computer-Assisted Coding for the fourth year in a row.
KLAS Research is a healthcare information technology data and insights company providing the industry with accurate, honest and impartial research on the software and services used by providers and payers worldwide. KLAS collects thousands of evaluations from healthcare providers to rank vendors across several categories. In January, KLAS presented its findings in the 2020 Best in KLAS: Software and Services Report complete with scores and rankings in categories such as product, value, relationship and operations.
KLAS President Adam Gale explains that, "Providers and payers demand better performance, usability, and interoperability from their vendor partners every year. Best in KLAS winners set the standard of excellence in their market segment. Earning a Best in KLAS award should both excite and humble the recipients. It serves as a signal to providers that they should expect only the best from the winning vendors."
"Earning the No. 1 rank from KLAS validates our team's effort to not only meet our customers' expectations but to exceed them when at all possible," states Kris Wilson, President of Dolbey. "This recognition of a job well done by our customers is truly meaningful and appreciated."
Dolbey's Fusion CAC and Fusion CDI integrate with all leading EHR companies to create a collaborative workspace for clinical documentation teams, coding and quality staff. Using advanced AI tools, Fusion CAC and Fusion CDI are helping health systems to realize maximum potential in the middle revenue cycle process. For more information or a demonstration, see Dolbey at HIMSS booth #5759 during the 2020 HIMSS Global Health Conference in Orlando or visit www.dolbey.com.
About Dolbey
Dolbey's award-winning healthcare suite of solutions improve productivity while delivering better documentation which improve patient care. Since 1914, Dolbey has consistently evolved its products, incorporating the latest technologies available to meet the demands of the healthcare community. Today, Dolbey's suite of products includes speech recognition (premise or cloud-based), CAPD, CDI, CAC, transcription and dictation.
About KLAS
KLAS is a data-driven company on a mission to improve the world's healthcare by enabling provider and payer voices to be heard and counted. Working with thousands of healthcare professionals, KLAS collects insights on software, services and medical equipment to deliver reports, trending data and statistical overviews. KLAS data is accurate, honest and impartial. The research directly reflects the voice of healthcare professionals and acts as a catalyst for improving vendor performance. To learn more about KLAS and the insights we provide, visit www.klasresearch.com.
For further information, please contact:
Traci Miller, Marketing Director
800-878-7828 x119 / tmiller@dolbey.com
​www.dolbey.com