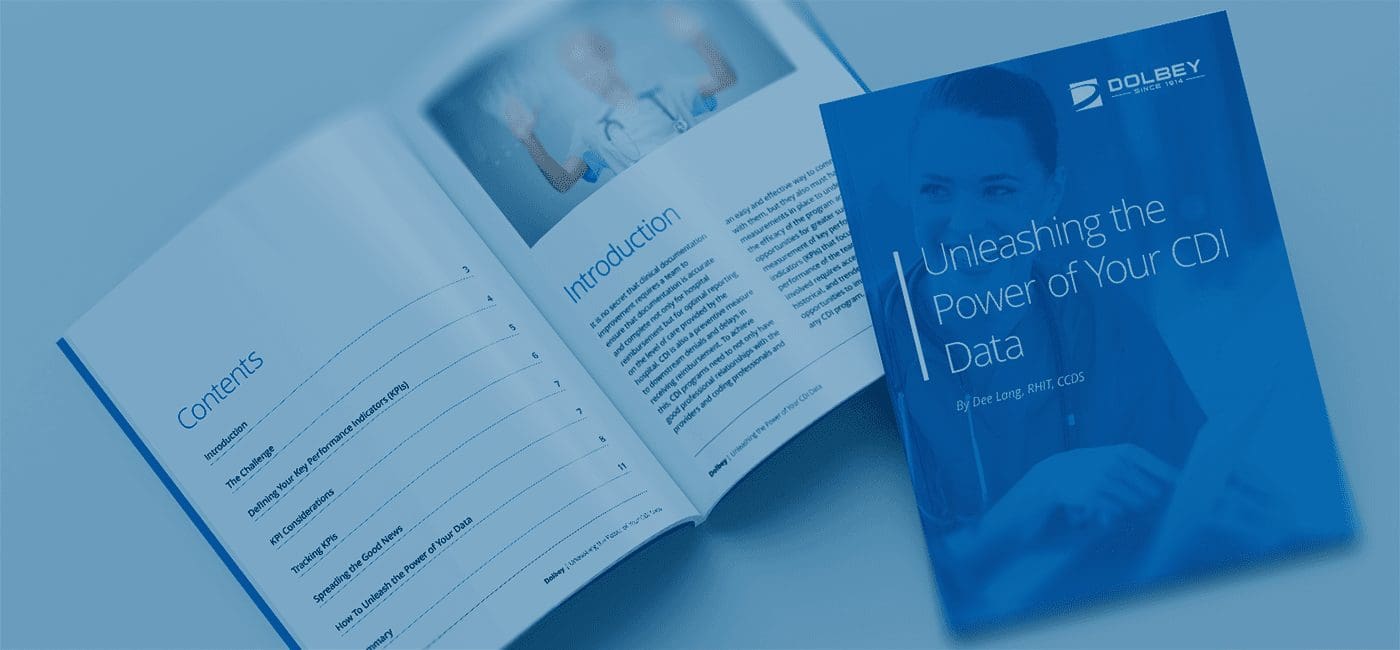 [spb_row element_name="Row" wrap_type="content-width" parallax_image_height="content-height" parallax_image_movement="fixed" parallax_image_speed="0.5″ bg_video_loop="yes" parallax_video_height="window-height" parallax_video_overlay="none" row_overlay_opacity="0″ row_col_pos="default" width="1/1″ el_position="first last"]
How do you monitor and demonstrate the efficacy of your CDI program?
Increased productivity
Reduced DRG mis-matches
Improved quality scores
Increased review rate
Reduced downstream denials
In the white paper "Unleashing the Power of Your CDI Data" Dee Lang, RHIT, CCDS, examines the challenges facing CDI Managers and offers suggestions for ways to use current and retrospective data to assist in managing a successful CDI program.
Defining and tracking your Key Performance Indicators (KPI) is the first step. That must be followed with creating reports that quantify your improvements in those key areas and sharing them with executives and physician leaders to identify process improvement opportunities.
The frustration of trying to track these KPIs manually can be overwhelming. The benefits of utilizing a CDI solution that offers the option of accessing your data, in real time, with robust ad-hoc reporting capabilities is essential. Reports that track productivity, communication, quality and revenue capture are all valuable tools used to identify where changes or expansion to your CDI program will have the most impact.
Fill out the form below to download the white paper and learn how to "unlock" your data and improve your Clinical Documentation Improvement (CDI) program.
[/spb_row] [spb_row element_name="Row" wrap_type="content-width" parallax_image_height="content-height" parallax_image_movement="fixed" parallax_image_speed="0.5″ bg_video_loop="yes" parallax_video_height="window-height" parallax_video_overlay="none" row_overlay_opacity="0″ row_col_pos="default" width="1/1″ el_position="first last"] [spb_blank_spacer height="40px" width="1/1″ el_position="first last"] [spb_gravityforms grav_form="79″ show_title="false" show_desc="false" ajax="false" width="1/1″ el_position="first last"] [/spb_row]