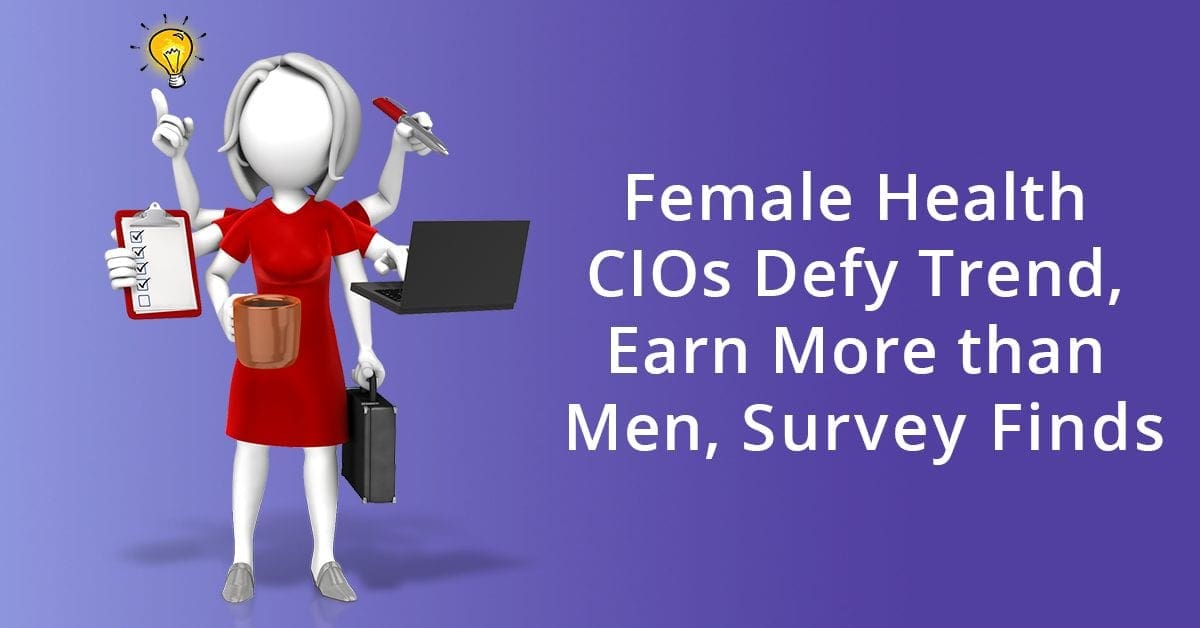 By Rebecca Pifer for Healthcare Dive
Dive Brief:
Pay is rising for chief information officers and other high-level health IT executives, according to a College of Healthcare Information Management Executives survey. Top IT executives drew on average a base salary of almost $235,806 in 2018, up 13% increase from 2012's average of $208,417.
Female CIOs made roughly $30,000 more than their male counterparts, the survey of roughly 270 CHIME members found, with salaries averaging $257,340 to men's $228,217. However, women only comprised 27% of respondents and make up roughly the same percentage of CHIME's membership. CHIME didn't collect gender data in their original 2012 survey, so it's unclear how the balance has shifted over time.
The majority of all respondents saw their salaries grow between 2017 and 2018, with 45% reporting a small bump in pay between 0-3%, 19% between 3-5%, 11% between 5-10% and 2% between 10-15%. Of the respondents, 3% saw pay increase by 15% or more.
Dive Insight:
As in most other U.S. industries, gender pay disparity is a huge problem in healthcare. Although there are fewer female than male health IT execs, they get paid more highly than their male peers, suggesting a potential sea change in the industry as STEM careers become more welcoming to women.
"It is rewarding to see that gender is not a barrier to equitable pay and that both our women and men members are recognized for their contributions," Sheree McFarland, CIO of the west Florida division of health system HCA said in a statement.
Health IT exec group CHIME, which has more than 2,900 members, also found people working in senior health IT positions are also generally very happy with their jobs, with almost three-fourths of respondents saying they're satisfied or very satisfied. Perhaps unsurprisingly, as salary decreased, health IT execs were more likely to report dissatisfaction.
Health IT executives and CIOs working at larger hospitals received higher salaries than those at smaller ones. Those working at facilities with one to 25 beds reported a yearly salary of roughly $136,000 while those working at facilities with 400 to 700 beds earned almost $300,000.
Within those that worked in hospitals or acute care facilities, those who worked at a children's facility had the highest average salary at $309,028, followed by academic medical centers at $287,385. Health IT professionals working in an integrated delivery network cop the highest compensation at $322,810.
Base salary also varied widely by region. Health IT execs in the Pacific (California, Oregon and Washington state) made 11% more in base salary than the national average, while those in the Rocky Mountains (Colorado, Idaho, Montana, Nevada, Utah and Wyoming) made 20% less. Those in the Midwest and Southwest made slightly above average and those in the Northeast and Southeast slightly below.
Education also affected salary as well, with those with higher degree levels generally receiving better pay. Some 6% of respondents had medical degrees and that population made significantly more than their less educated peers — roughly 60% more than those with master's degrees alone.