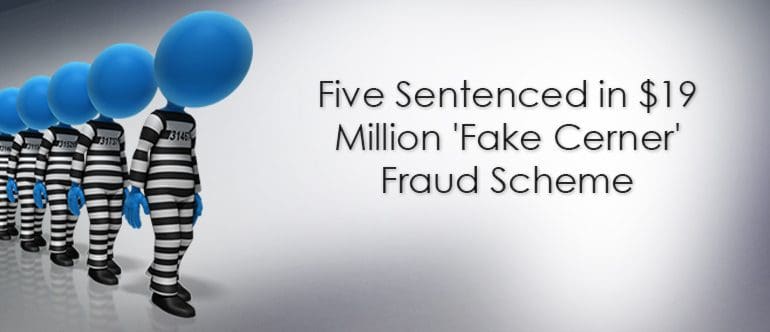 By Thomas Dworetzky for DOTmed HealthCareBusiness Daily News
The leader and his four co-defendants in a long term con in which the gang created fake "Cerner Corporation" employees to bilk investors, banks and businesses has been sentenced to prison.
Albert Davis, who had pleaded guilty to wire fraud in a Kansas City U.S. District Court during October, 2016, will do 12 years in federal prison and has to pay $19 million.
Davis and his gang of co-conspirators "developed a scheme to use Cerner Corporation's reputation and standing in the medical field to manipulate business transactions and court proceedings in their favor," prosecutors said, according to the Kansas City Star.
Defense lawyers had asked for an 8-year sentence.
"A former Eagle Scout, a graduate of West Point Military Academy, and a former Army Ranger instructor, medical innovator, and job creator, Albert Davis is a driven and committed father and entrepreneur," defense attorneys Cheryl Pilate and Brian Gaddy wrote in a sentencing memorandum, according to the newspaper. "Unfortunately, and to his deep regret, his fierce sense of purpose and drive caused him to fly far off the track and into the realm of fraudulent criminal conduct."
Assistant U.S. Attorney Matthew Wolesky, took exception to the use of his West Point background, and wrote that, "this case involves perjured testimony, doctored trial exhibits, a manipulated multimillion-dollar civil verdict, a fake bankruptcy filing, the use of fake people with fake email accounts, impersonated companies — and a phalanx of over seventy entities to conceal it."
There were other sentences handed down in the case Tuesday.
On Tuesday, co-defendants David Tayce, David Hernon, Richard Bryant and Christina Bryant were sentenced for their roles in the conspiracy.
David Tayce was sentenced to five years and six months in federal prison and will jointly pay the $19 million as restitution; David Hernon was sentenced to four years and four months and has to pay $6 million; and Richard Bryant and his wife, Christina Bryant, were sentenced to five years probation and ordered to pay $8 million, according to the Star.
The long-standing con began in August, 2008, and was active until February, 2015.
Davis pleaded guilty and admitted at that time that he led the conspiracy that included 4 others previously convicted.
The elaborate scheme involved creation of a fake Cerner business entity for a similarly-named company, Cerner LLC, plus a fake bank account, Internet domain and a virtual office space in Kansas City, Missouri.
They also created fake employees – some of whom were actually impersonating real Cerner Corporation workers.
They made up fake documents, price quotes, and invoices as well.
"For example, conspirators sent e-mails to doctors at Summit Medical Center in Oklahoma, which falsely represented Cerner Corp. in negotiations by containing a quote for the sale of an MR to Summit Medical Center. Conspirators also created fraudulent invoices for the sale of an MR to Dallas Medical Center," the Justice statement noted at that trial.
Beyond that they also "impersonated bondholders in order to file an involuntary bankruptcy petition against their own company, CMI Holding Company, in the Northern District of Texas – and kept up the pretense "throughout the litigation in phone calls and email communications, and by signing as the bondholders in a settlement agreement."
That hustle reaped them a $1.8 million settlement of the involuntary bankruptcy.