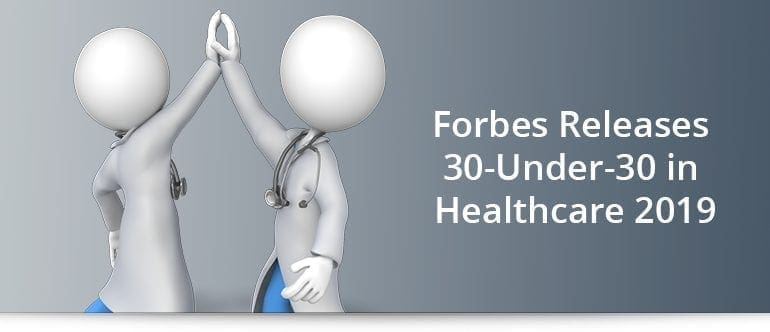 By Alyssa Rege for Becker's Hospital Review
Forbes has released its annual 30-under-30 list for 2019. The 2019 class of healthcare-minded individuals features a number of physicians, biotech innovators and researchers all aiming to improve care delivery in the U.S.
The 2019 class was judged by four healthcare industry leaders: Kristina Burow, managing director of Arch Venture Partners; John D. Halamka, MD, CIO of Beth Israel Deaconess Medical Center and dean of technology for Harvard Medical School — both in Boston; Philip Jones, PhD, vice president of Houston-based University of Texas MD Anderson Cancer Center's Therapeutics Discovery division; and Cigall Kadoch, PhD, founder of Foghorn Therapeutics and member of Forbes' 30-under-30 class of 2014.
Here are Forbes' 30 individuals under 30 years of age who are making significant contributions to the healthcare industry:
Megan Blewett, 29 — PhD candidate and an associate at venture capital firm Venrock
Catherine Freije, 27, and Cameron Myhrvold, 29 — virus researchers at the Broad Institute in Cambridge, Mass.
Nathanael Ren, 29, and Eddie Reyes, 28 — co-founders of Buoy Health
Marinna Madrid, PhD, 28; Nabiha Saklayen, PhD, 29; and Stan Wang, MD, PhD, 29 — co-founders of Cellino Biotech
Fei Chen, PhD, 28 — principal investigator at the Broad Institute
Anna Cliff, 29 — co-founder of telehealth company Dialogue
Tyler Clites, PhD, 28 — postdoctoral associate at Cambridge-based Massachusetts Institute of Technology
Joshua Cohen, 28 — MD-PhD candidate at Baltimore-based Johns Hopkins University
Connor Coley, 24 — PhD candidate at MIT
Cecilia Corral, 28 — co-founder and vice president of product at CareMessage
Cheryl Cui, PhD, 28 — co-founder of Nest.Bio
Abdullah Feroze, MD, 29, neurosurgical resident at Seattle Children's Hospital
Eric Frieman, 27 — co-founder of outpatient addiction and mental health treatment provider VFR Healthcare
Adegoke Olubusi, 25; Tito Ovia, 25; and Dimeji Sofowora, 26 — co-founders of Helium Health
Inmaculada Hernandez, PharmD, PhD, 28 — assistant professor at the University of Pittsburgh
Shinjini Kundu, MD, PhD, 28 — resident physician and medical researcher at the University of Pittsburgh
Kyle Loh, PhD, 25 — assistant professor at Stanford (Calif.) University
Janice Chen, PhD, 27; Lucas Harrington, PhD, 27; and Trevor Martin, PhD, 29 — co-founders of Mammoth Biosciences
Nohemie Mawaka, 27 — founder of Stats Congo
Alexei Mlodinow, MD, 28 — co-founder of Surgical Innovation Associates
Dennis Grishin, PhD, 28, and Kamal Obbad, 24 — co-founders of Nebula Genomics
Stephanie Papes, 28 — co-founder of Boulder Care
Trang Duong, 23; Henry Iseman, 22; and Victor Wang, 22 — co-founders of Penta Prosthetics
Nathan Buchbinder, 25; Coleman Stavish, 24; and David West, 24 — co-founders of Proscia
Alex Salter, 29 — MD-PhD candidate at the University of Washington in Seattle
Sukrit Silas, PhD, 29 — co-founder of BillionToOne
Erin Smith, 18 — founder of FacePrint
Raja Srinivas, PhD, 29 — co-founder of synthetic biology startup Asimov
Johannes Birgmeier, 28, and Karthik Jagadeesh, 29 — PhD candidates at Stanford University
Joy Wolfram, PhD, 29 — assistant professor at the Rochester, Minn.-based Mayo Clinic