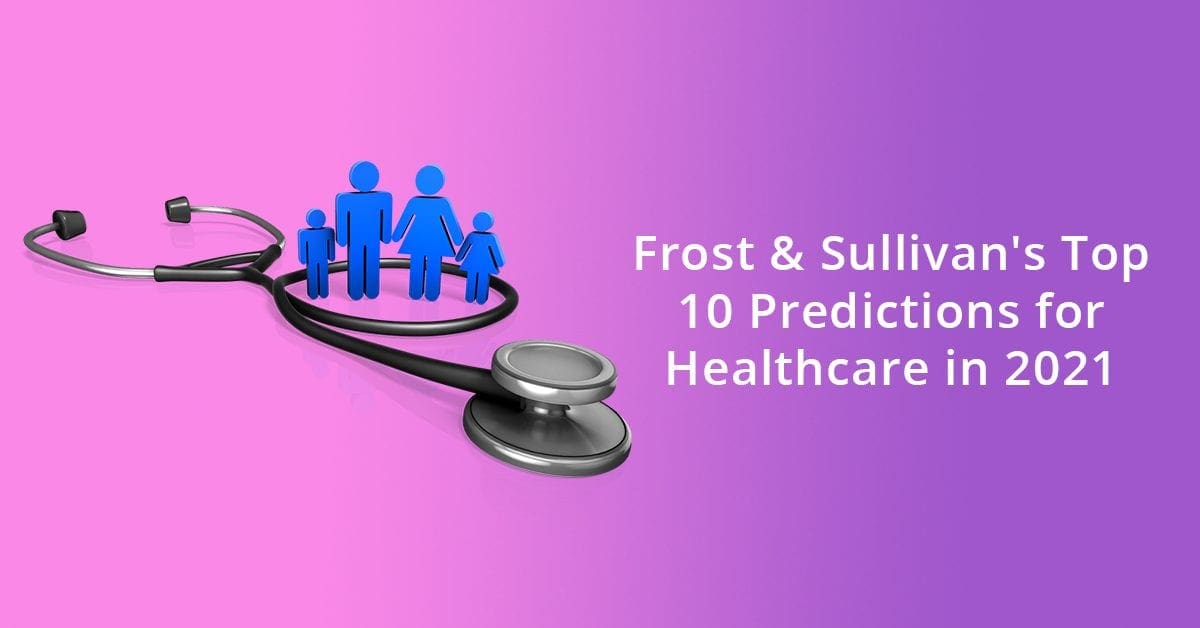 By Reenita Das for Healthcare IT
The year 2020 has been a year unlike any other year in our history. It has impacted the fabric of our society and life – but most importantly it has changed the healthcare industry forever.
The following 10 predictions that we have made for the global healthcare will define new ways of rethinking business and growth opportunities in 2021, and will help determine the future direction of the industry.
1. By the end of 2021, about 4 billion COVID-19 vaccine doses will be delivered globally.
These will be prioritized to immunize three target groups: the healthcare workforce, consisting of service providers, management & support workers in hospitals and social care; adults above 65; and about 45% of adults with comorbidities.
More than 50% of the expected production capacity of the vaccine candidates, which are in Phase III and are getting emergency approval, have been pre-booked by developed economies, such as the U.S., the E.U., Japan, Canada and the U.K.
Developing low- and middle-income countries are relying primarily on COVAX, the vaccines pillar of the Access to COVID-19 Tools Accelerator, which is co-led by the Coalition for Epidemic Preparedness Innovations, GAVI, the Vaccine Alliance and the World Health Organization. These organizations aim to deliver two billion doses by the end of 2021 equitably among all the 172 participating countries, which would result in around 25% of the global population getting vaccinated.
Pharmaceutical companies will be collaborating extensively for manufacturing, supply chain requirements, post-surveillance studies and storage. Digital enterprise vaccination management platforms will have to be built to inform the public, schedule vaccinations, automate mobile facilities, monitor outcomes and manage the supply chain for COVID-19 vaccines.
2. More than one in three patient interactions will go virtual globally – since the physician will no longer be the automatic first touchpoint.
The pandemic has reinforced the power of digital platforms in communicating and guiding healthcare. Throughout the crisis, virtual visits, remote monitoring and patient-engagement tools have effectively reduced foot traffic at clinics and delivered a large portion of office visits virtually.
Nearly 35% of patient interactions will be digital in 2021, compared to 20% currently as delivery paradigms change. Frost & Sullivan research indicates a growth of nearly 20-25% in patient engagement management solutions in 2021 alone. As patients have grown accustomed to digital healthcare, they are now demanding it from their providers.
Providers will be focusing on building the most effective 'digital front door' strategies to stay relevant to a hyper-connected audience. The patient engagement space will see M&A activity with those vendors with the most intuitive and interoperable user interfaces staying strong.
3. Up to 75% of hospitals' capital equipment budgets will be diverted to other immediate needs, with flexible pricing models becoming the norm.
Hospitals faced significant losses in 2020 due to COVID-19 since elective procedures were put on hold and outpatient department visits reduced dramatically. In 2021, as a continued trend from 2020, we expect hospitals to dedicate large portions of capital budgets towards digital transformation efforts – for virtual care, remote patient monitoring, analytics and other health IT capabilities.
Hence, the already reduced capital budgets due to lower revenues in 2020 will see an even smaller share dedicated to capital equipment procurement in 2021. In order to get new business, med-tech OEMs will be seen rolling out flexible pricing options and risk sharing models. As hospital CFOs are looking for ROIs in two-to-three years, instead of five-to-seven years, outreach messages will need to be customized.
4. U.S. hospital margins will improve from Q2 with new revenue innovation and reimbursement transformation.
In the US, as federal aid waned, for-profit hospital margins have been extremely strained in 2020. Further, patient volume instability and cost management remain key challenges. Cost-cutting will be a priority for hospitals in the U.S. and globally. They will seek supplier agreements that are more long term with lower up-front investments. Nursing agreements will also see a change to avoid up-front costs and reduce overall costs.
Hospitals will negotiate hard with Centers for Medicare & Medicaid Services and Medicare Advantage plans to be paid on a per month basis to ensure there is a continuous revenue stream, moving away totally from a fee-for-service agreement. Hospitals will also lobby hard to receive revenues from telehealth services.
5. The enterprise imaging IT space will drive up to $2 billion in investments toward imaging workflow efficiency, interoperability and analytics.
Much like hospitals, imaging centers also suffered significant losses in 2020. Budgets will be focused on imaging-IT infrastructure upgrades and teleradiology to manage workflow optimization and reduction of unnecessary examinations.
Consolidation of traditional IT infrastructure picture archiving and communication systems and vendor neutral archives is expected to improve the efficiency and quality of outcomes without wasting resources. OEMs will be seen deploying subscription-based models instead of up-front purchases.
6. Molecular screening platforms, multi-gene panel tests and NGS tests will re-imagine large population cancer treatment pathways – representing an opportunity of some $1.7 billion by the end of 2021.
More than 1.2 million mutations in 350 genes in a human body causing cancer make every cancer case a unique one. In addition to benefiting from less invasive testing, simultaneous mapping of multiple biomarkers of genomic alterations, rather than one biomarker at a time, is expected to increase access to multi-gene panel and next-generation sequencing tests (comprehensive genomic profiling/testing).
By unlocking the potential of multi-gene panels and NGS tests, the in-vitro diagnostic industry is accelerating efforts to transform cancer care by enabling precision oncology at all stages of the disease, regardless of specimen type.
As more guidelines get published in the future and possible label expansions are incorporated, real-word evidence and regulatory imperatives will drive the need to deliver the promise of precise therapies to patients and accelerate the adoption of these tests.
2020 witnessed the shift towards mapping multiple biomarkers of genomic alterations, thereby decreasing wait times for initiating treatment and providing insight into possible resistance mechanisms. By 2021, we estimate 5% of the new cancer cases will adopt multi-gene panels and NGS treatment pathways for the most common cancer types, i.e. lung, colorectal and prostate cancer. As the market evolves, early cancer detection pathways will become mainstream, and synergistic CDx (companion diagnostic) tests will foster this new standard in cancer care.
7. The global telehealth market will reach nearly $50 billion in 2021, and be embedded in virtual care.
The pandemic has been a massive jolt to the healthcare industry and telehealth stood out as the silver lining. The second quarter of 2020 saw a surge in virtual consultations via telephone and video calls as lockdowns remained in different parts of the world. Remote monitoring tools and mobile health apps and services took center stage.
Telehealth majors Teladoc and Amwell in the U.S. and AccuRx and KRY in certain parts of Europe saw stellar growth in the number of visits at the onset of the pandemic. Telehealth was the need of the hour – and with its benefits evident from its large-scale deployment, telehealth is here to stay. Permanent reimbursement relaxation will be critical to make telehealth a mainstream delivery mechanism.
8. More than one in four interventional medical equipment-application support-specialist interactions with hospital surgical teams will happen remotely.
Hybrid models of interaction (in-person and remote) will become more common. Several hospitals are limiting the presence of sales personnel in hospitals due to COVID-19, the majority of physicians believe these restrictions will continue.
In 2020, over 70% of U.S. application support specialists, provided surgical support remotely – via phone or video calls. Companies such as Avail Medsystems and ExplORer Surgical have already capitalized on this opportunity with 'procedural telemedicine' offerings to allow specialists to provide remote support to surgical teams in the operating room with real-time annotation and image-control.
Medtech OEMs will benefit from agile commercial models. Sales costs will be reduced dramatically with lower costs for travel. Best practices can be disseminated relatively more easily across the network with video training feeds to help improve patient outcomes and therefore brand value.
9. Behavioral health will drive 3X increased growth in the digital therapeutics market from 2021 to 2023.
The impact of COVID-19 will have a profound influence on the behavioral health of citizens around the world. The collective mental anguish, the loss of cherished family members, personal economic disasters, and the pressure to social distance have already increased the incidences of deep depression, anxiety, PTSD and substance abuse.
The response to this trend will drive increased growth in the Digital Therapeutics market in developed regions. The need for managing behavioral health symptoms will drive a three-fold increase in the digital therapeutics market by 2023, reaching $1.5 billion in the U.S. alone. Further, the mental tele-health and digital therapeutics market participants will begin to merge into a new hybrid market. This development will also drive growth in virtual care.
10. Up to 50 new deals are expected to lead to $2 billion spent on imaging solutions via enterprise-customer partnership models.
Reforms in national health policies and budget constraints will increase the appeal and appetite towards Opex business models. Rapid technology turnover will necessitate an allocation of 20-30% of imaging department budgets on next-gen intelligent imaging equipment over the 8-15 year horizon.
The road ahead
It's clear that the pandemic has accelerated the adoption of digital health and virtual care around the globe, and this will be seen through this decade. Healthcare providers will be seen embracing technology as never seen before. Healthcare delivery is no longer restricted to the four walls of hospitals.
Virtual care will take steam and an immediate opportunity for growth aided by the integration of wearables and acquisitions by telehealth leaders to offer platforms and end-to-end solutions targeted for care at home and also high-acuity settings. Interoperability will be table stakes, because secure and efficient data exchanges are essential building blocks of the digital future of healthcare.
The end goal is to move closer to the quadruple aim of healthcare … but digitally.