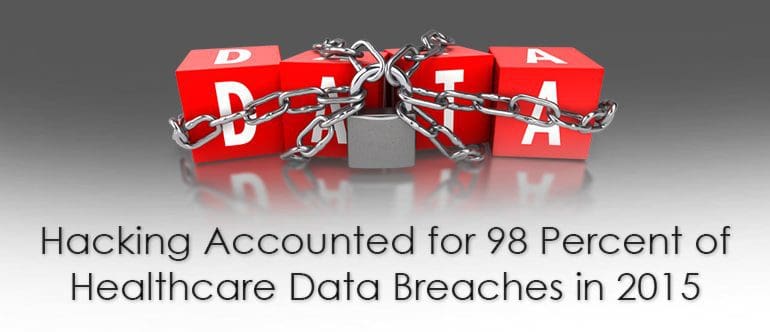 By Heather Landi for Healthcare Informatics
While lost and theft of employee devices accounted for the majority (68 percent) of healthcare data breaches in 2014, last year was a different story, with 98 percent of breaches due to hacking and IT-related incidents, according to a Bitglass Healthcare Breach Report.
The report cites a series of large-scale hacks in the healthcare industry last year as one reason for the shift from device loss to hacking as the primary source for breaches. Those large breaches include the Premera Blue Cross breach involving 11 million customers and the Anthem hack that resulted in 78.8 million leaked customer records. According to the report, even if the six breaches that occurred last year that affected more than 1 million individuals were excluded, hacking and IT-related incidents would still account for the majority of leaked healthcare records in 2015.
In 2015, only 97 breaches were due to the loss or theft of a device, down from 140 in 2014. By contrast, there have been 56 breaches due to hacking in 2015, up from 31 in 2014, and those 56 breaches affected more than 111 million individuals' data.
As has been previously reported in Healthcare Informatics, protected health information (PHI), which includes such sensitive information as Social Security numbers, medical record numbers and date of birth, is very valuable on the black market. The average cost per lost or stolen record that includes PHI is $154, and that number skyrockets to $363 on average for healthcare organizations, according to a Ponemon Institute report.
According to the Bitglass report, at least one administrator's credentials were compromised in the Anthem breach by means of a phishing attack where hackers used a technique called domain spoofing.  As the report explains, according to an investigation, hackers registered variations on the real domains and phishing emails were sent to employees to bait them onto the spoofed sites. Once employees log into the fake site with their credentials, hackers gain access to those credentials and employees are then logged into the real Premera or Anthem site, unaware that they have just been subject to a phishing attack.
In the case of the Anthem breach, that company's healthcare data was targeted by hackers in China, an investigation revealed, and access to those credentials provided the hackers with access to customer names, dates of birth, Social Security numbers, healthcare ID numbers and income data. With the Premera breach, bank account and medical claims information also were potentially leaked.
In light of the major breaches in 2015, the report also cites the need for healthcare organizations to have a HIPAA-compliant, comprehensive, data-centric solution. As previously reported by HCI, healthcare organizations are looking at a number of innovative data security solutions, such as behavioral pattern auditing and, in the case of Dallas-based Texas Health Resources, a sophisticated risk management-based approach to information security.