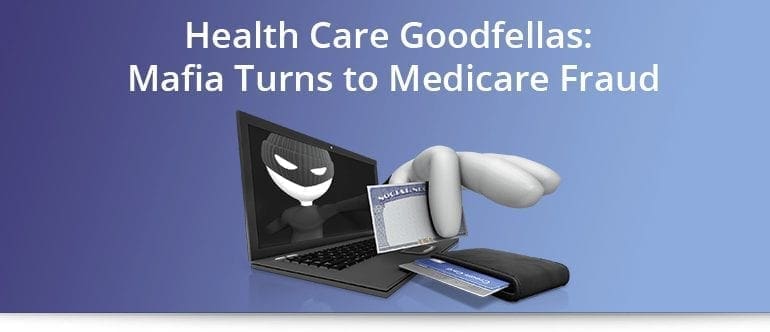 By Edecio Martinez for CBS News
MIAMI (AP) Lured by easier money and shorter prison sentences, Mafia figures and other violent criminals are increasingly moving into fraud involving the government's Medicare health insurance program for the elderly.
Around the U.S., federal investigators have been threatened, an informant's body was found riddled with bullets, and a woman was discovered dead in a pharmacy under investigation, her throat slit with a piece of broken toilet seat.
For criminals, Medicare schemes offer a greater payoff and carry much shorter prison sentences than offenses such as drug trafficking or robbery.
"We've seen more people that used to be involved in (dealing) drugs are switching over to health care fraud because it's not as dangerous," Miami FBI spokeswoman Judy Orihuela said.
Medicare scammers typically make their money by billing Medicare for medical equipment and drugs that patients never receive — and never needed. Some pay homeless people on Los Angeles' Skid Row for Medicare or Social Security numbers to use in fake billing invoices. Others intimidate elderly victims to use their Medicare numbers, federal authorities say.
Most Medicare schemes are based in cities such as Miami, Los Angeles, Detroit and Houston. And rather than building an elaborate hierarchy like the Mafia or other gangs, many Medicare con artists use common street criminals to recruit patients and doctors, authorities said.
A Medicare scammer could easily net at least $25,000 a day while risking a relatively modest 10 years in prison if convicted on a single count. A cocaine dealer could take weeks to make that amount while risking up to life in prison.
"Building a Medicare fraud scam is far safer than dealing in crack or dealing in stolen cars, and it's far more lucrative," said Lewis Morris, lead attorney at the Department of Health and Human Services' inspector general's office.
It's unclear how many violent crimes are tied to Medicare fraud because most of them are carried out by someone within the hoax who attacks another person taking part in the crime.
One Southern California criminal task force has arrested about 50 suspects for Medicare fraud in the last three years.
And 11 members of New York's Bonanno family were indicted in May in a Medicare fraud scheme in South Florida. They were accused of stealing patients' Medicare numbers and using them to submit false claims. Other allegations included identity theft and conspiring to commit murder.
Even criminals with violent records, including a convicted murderer, have been able to obtain Medicare supplier licenses. Applicants with felony records can only be rejected if their convictions are 10 years old or less.
"It's outrageous that those trusted to provide medical care are really nothing but common criminals," said federal prosecutor Kirk Ogrosky, who heads the Medicare Fraud Strike Force across the United States.
Guillermo Denis Gonzalez spent 14 years in prison for second-degree murder, but after his 2006 release, records showed he soon bought a business called DG Medical in the Miami suburb of Hialeah and applied to be a Medicare supplier.
Within two months, federal investigators were alerted that the Medicare claims the company were making were fraudulent and suspended its license. By then, the sham company had illegally netted $31,000.
Last month, he pleaded guilty to Medicare fraud and now awaits sentencing. He is also charged in a gruesome killing in May 2008 in which police say he repeatedly stabbed a man with a kitchen knife, crushed his face with a mallet, then cut off the victim's head and dismembered the body before stuffing the parts in trash bins. The killing might be related to Medicare fraud, authorities said.
His attorney, Stephen Kramer, has declined to comment.
Medicare-fraud investigations used to focus mainly on patient records and financial papers, but now the crime scenes are increasingly bloody:
— In 2007, authorities found Juana Gonzalez lying in a pool of blood on the floor of her Miami pharmacy. Her cousin was charged with second-degree murder, accused of taking a piece of a broken toilet and slitting Gonzalez's throat. Federal authorities said they were investigating the pharmacy for Medicare fraud and believe the crimes are related.
— In 2004, a week after the FBI issued search warrants on more than 50 fraudulent Medicare storefronts in Miami, the body of Ernesto Valdes was found in the back seat of his car, riddled with bullets. Federal authorities said he had information that could have linked players in the $148 million fraud scheme. No one has ever been charged in his slaying.
— In 2006, members of a Russian-Armenian organized crime ring were indicted for allegedly bilking Medicare of more than $20 million through a group of medical clinics they ran in the Los Angeles area. The group included Konstantin Grigoryan, a former colonel in the Soviet army, family members and others with past criminal records.
"They don't have the typical structure that we see in Italian mobs. They'll work with whoever can make them money. And if they don't get their way, they won't be ashamed to kidnap somebody, to shoot somebody," said Glendale Police Lt. Steve Davey, who leads the Southern California Eurasian Organized Crime Task Force.
The violent crimes are mostly to settle a debt or silence a witness.
"It's in-house. Typically professional hits, generally unsolved. Usually it's just a bullet in the head, nobody saw anything," said Los Angeles County Sheriff's Sgt. Stephen Opferman.
The Armenian gangs have also aggressively pursued elderly patients, intimidating them to obtain their Medicare numbers, Opferman said. Police have received reports from family members who feared their grandmother had been abducted, only to learn later that she was picked up in a van and taken to a fake store where her Medicare number was swiped.
In Los Angeles, two federal authorities investigating Medicare fraud say colleagues have been threatened and had their cars followed.