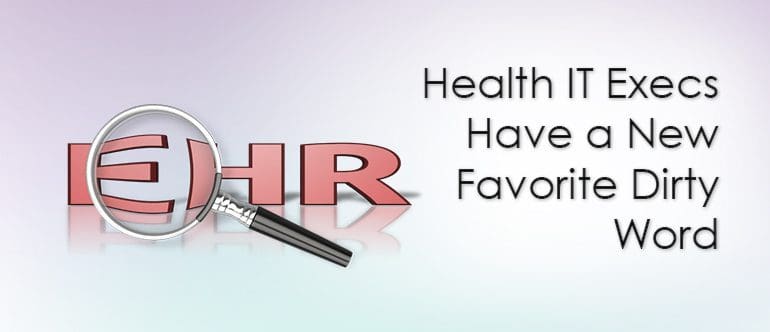 By Tom Sullivan for Healthcare IT News
athenahealth CEO Jonathan Bush, eClinicalWorks Founder Girish Navani and Cerner President Zane Burke talk about expanding their technology platforms and, in so doing, shedding a certain three-letter acronym.
When eClinicalWorks rechristened its flagship electronic health record software as the cloud-based 10e, CEO Girish Navani said something curious: "I don't want to call it an electronic health record anymore."
Executives at other EHR makers are striking a similar tone recently as well, nominally disassociating their products from the three-letter acronym as if it were a dirty word.
Navani's reasoning is simply that the core eClinicalWorks EHR is only about 5 percent of what the 10e iteration actually does.
Jonathan Bush, CEO of athenahealth, explained that his company is not an EHR vendor, either, because it offers more, including revenue cycle management, patient communications and care coordination services in the cloud.
Bush also took aim at the federal government's meaningful use EHR reimbursement incentive program.
"They are driving organizations into [EHR] products." And while Bush said the idea is "adorable and cute," he also insisted that it is a mistake.
"Even if Ed McMahon gave you an EHR, your problems would not be solved. That did happen except his name was Barack Obama, and no one believes their problems have been solved," Bush said.
Cerner President Zane Burke took a different tack in saying he does not actually mind being called an EHR company – while also acknowledging that EHRs will be relegated to heavy transactional systems in the future rather than the central piece of care delivery they are often positioned as today.
"The strategy layer has to be played at a different game," Burke said. "Fundamentally Cerner will become a population health company. You've got to have access to information whether it's in an EMR or in claims data or PDF data or a national database to help physicians make better decisions at the point of care. You can only do that by having all available information out there. And you're just not able to do that within the confines of an EHR."
Whether other vendor executives will start to consider EHR a dirty word as they broaden their technology horizons remains to be seen.
At this point, however, it should be clear that EHRs alone as they exist today will not suffice as healthcare providers move toward population health, precision medicine, chronic care management, accountable care and value-based reimbursement.
Healthcare IT News Editor-at-Large Bernie Monegain and Managing Editor Bill Siwicki contributed to this report.