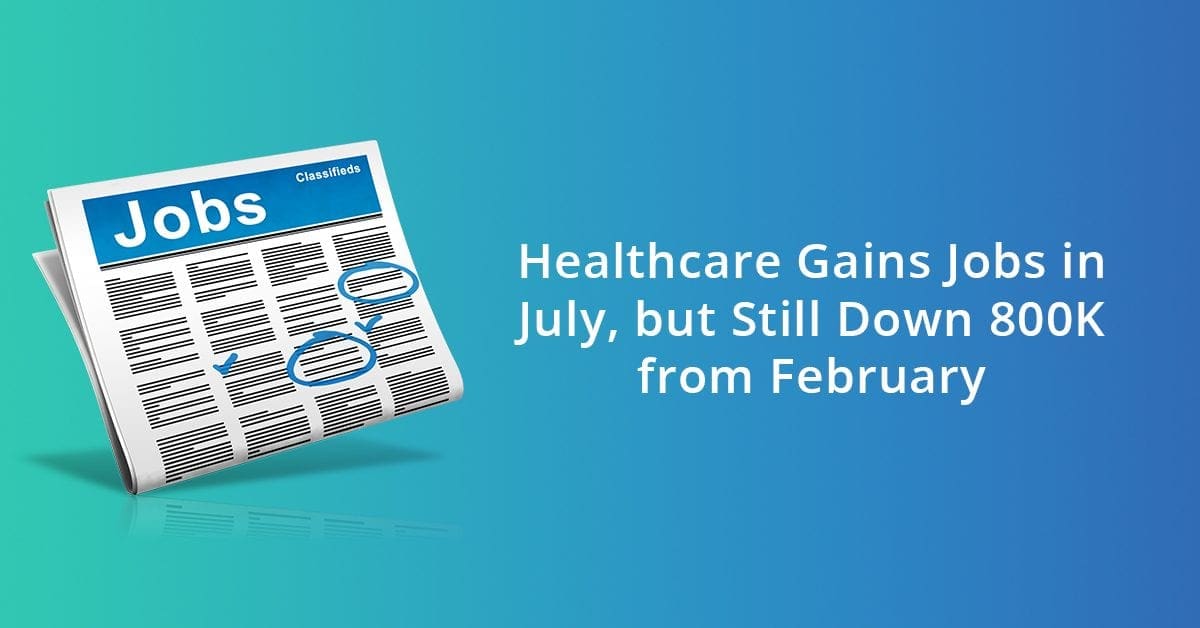 By Hailey Mensik for Healthcare Dive
Dive Brief:
Healthcare added 126,000 jobs in July with notable gains for dentists (+45,000), hospitals (+27,000) and physicians' offices (+26,000). That's slower than June's growth of 358,000 healthcare jobs, and the industry is still about 800,000 jobs short from February's levels.
Nursing home job losses deepened with 28,000 more in July after losing 18,000 in June. Home healthcare services saw more gains with 16,000 new jobs in July, after 18,000 in June.
Overall, the unemployment rate fell to 10.2%. It's steadily decreasing since April's peak of 14.7%, but still a far cry from February's low of 3.5%.
Dive Insight:
Healthcare job growth slowed in July, reflecting some effects of new coronavirus hotspots in late June that forced more shutdowns and overwhelmed hospitals in Sun Belt states.
The sector lost 43,000 jobs in March, then another 1.4 million in April, but began slowly boomeranging back in May, June and now July.
July's jobs report released Friday by the U.S. Bureau of Labor Statistics show ambulatory, outpatient and medical and diagnostic lab service jobs are returning near the levels they were at last year. Hospitals too are recovering from sharp losses earlier this year and approaching previous levels, adding 27,000 more jobs in July.
The same goes for dentists who faced steeped losses at the height of spring's lockdowns, slashing half a million jobs in April. And while most healthcare jobs appear to be returning, they're still about 800,000 jobs short from February's levels.
Erica Groshen, former BLS commissioner and current senior labor economics advisor at Cornell's School of Industrial and Labor Relations, said the net loss in healthcare jobs could be attributed to people continuing to put off routine and preventive healthcare.
"I haven't had my teeth cleaned now for about 8 or 9 months," Groshen said. "If we all put off these things for a long time, then those offices are running at smaller capacity. Then on top of that they've had to change their business models to not have as many people in the waiting room and serve fewer people over all. Both demand and capacity have shrunk."
Certain healthcare services that have previously been delivered in group settings such as group therapy or physical therapy have also been stymied by lockdowns and social distancing measures, Groshen said.
According to BLS, healthcare jobs are projected to grow 14% from 2018 to 2028, much faster than the average for all occupations. It's still unclear how the pandemic will affect that in the long term.