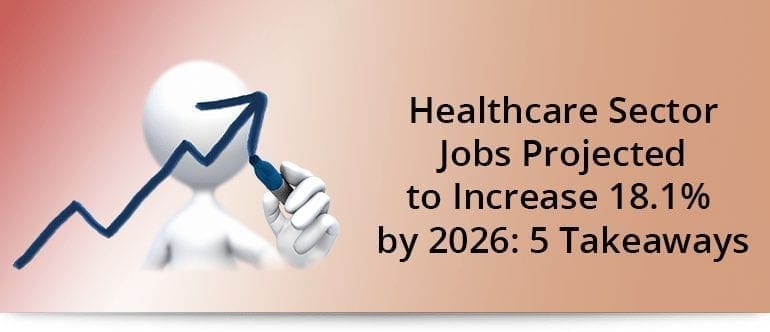 By Kelly Gooch for Becker's Hospital Review
Healthcare jobs are expected to grow significantly faster than the rest of the economy over the next decade, according to an analysis of Bureau of Labor Statistics data.
For the analysis, researchers with the Center for Health Workforce Studies — a part of the School of Public Health at the University at Albany-State University of New York — examined Bureau of Labor Statistics employment data for 2006-16 and employment projections made by the bureau for 2016-26.
Here are five key takeaways from the analysis.
Healthcare sector jobs are projected to grow 18.1 percent from 2016-26. This is below the 20.5 percent projected in the prior decade, but still a higher rate than the rest of the economy, which is projected to grow at 6.1 percent by 2026.
According to the analysis, 3.5 million healthcare workers will be needed to fill new jobs in the U.S. from 2016-26, and 8.1 million additional healthcare workers will be needed to replace workers who leave the occupation or retire during that time period. More specifically, labor data suggests more than 37,000 physicians, nurse practitioners and physician assistants will be needed each year over the decade to fill new jobs and to replace workers who leave the occupation or retire.
From 2016-26, home care and ambulatory care settings are the healthcare sectors projected to see the fastest growth. Hospital sector job growth is not projected to grow as fast due to its size, but it is still estimated the hospital sector will add 700,000 jobs by 2026.
Jobs in the healthcare sector or in healthcare occupations represented 14 percent of total U.S. employment in 2016. In total, the healthcare sector added 2.8 million jobs from 2006 and 2016, which is about 20 percent growth. This outpaced employment in all other U.S. sectors, which grew by 3 percent during that decade.
The number of hospital jobs that make up total healthcare employment decreased from 41 percent in 2006 to 39 percent in 2016. By 2026, that number is projected to decrease to 35 percent.