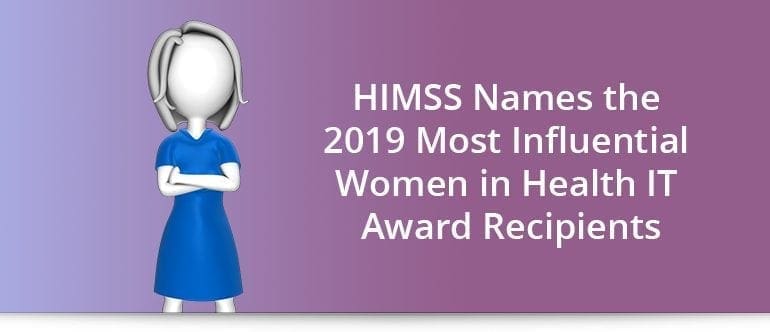 By Laura Lovett for Healthcare IT News
HIMSS on Tuesday unveiled the recipients of its HIMSS 2019 Most Influential Women in Health IT Award, including a diverse list of industry players representing Silicon Valley tech giants to major hospitals and academia to the public sector.
This year's awards honor women for their accomplishments advancing and improving healthcare and technology, according to Stephanie Denvir, senior director of strategic relations at HIMSS.
"We're honored to work with such influential experts in the health information and technology space who set an example for all to follow in the industry – regardless of age, gender, nationality or area of expertise," Denvir said.
While women have made strides in the health IT field, even today healthcare leadership is still dominated by men — with women making up only 11 percent of hospital CEOs and 22 percent of executives on Fortune 500 healthcare companies, according to a RockHealth report.
Now in its third year the HIMSS Women in Health IT award has annually honored women who have made waves across the industry and made major contributions to the field. In addition to their careers, many of this year's recipients have also participated on government advisory groups, volunteered or mentored younger women in the industry.
This years recipients are:
Aashima Gupta, who is currently serving as the director of global healthcare solutions at Google Cloud. Gupta has also led the creation of the Developer Innovation Lab with HIMSS Innovation fellows.
Kisha Hortman Hawthorne, PhD, MHA, MBA, BS, the chief information officer at the Children's Hospital of Philadelphia, who in addition to her role as CIO, she also serves as the executive sponsor of the Multicultural Professional Network.
Christine Hudak, PhD, RN-BC, CPHIMS, FHIMSS, the health informatics program director and professor of Health Informatics at Kent State University School of Information in Kent, Ohio, who is also a HIMSS Fellow and has mentored women in healthcare across disciplines.
Lygeia Ricciardi, EdM, the chief transformation officer at Carium Technology solutions, who has worked in both the public and private sector and mentored women about starting their own business and advancing in the field.
Heather Sulkers, CAPM, the senior director of the enterprise project management office at the Centre for Addiction and Mental Health in Toronto Canada, who has led the organization through HIMSS EMRAM Stage 7 certification.
These Women in Health IT will be honored during the Awards Gala at HIMSS19 on Wednesday, February 13, 2019, at 6:30 p.m. in Orlando.