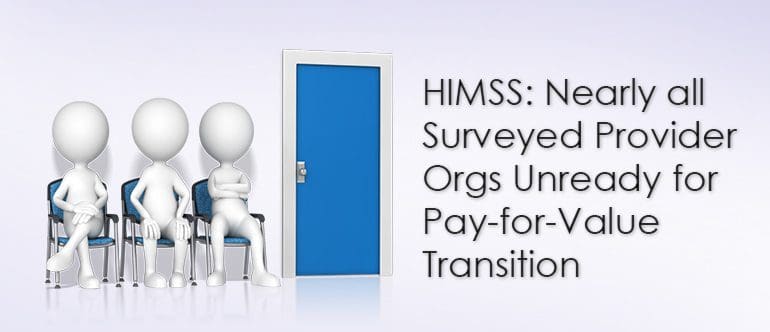 By Rajiv Leventhal for HCI | Healthcare Informatics
Just three percent of survey respondents believe their organization is highly prepared to make the pay-for-value transition, according to the 2016 HIMSS Cost Accounting Survey, unveiled at last week's HIMSS conference in Las Vegas.
Indeed, as more and more healthcare organizations begin adopting some form of a value-based payment model, the findings of the new survey suggest provider organizations have a sober assessment of their capabilities in facing the challenges ahead. Forty-five percent of providers represented are participating in some form of alternative payment model, according to the survey.
Interestingly, late last week, the U.S. Department of Health and Human Services (HHS) announced that an estimated 30 percent of Medicare payments are now tied to quality or value through alternative payment models, well ahead of the goal set to hit that target by the end of 2016. In January 2015, HHS announced a plan to tie 30 percent of traditional fee-for-service, Medicare payments to quality or value through alternative payment models such as accountable care organizations (ACOs) and bundled payments by 2016. By 2018, 90 percent of payments will be linked to value-based care (VBC) and other alternative models such as hospital readmissions. Those estimates were evaluated by the independent Centers for Medicare & Medicaid Services (CMS) Office of the Actuary and found to be "sound and reasonable," HHS officials said.
Regarding the goals set forward by HHS Secretary Sylvia Matthews Burwell last year, HIMSS officials said, with the release of this survey, that "During this initial stage of pay-for-value, it is expected that there will be a period of time during which provider revenues could decrease as payers and providers work to determine appropriate definitions of what should be included in a bundle, and what the appropriate pricing should be." With less than twelve months to reach HHS's first goal, HIMSS wanted to ascertain how providers are progressing towards the HHS milestone.
As suchm it found that the acuity of the challenges associated with a pay-for-value transition varies by market. With approximately half of the survey respondents representing an organization participating in an alternative payment model, those serving an urban market (69 percent serving both urban and rural communities; 48 percent exclusively urban) were more likely to participate in alternative payment models than those exclusively serving rural markets (31 percent).
The survey reflects the insights of 102 executives and finance professionals from an array of U.S. healthcare provider organizations. Asked to rank their organization's readiness to move from a fee-for-service to value-based payment model, respondents indicated that the top areas of need were:
 Tools to track and evaluate quality of care;
 Better communication between disparate providers; and
 Consistent definition of quality by specific type of disease.
Respondents also said they were looking for industry consistency in a number of areas including cost accounting methodologies and tools, how pricing is determined and shared and how the industry manages the exchange of clinical and financial information between all entities involved in an episode of care.
"As the industry moves to a more patient-centered, value-based system, it is exciting to see providers embracing this change," Pam Jodock, senior director, health business solutions at HIMSS, said in a prepared statement. "But if we are to realize the projected cost savings of moving from fee-for-service to pay-for-value we will need to act in a thoughtful way when building the infrastructure and business processes to support these new payment models." She continued, "…it will be critical that the industry reaches some level of consistency in terms of how providers should manage the exchange of clinical and financial information between all parties involved in an episode of care, regardless of whether or not they are part of the same healthcare delivery system."