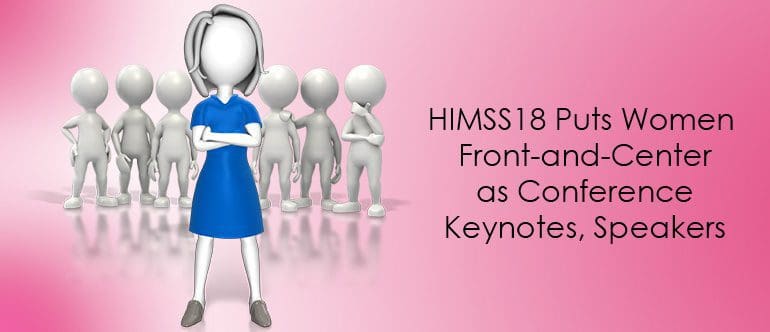 By Jessica Davis for Healthcare IT News
Women innovators from CMS, NASA, IBM Global Healthcare, Cleveland Clinic and Health 2.0 — among a long list of others — will share insights from interoperability to patient engagement at the annual health IT conference in Las Vegas.
This year's CES Conference, one of the biggest technology conferences in the country, and the JPMorgan Healthcare Conference had one major flaw in common: A lack of women in leading speaking roles.
Not one CES keynoter was a woman, while 94 percent of the 540 people presenting at JPMorgan were men.
At HIMSS18, however, women have a prominent presence. Not only are there at least 10 women keynoters at both the HIMSS Media events and the conference itself, the event will be dotted with networking and mentoring events.
Women are also leading presentations that range from nursing informatics to health system strategy.
Here are some of biggest presentations not to miss from healthcare's leading women.
Notable keynotes
McKinsey Senior Expert Jessica Kahn will take the stage alongside Micky Tripathi, Massachusetts eHealth Collaborative president and CEO in an opening keynote at the HIMSS/SHIEC Interoperability and HIE Symposium.
Kahn and Tripathi will discuss both efforts to advance nationwide interoperability — and where things need better coordination. They'll also discuss the tech with the most promise. The pair will present "Leverage Points to Advance Interoperability" at 8:15 am. March 5 in the Las Vegas Venetian Convention Center — Lando 4301.
Opening HIMSS Media Patient Engagement and Experience Summit at HIMSS18 is Adrienne Boissy, Cleveland Clinic Health System's chief experience officer.
Boissy's opening keynote titled "How to Disruptively Design the Human(e) Experience," will discuss the crucial disruptions in healthcare necessary to delivering the best experience for frontline caregivers, patients and their families. She'll speak at 8:20 a.m. March 5 in the Wynn's Petrus room.
Vice Admiral Raquel Bono, Defense Health Agency director will join U.S. Department of Veterans Affairs Secretary David Shulkin, MD, in the final day of HIMSS18 with a keynote titled: "Delivering 21st Century Coordinated Care for Those in and out of Uniform."
Bono — a former surgeon who now leads a joint integrated Combat Support Agency — will speak on military health advancements designed to deliver seamless data delivery and care coordination. The pair will speak at 8:30 a.m. March 9 in the Venetian Convention Center – Palazzo Ballroom.
Monday's presentations will end with three closing keynotes led by Liz Murray, best-selling author of Breaking Night; Indu Subaiya, Health 2.0 executive vice president; and Goshen Health Chief Financial Officer Amy Floria.
Murray, who survived being homeless to eventually graduate from Harvard, will share how support and perseverance can help overcome adversity and how adjustments to mentality can help with leading a more purposeful life. Her keynote is scheduled for 2:30 p.m. March 5 at the Wynn Convention Center's Latour Ballroom.
"Health Happens Everywhere," part of the HIMSS18 Innovation Symposium, will be led by Subaiya. She'll discuss how rising consumer expectations are creating a more distributed health data ecosystem and changing the conversation and business of healthcare. Subaiya's talk is tapped for 3:15 p.m. March 5 at the Venetian Convention Center, Galileo 901.
Floria's keynote, "Supply Chain Economics: A Remedy for What Ails You," is part of the HIMSS18 Business of Healthcare Symposium. She'll discuss strategies for leading a product evaluation to drive supply chain strategy, in addition to explaining how to effectively leverage data for physician engagement and compliance.
Floria will present these ideas at 3:15 p.m. March 5 at the Las Vegas Venetian Convention Center — Delfino 4002.
What not to miss
The number of women health IT leaders speaking at HIMSS18 is too many to list, but here are some of the event's most notable speakers:
Seema Verma, Centers for Medicare and Medicaid Services administrator, is scheduled to discuss the agency's interoperability efforts and patient ownership of healthcare data at 8:30 a.m. March 6 in the Venetian Convention Center — Palazzo K.
Another leading policy wonk, U.S. Deputy Surgeon General RADM Sylvia Trent-Adams will speak at the Nursing Informatics Symposium at 3:15 p.m. March 5 in the Venetian Convention Center. She'll speak on the role of health data in disaster relief and the role of nurses in improving public health.
Attendees can get an inside look at NASA's telemedicine program with Shannan Moynihan, the deputy chief of Space and Occupational Medicine and deputy chief medical officer of NASA's Lyndon B. Johnson Center and KBRwyle Department Manager of Flight and Medical Operations.
The pair is scheduled to speak at 10 a.m. March 8 in the Venetian Convention Center — Palazzo K.
Judy Murphy, IBM Global Healthcare chief nursing officer, is set to open the Coordinated and Connected Care Symposium at 8:15 a.m, March 5 in the Venetian Convention Center – Murano 3301. Murphy will outline the paradigm shift from episodic, to predictive – to preventive care, while comparing the value of dynamic trending data to static clinical data.
Cleveland Clinic's Julie Rish and Susannah Rose will present "Improving Healthcare through Co-Design," at 11:30 a.m. March 6 in the Venetian Convention Center's Palazzo L. The pair will speak on Cleveland Clinic's "patients first" guiding principle to drive patient satisfaction and value.
Jody Hoffman, senior vice president and managing director of Wexler Walker, will speak at HIMSS Media's Digital & Personal Connected Health Forum on Monday with the presentation titled: "The Latest on Connected Health, Telehealth, 21st Century Cures Act and More."
Hoffman, who previously served on the Clinton/Gore campaign's Health Care Advisory Group, will speak on the strides made in digital health policy last year despite the chaos in Washington, D.C. She's scheduled to speak at the Wynn's Alsace room at 12:10 p.m. March 5.
Battelle's Human Centric Design Thought Leader, Amy Schwartz — a leading cognitive psychologist focused on humanizing technology — is also slated to speak at the Digital Health Forum.
Attendees can also listen to women leaders discuss advice for the aspiring female executive, insights into health system strategy going into 2018, the key issues for selecting and developing the right alternative payment model and how to improve an organization's patient engagement programs.
Special events
There are three major events both celebrating women and providing an opportunity for women leaders to network.
At 9:30 a.m. March 8, attendees can join the Women in Health IT Mentor Meetup in the Venetian Convention Center – Lido 3104. Here, attendees can meet with influential women in the industry to network, expand their knowledge and engage in those thought-provoking conversations.
The Most Influential Women in Health IT Award will be presented as part of the HIMSS18 Awards Gala at 6:30 p.m. March 8 in the Wynn Hotel and Resort – Latour Ballroom.
And attendees won't want to miss the annual HIMSS18 Women in Health IT Networking Reception held at 6:30 p.m. March 7 at the Venetian Convention Center – Palazzo Pool. The event gathers innovators, leaders and entrepreneurs from the industry for a night of thought leadership.