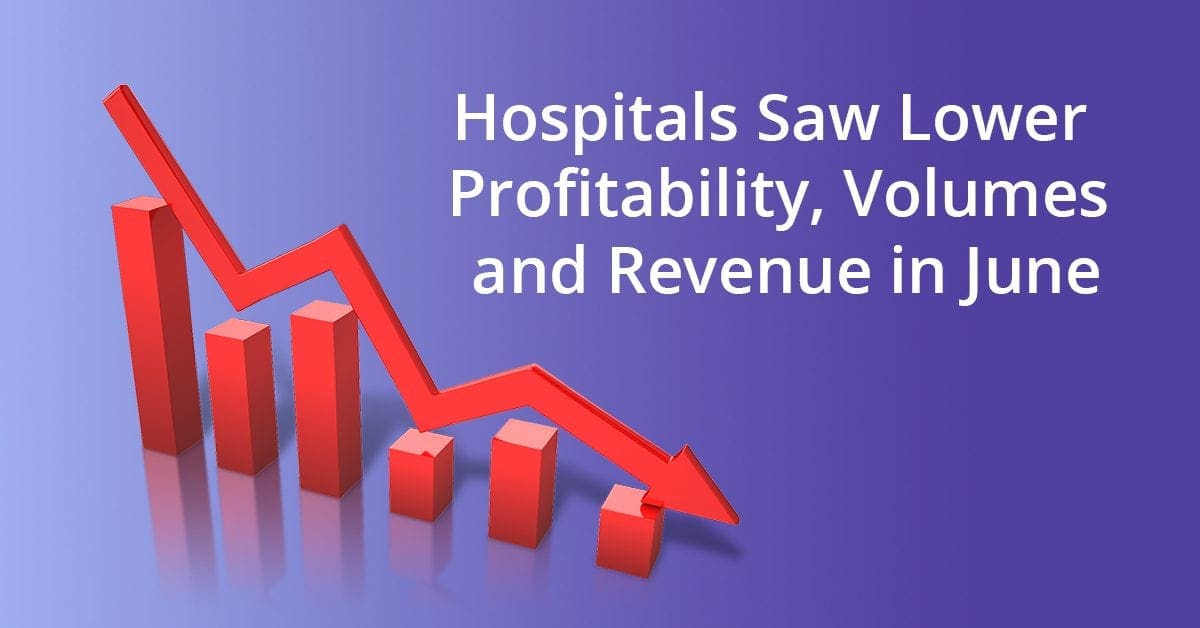 By Jeff Lagasse for Healthcare Finance
Many facilities seem unable to adjust expenses to coincide with declining volume, posing a fundamental risk to hospitals and health systems.
June was a less-than-stellar month in terms of hospital profitability. In fact, profits declined for the first time this year, and while the difference from the same month last year is negligible, operating margins dipped 188 basis points compared to May, according to this month's Flash Report from Kaufman Hall.
Hospital performance in June suggested many facilities are unable to adjust, or flex expenses to coincide with declining volume, posing a fundamental risk to hospitals and health systems.
"This inability to flex expenses has been a trend we've seen now for several months," said Kaufman Hall Vice President Erik Swanson. "Actually what we're seeing is that as volume declines, that inability to flex leads to some softened performance, if you will. And some of the organizations we find impacted the most are the small hospitals.
"Their lifeblood is essentially volume, and as that has stopped, they've really struggled, given their size and staffing ratios," he said. "So softening volumes really impacts them pretty profoundly, and we're also seeing that with the shift to outpatient care."
Larger hospitals have struggled to flex as well, partially due to more complicated corporate structures. Labor expense per adjusted discharge has increased, and they utilize a lot of purchase services and haven't been able to adequately flex those.
VOLUME, EXPENSES
June volumes were lower in than in May pretty much across the board, although they were generally stronger than they were a year ago. All measures except average length of stay went down 5 to 7% month over month.
Average length of stay was higher than in the previous year, and as such, adjusted patient days exceeded budget expectations. Operating room minutes were flat to below budget year-over-year.
"Volumes declined pretty significantly from May, but even more significant was the year over year change," said Swanson. "Overall we have seen a trend in decreasing inpatient volume, which I don't think comes as a surprise as hospitals are trying to capture some of that outpatient volume. Patients are more price conscious and there's more points of access. With the shift toward outpatient, reimbursement becomes a little less favorable."
Revenue performance for June fell short of budget expectations; performance month-over-month and year-over-year was mixed. An increase in net patient service revenue (NPSR) per adjusted discharge indicated NPSR growth outperformed volume declines compared to the prior year.
Expenses were unfavorable in June as compared to May, and even when compared to June 2018. Labor expense per adjusted discharge increased 4.9 percent over the past year, and non-labor expense per adjusted discharge rose 5.3 percent.
With adjusted discharges dipping 5.1% from May, and labor expenses increasing 1.9%, Swanson said more focus on management of labor expense may be in order, especially with declining patient volumes. The indicators also suggested an inflexibility in purchased service agreement terms when organizations see decreased volume.
"Up until this point, the ability to have this real-time information on a month-by-month basis hasn't really been achievable," said Swanson. "This is an excellent example where hospital operators should be taking this information back and putting plans in place to address this immediately."