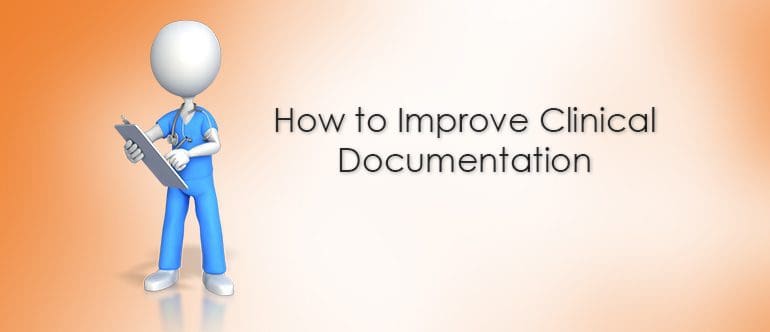 As health systems work to get the most from their physicians' EHR charting, experts say it's important to focus on the right metrics while working toward greater buy-in from doctors.
By Mike Miliard for Healthcare IT News
Hospitals and health systems trying to survive and thrive under value-based reimbursement realize that optimal clinical documentation is key to ensuring quality care and optimizing revenue cycle management.
Giving good feedback to physicians as they chart their care every day, helping them to log their diagnoses and treatments with accuracy, specificity and completeness is an essential skill for the era of accountable care.
Clinical documentation improvement specialists are trained to have a firm grasp the clinical details of high-quality care and to be able to spot gaps in electronic health record charting. Technology – natural language processing, machine learning – can help in big ways, but good CDI also definitely depends on good person-to-person communication and collaboration.
And it can lead to big clinical and financial benefits. Consider the $72.5 million in increased reimbursements enjoyed by Florida Hospital, for instance, thanks to a CDI program that also improved its case mix index, reduced mortality rates and led to greater physician engagement.
More and more hospitals are getting better at CDI, said Denise Johnson, vice president of HIM integrated services at nThrive — the company that emerged from the merger of MedAssets and Precyse — but there are still plenty of tips and tricks for doing it better.
There's been a shift recently, as health systems focus more on value-based care, to think differently and documentation, said Johnson, focusing "not just on reimbursement and looking for complications and comorbid conditions, but really looking at it more holistically in terms of an enterprise perspective, expanding into the outpatient space."
"One of the things we have seen really allowing us to engage with physicians has been giving them their data through our analytics." -Denise Johnson
Risk-adjusted contracts are causing health systems to place a premium on how chronic conditions are also captured, for example, she said. "That's another challenge that CDI is facing – how to embrace that and how to structure it in such a way that there's that balance."
An important priority to keep in mind, she said, is to manage the burden on doctors.
"The challenge always has been documentation and the competing priorities for physicians," said Johnson. "They have lots of individuals approaching them, around documentation and CDI. What we're seeing too is they're also being queried for information from the coding team still. Then there are the quality metrics that the quality group is focusing in on. And you've got case management also looking at them from a documentation standpoint. In some ways, it feels like they're getting it from all sides.
"So I think one of the challenges organizations are facing today is really how to pull all of that together in a collaborative way in order to maintain that physician engagement without all of the alert and query fatigue that they experience," she said.
So what are the keys to getting physicians on board with CDI, communicating its importance without badgering them into annoyance?
"One of the things we've found that has been really successful is physicians love data," said Johnson. "One of the things we have seen really allowing us to engage with physicians has been giving them their data through our analytics."
For example, "we have the ability to get detailed information for them around their queries, their query response rates – but also comparatively for them to their peer group," she said. "We have the ability, as we're rounding on the floors, to have those conversations – pulling up their data, showing them their trends for the last month, the types of queries they've had and identifying the ways in which we can help them so we don't continue to query them. Because ultimately, that's our goal."
Another opportunity is to collaborate with the clinical informatics team to spotlight ways in which certain necessary documentation elements can be built into their EMR templates, said Johnson. "That's another area we can explore to really engage the clinical team. Whether it's a physician or a physician extender, we have seen that that's been pretty successful in engaging them."
Alerts – real-time notifications to either the clinician or the CDI team, depending on the technology, are another useful tool, when used judiciously, to help make sure "you're getting it right the first time," she said.
"And then the last piece I would highlight is around analytics – leveraging the technology to get robust data back to the physicians to track trends and then to collaborate on the back end, if we're seeing denials, with the denials team so you can close that loop."
But what to measure?
Good analytics depends on good data, of course, and the metrics providers choose to focus on can go a long way toward ensuring a CDI initiative is optimal, said Johnson.
"Obviously we always measure query rates – how many queries are going out? And more importantly, the trends around this queries – what are the top queries you see month over month, are there patterns and trends?"
Even more important is also the response rate, she said. "It's one thing to send a lot of queries, but are you getting that physician response rate and that engagement?" Response time, from query initiation to response, is also important to measure.
Presuming they are responding, what are they saying? Another key metric is the concurrence, or physician agreement rate, said Johnson.
"If you're seeing a high level of disagreement, or non-response, what are the reasons for that? It's not always a physician issue. It could be a CDI education opportunity. Maybe the CDI team is not querying in such a way that the physicians are responding to them."
Production metrics for the CDI team – "how many reviews are they doing per day, for instance, so we can do the right staffing" – are also important as key performance indicators, she said.
"So is tracking and trending things around CC/MCC (complication and comorbidities/major complications and comorbidities) capture rate," said Johnson. "And case mix, obviously, is something all organizations measure. But not just overall case mix but really drilling down and looking at the overall case mix comparatively to the medical and the surgical. Month over month and year over year are you seeing patterns and trends?
"As we get close to Oct. 1," – when thousands of ICD-10 codes will be updated – "it's always important for organizations to take a look at the relative weight changes that will be happening," she added. "And to do that ahead of time so you can forecast."