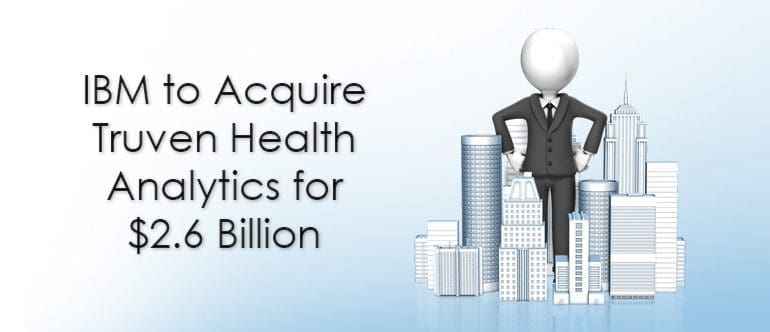 By Michael Walter for Radiology Business
IBM has announced plans to acquire Truven Health Analytics, an Ann Arbor, Mich.-based analytics company, for $2.6 billion. The deal will give IBM access to the data of more than 200 million unique patients, helping it further strengthen the power and capabilities of its cognitive Watson Health unit.
"With this acquisition, IBM will be one of the world's leading health data, analytics and insights companies, and the only one that can deliver the unique cognitive capabilities of the Watson platform," Deborah DiSanzo, general manager for IBM Watson Health, said  in a prepared statement."Truven's impressive team, extensive client roster, and expansive data sets complement Watson Health's broad-based team, capabilities and offerings. Together, we're well positioned to scale globally and to build first-in-class offerings designed to help our clients apply cognitive insights in a value-based care environment."
The acquisition increases the total number of employees currently working on Watson Health to more than 5,000, including "hundreds of clinicians, epidemiologists, statisticians, healthcare administrators, policy experts and healthcare consultants."
Mike Boswood, Truven president and CEO, said in the same statement that his company was excited about what this acquisition means for the future of healthcare.
"The Truven Health Analytics team is eager to combine our capabilities and expertise with the Watson Health portfolio," Boswood said in the same statement. "This will help catapult the industry forward to transform healthcare and to save and improve lives."
Truven, which is currently owned by Veritas Capital, is the fourth large healthcare-related acquisition IBM has made since first launching IBM Watson Health.
In April 2015, IBM acquired healthcare startups Explorys and Phytel to provide the company with data from patients' electronic medical records. In October 2015, IBM added more medical image data to the unit when it  finalized its $1 billion acquisition  of Merge Healthcare.
Kyu Rhee, MD, IBM chief health officer, spoke to RadiologyBusiness.com about Watson when the Merge acquisition deal was first announced.
"At IBM, we like to take on the most important challenges that the world faces, and health and healthcare is one of those extraordinary challenges that we have," Rhee said at the time.