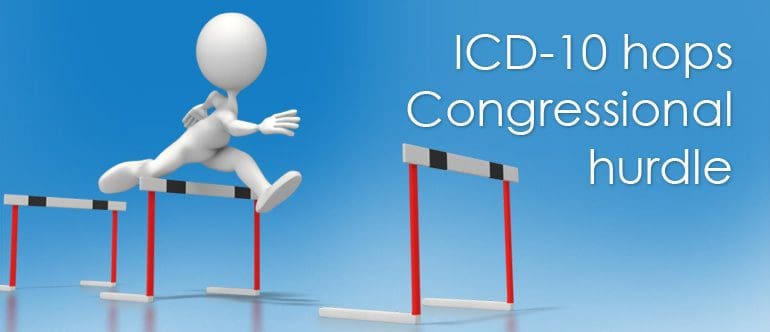 By Tom Sullivan, Editor-in-Chief, for Healthcare IT News
Congress will have just 17 week days to pass legislation killing the conversion. Is ICD-10 finally in the clear?
Health IT professionals and policy wonks sleeping with one eye open while watching Capitol Hill for clues about ICD-10's fate can rest easy – at least for now.
Congress kicked off its vacation on Monday and, in so doing, effectively hit a pause button of sorts: Before the U.S. Senate and House of Representatives return on September 8 there will not be any legislative action to delay or kill ICD-10. None.
Just don't mistake the midsummer truce that the Centers for Medicare & Medicaid Services made with the American Medical Association as any type of guarantee. That was not an act of Congress and insofar as public knowledge goes, CMS was operating under its own recognizance when it agreed to that treaty.
What's more, critics say the concessions – CMS won't deny erroneous claims so long as they are submitted in ICD-10 for the first year – are nice but not enough. It doesn't help, either, that the seminal readiness survey conducted by WEDI (Workgroup for Data Interchange) and published just last week found that 10 percent of providers and approximately half of medical practices are unsure whether they'll be ready on time. Yes, the other 90 and 50 percent, respectively, indicated they would meet the mandate, but those who might not triggered enough concern for WEDI to caution that claims disruptions might accompany the transition.
The thing about Congressional timing, though, is that Senators and Representatives will have just 17 week days in September to either pass one of the pieces of proposed legislation bandied about this spring and summer calling for a transition period, resurrect the Cutting Costly Codes Act laying dead on the Senate and House floors, or slip a provision into a different law after the fashion it conducted when bumping compliance day back to Oct. 1, 2015 in the Protecting Access to Medicare Act of 2014.
I won't say it cannot happen – anything is possible.
Republican Pennsylvania Rep. Joe Pitts surprised everyone, including no doubt some Congress members, with provision 212 in Protecting Access to Medicare. It's worth noting that former Health and Human Services Secretary Kathleen Sebelius startled quite a few folks, too, when HHS kicked the ICD-10 can down the road from 2013 to 2014.
Even still, at this point it's a long shot, and it's hard to imagine that even the most steadfast ICD-10 opponents wouldn't be shocked if Congress came back and acted quickly enough to produce a bill that President Obama could sign into law before September's end.
Are ICD-10 proponents in the clear now and, that's it, this switch is finally going to flip? Or will this one come down to the last minute?