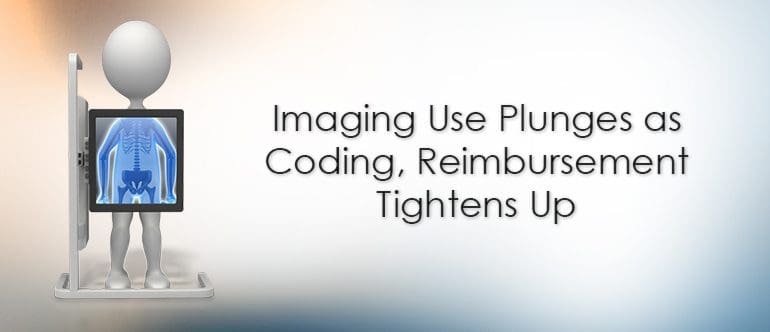 By Rachel Z. Arndt for Modern Healthcare
Medical imaging use in the U.S. has dropped significantly after years of widespread growth, leading to curtailed hiring, equipment purchases and reduced access to the technology thanks to cuts in federal reimbursement and new coding arrangements, according to a new study.
After the imaging boom of the 2000s, payers reined in reimbursements and spurred a rapid reduction in providers' imaging use. Those funding changes have forced providers to weigh carefully their hiring and patient-care decisions, according to the study published in the April edition of Health Affairs.
Providers may not purchase as much imaging equipment or hire additional radiologists because of the reimbursement decline as they prepare for a future of limited or no growth in imaging use, said Dr. Daniel Levin, lead author of the study.
Those decisions may spark reduced imaging access for patients, Levin said, especially given the simultaneous rise of high deductible health plans and the shift of imaging to outpatient hospital facilities rather than private offices. If patients have to go to outpatient hospital facilities for imaging, which tend to be more expensive than private offices, "a lot of them are going to end up not getting the scans they probably need," Levin said.
This is a dramatic change from the state of imaging at the beginning of the 2000s. Imaging grew quickly between 2001 and 2008. The rise sparked technology improvements and also saved providers time as they cared for patients, the researchers found. Use of echocardiography grew 42% between 2001 and 2008 but fell 61% between 2008 and 2009 and continued to drop until 2014, the last year included in the study. Nuclear and CT imaging also saw sharp dropoffs in utilization around the same time.
Those decreases are likely due to changes in federal policy, the study's authors wrote. In 2007, the Deficit Reduction Act of 2005 took effect, putting in place imaging reimbursement cuts.
In 2009, some procedure codes were bundled in the fourth edition of the American Medical Association's Current Procedural Terminology, which are used, along with ICD codes, for medical billing. Three echocardiography codes were bundled into a single code, for instance. "These payment policies have achieved the desired effect" of reducing imaging use, Levin said.
But the decline in imaging use also stems from changes in healthcare culture, as doctors became more concerned about radiation exposure and providers adhered to practice guidelines more closely. Radiology management companies, which contract with health plans to preauthorize advanced imaging requests, put a barrier between testing orders and actual tests, the study's authors wrote.
Meanwhile, accountable care organizations and bundled payments in recent years have encouraged providers to focus more on cutting costs, and high-deductible health plans have made consumers do the same.
"We believe it most likely that, absent further major code bundling, imaging rates . . . will remain at current levels for the foreseeable future without sustained or significant moves in either direction," the researchers wrote.