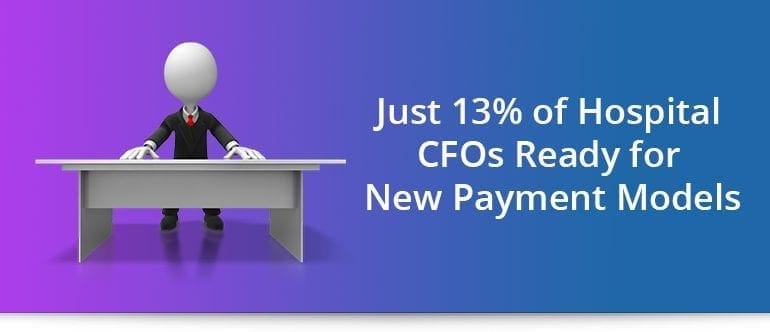 By Meg Bryant for Healthcare Dive
Dive Brief:
Confidence among the country's hospital CFOs is low, with just 13% saying their organization is "very prepared" to handle new healthcare payment and delivery models with current financial planning tools, according to Kaufman Hall's 2019 CFO Outlook: Healthcare report. That's down from 15% in 2018.
Less than a quarter of CFOs (23%) are "very confident" their team could quickly modify strategies and plans if needed, versus 25% a year ago.
Meanwhile, 96% of CFOs believe their organization should be doing more to leverage financial and operational data to inform strategic decisions, and 94% feel pressed to offer more insights into how financial results are affecting overall business strategy.
Dive Insight:
Hospitals and health systems are facing financial pressures from all angles — rising labor and supply costs, shrinking volumes, reduced reimbursements and smaller operating incomes. At the same time, they are looking for new ways to attract patients and create revenue streams, with telehealth and other innovative care models.
In an American College of Healthcare Executives poll released earlier this week, financial pressures, including rising costs, uncertainty about Medicaid reimbursement, cuts in operating costs and bad debt topped the list of hospital CEO concerns in 2018. Bad debt from uncompensated care cost hospitals $38.3 billion in 2016. Wisconsin alone ponied up $1.1 billion in uncompensated care in fiscal year 2017.
In today's evolving healthcare environment, CFOs are expected to manage more than their organization's finances, the report notes. While 85% of respondents say they are responsible for financial health, 80% report managing patient experience and quality of care/clinical outcomes. Three other core dimensions — operational efficiency, strategic growth and employee growth and retention — also demand CFOs' attention.
"Exceptional performance within one, two, or even three dimensions will not yield the desired enterprise results. Leaders are required to monitor and deliver results across all dimensions," according to the report. "A comprehensive view of performance requires the integration of relevant data from disparate sources and the identification of a manageable number of metrics to track for each initiative within and across dimensions."
CFO's No. 1 priority for 2019 is identifying and managing cost-reduction initiatives, followed by predicting and managing the impact of new payment models and improved performance management and reporting to hospital leadership.
To improve financial planning and analysis, two opportunities stand out: cost management and efficiency and reporting and analysis to support decision-making. Another growing priority is profitability measurement across specific dimensions, as leaders look to assess the performance of specific service lines and their impact on overall costs, according to the report.
The analysis also looks at CFOs' access to high-quality analytics and reporting capabilities. Roughly two-thirds report needing better dashboards and visuals and the ability to pull data from multiple sources into a single report. A slightly smaller share say they lack access to clean, consistent and trusted data and the ability to dig down into underlying data.
Almost all CFOs are concerned about performance management reporting at their organizations. Just 7% say they are "very satisfied" with such reporting, down from 8% the prior year.
At the same time, 58% report outdated financial planning processes, 41% cite insufficient financial planning tools and 37% say their financial planning skill-sets need improvement.
But updating processes and systems with newer analytics and software platforms may be a challenge, as 70% of CFOs say their organizations face resource constraints, up from 66% in 2018.