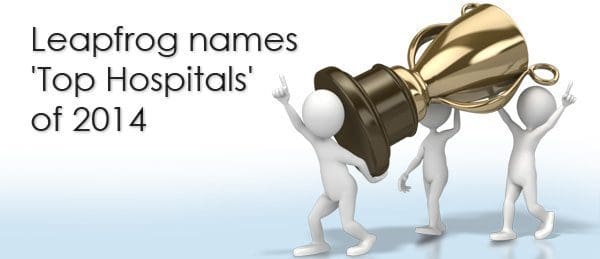 By Erin McCann for Healthcare IT News
Once again, rural hospitals rule the list
The numbers are frightening: Each year, medical errors kill 400,000 Americans, more people than any other illness aside from cancer and heart disease, a chilling statistic highlighting the urgent work to be done in the realm of patient safety. In an effort to recognize hospitals that have successfully worked to reduce these deadly medical errors, patient safety organization The Leapfrog Group has released its list of the 2014 top hospitals in the U.S., and once again, rural hospitals ruled the list.
Despite there being 1,000 more urban community hospitals in the U.S. than rural hospitals, rural hospitals accounted for nearly 28 percent of Leapfrog's top hospital list. Sixty hospitals were located in urban areas, and nine were children's hospitals. Other highlights from this year's list, as officials point out, include Massachusetts doubling its number of top hospitals on the list, having a total of 10. Also, marking their first time on the list, hospitals in Alabama, Kentucky and Rhode Island received the designation.
In making the list, Leapfrog evaluates hospitals' performances on national standards related to patient safety, quality, efficiency and management structures that reduce medical errors. Top hospitals report lower infection rates, higher survival rates for high-risk procedures, decreases in both lengths of stay and readmissions. Among the metrics evaluated include evidence of a hospital's ability to prevent medication errors in addition to adequate staffing to ensure high quality care.
"These top hospitals represent the best of American healthcare and deserve to be recognized for their commitment to prioritizing the safety and well-being of their patients," said Leah Binder, president and CEO of The Leapfrog Group, in announcing the list earlier this month. "The results of the Leapfrog Hospital Survey are used in high-stakes situations like national pay-for-performance programs – it's crucial information used by purchasers, health plans and consumers to assess the quality and safety of institutions nationwide. That's why we'll continue our push for hospitals to commit to transparency, and that means participating in and fully completing the survey."
Here is The Leapfrog Group's Top Hospitals of 2014:
Top Urban Hospitals
Mayo Clinic Hospital, Phoenix (AZ)
Scottsdale Healthcare Shea Medical Center (AZ)
Alta Bates Summit Medical Center Alta Bates Campus (CA)
California Pacific Medical Center – Pacific Campus (CA)
California Pacific Medical Center California Campus (CA)
Hoag Memorial Hospital Presbyterian (CA)
Kaiser Permanente South San Francisco (CA)
Kaiser Permanente Vacaville (CA)
Kaiser Permanente San Francisco (CA)
Kaiser Permanente Anaheim (CA)
Kaiser Permanente Fontana Medical Center (CA)
Kaiser Permanente Foundation, Downey Medical Center (CA)
Kaiser Permanente Harbor City Medical Center (CA)
Kaiser Permanente Los Angeles Medical Center (CA)
Kaiser Permanente Riverside Medical Center (CA)
Kaiser Permanente San Diego Medical Center (CA)
Kaiser Permanente Santa Clara Medical Center (CA)
Kaiser Permanente Woodland Hills Medical Center (CA)
St. Luke's Hospital Of San Francisco (CA)
Sutter Maternity and Surgery Center of Santa Cruz (CA)
UC San Diego Health System, Hillcrest (CA)
University of California Davis Medical Center (CA)
Baptist Health South Florida Homestead Hospital (FL)
Loyola University Medical Center (IL)
Northwestern Medicine Central DuPage Hospital (IL)
Northwestern Medicine Lake Forest Hospital (IL)
OSF St. Joseph Medical Center (IL)
Kansas Surgery and Recovery Center (KS)
King's Daughters Medical Center (KY)
Carney Hospital (MA)
Dana-Farber Cancer Institute (MA)
Harrington Memorial Hospital (MA)
Holyoke Medical Center (MA)
Massachusetts Eye and Ear (MA)
Milford Regional Medical Center (MA)
Morton Hospital (MA)
Nashoba Valley Medical Center, A Steward Family Hospital (MA)
Mercy Health Saint Mary's (MI)
Mercy Hospital Washington (MO)
Research Medical Center (MO)
Englewood Hospital and Medical Center (NJ)
Hoboken University Medical Center (NJ)
Saint Barnabas Medical Center (NJ)
Virtua Voorhees Hospital(NJ)
Presbyterian Hospital (NM)
Presbyterian Rust Medical Center (NM)
Dublin Methodist Hospital (OH)
Grady Memorial Hospital (OH)
Mount Carmel New Albany Surgical Hospital (OH)
Providence Portland Medical Center (OR)
Women & Infants Hospital of Rhode Island (RI)
Anmed Health Women's And Children's Hospital (SC)
Tristar Centennial Medical Center (TN)
Baylor Medical Center at Uptown (TX)
Metroplex Hospital (TX)
Mother Frances Hospital Regional Health Care Center (TX)
Sentara Princess Anne Hospital (VA)
Virginia Mason Hospital (WA)
St. Vincent Hospital Of Green Bay (WI)