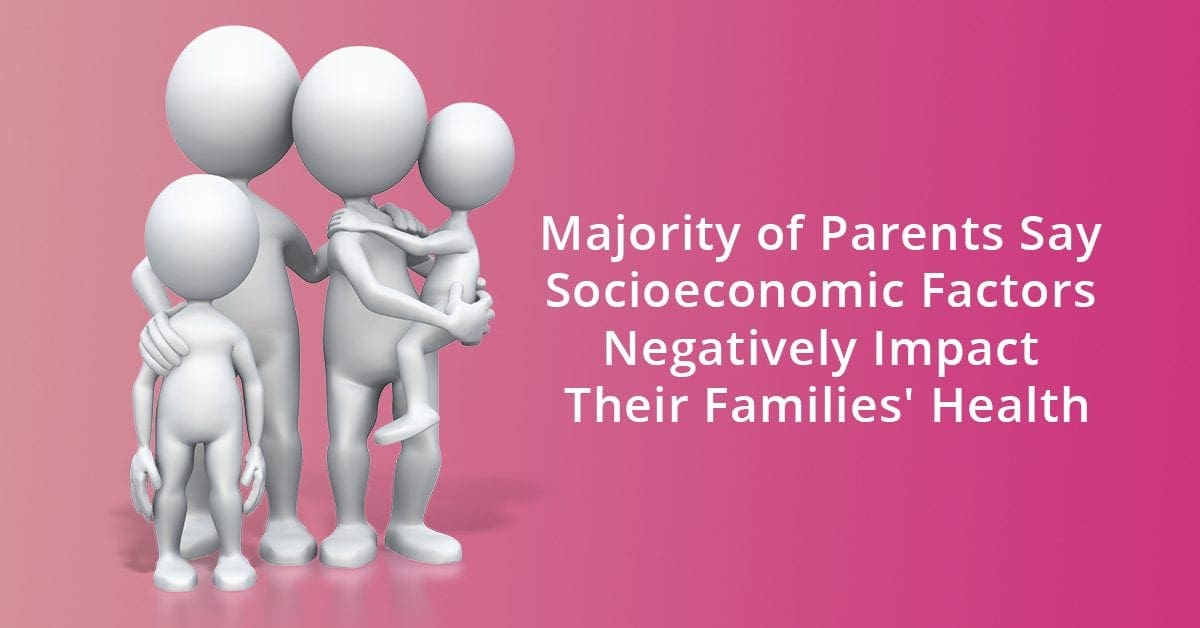 Jeff Lagasse for Healthcare Finance
Nearly two-thirds of American parents of children under 18 (65%) report at least one economic, environmental, or lifestyle factor that limits their family's ability to live a healthy life, according to a new nationwide survey conducted by The Harris Poll on behalf of Nemours Children's Health System.
Eighty percent of parents believe that they have sufficient resources to raise healthy children, but a majority also cite serious obstacles to staying healthy.
Close to 70% of parents cite experiencing at least one social determinant of health during the past 12 months, including: being unable to pay one or more of their bills (32%); skipping a doctor/dentist appointment because they couldn't afford to pay for visits or find transportation (32%); having trouble paying for or getting to a doctor/dentist appointment or medicine (30%); worrying about running out of food (23%); worrying about their/their family's personal safety (17%); trouble finding work or affordable child care (17% each); or being unable to access a grocery store with healthy food options (10%).
And 65% say non-medical factors like these limit their family's ability to live a healthy life.
WHAT'S THE IMPACT
The online survey also found that more than half of parents (55%) report that a healthcare provider/insurer has not asked them about these issues, even though 69% of parents say they would like their healthcare provider to connect them with community resources.
Only 33% say a healthcare provider or insurer asked them about these non-medical factors in the past 12 months. Among those parents, 68% say they did receive a social service referral, but roughly one-third were unable to get help because of waiting lists (33%), an inability to pay for services (32%), a lack of transportation (27%), or similar challenges.
The survey also found most parents can be made better aware of how much chronic disease is influenced by socioeconomic factors compared to medical treatment. The vast majority, 70%, mistakenly believe that prescription drugs have the biggest impact on preventing chronic conditions such as asthma and Type 2 diabetes.
The authors said hospitals and health systems and well-positioned to help stave off some of the negative consequences these factors can have, but that their financial incentives need to be realigned, with an emphasis on partnerships with social service agencies, commercial payers and the government.
THE LARGER TREND
Data plays a huge role in conducting the business of healthcare, and data surrounding social determinants of health is increasingly important. With reimbursement tied to outcomes, providers need to ensure that patients are receiving the best possible care, and certain social factors can make that a challenge, from lack of housing to inadequate transportation.
The challenge now facing healthcare organizations is that, traditionally, SDOH data hasn't been captured. Most of the data that's recorded during a visit is directly related to the patient's health and doesn't incorporate ancillary factors that can impact well-being.