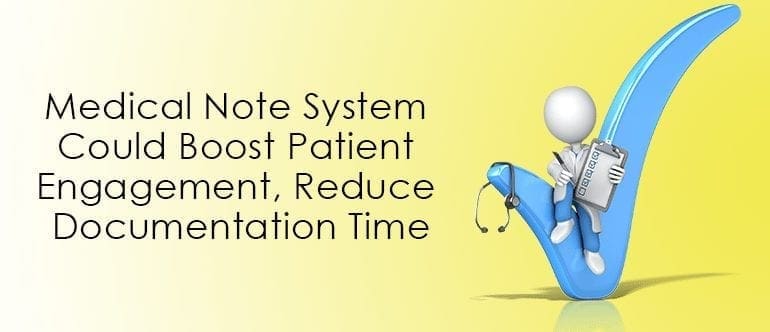 New research finds patients could benefit if they are invited to co-produce medical notes with doctors rather than simply reading them.
By Jeff Lagasse for Healthcare IT News
Encouraging patients to help write and add notes to their personal medical charts — a task typically handled only by medical professionals — may help patients feel more involved with their own care and improve relationships with their doctors, a new study has found.
In research published in the Annals of Internal Medicine, doctors at UCLA Health and Beth Israel Deaconess Medical Center found that patients could benefit if they are invited to co-produce medical notes, called "OurNotes," with their doctors, rather than merely reading them. The practice may also benefit doctors by reducing time spent on documentation.
The growing OpenNotes movement allows doctors to share visit notes with patients, who may then contribute to their own medical records via OurNotes — adding material such as symptoms or medical issues they experienced since their last visit, along with goals for upcoming visits.
The research said that thoughtful use of the approach could allow patients and physicians to focus more on care be reducing documentation demands on clinicians. An OpenNotes pilot is slated to be launched at a handful of medical centers in 2018.
To prepare for the pilots, researchers conducted in-depth telephone interviews with 29 healthcare experts. There were ere 11 primary care physicians, two specialist physicians, three nurse practitioners, four health information technology professionals, eight patient advocates and one policy expert. All were familiar with OpenNotes or were OpenNotes users.
Participants overall believed that OurNotes could promote patient engagement, improve patient-centered care and patient-provider collaboration, and possibly take some of the documentation burden off busy providers. The consensus was that the most promising approach for OurNotes is to contact patients before an upcoming visit and ask them to review previous notes, provide an interval history and list what they hope to address at the visit.
Participants were clear that patient contributions should not increase providers' workloads or disrupt workflow, and that participation in OurNotes should not be a requirement, but offered as an option.