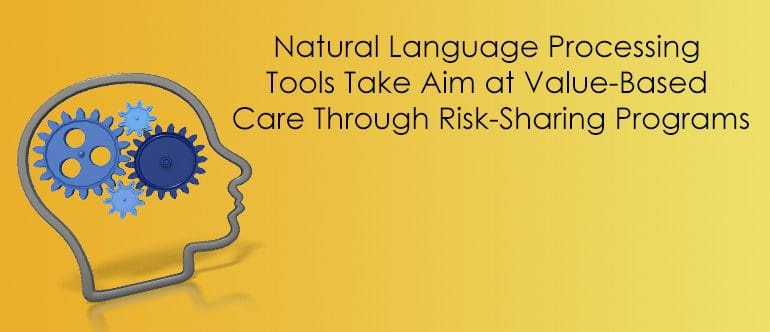 By Bill Siwicki for Healthcare Finance News
Natural language processing technology is being integrated with electronic health records and finding its way into the big data and analytics realms, often focusing on enhancing provider workflow and clinical documentation. And for the last few years, tech vendors including 3M, Apixio, Dolbey Systems, Health Fidelity, Linguamatics and Nuance, as well as enterprise IT big guns IBM and Microsoft, have been bringing NLP tools to the healthcare market.
NLP has challenges, of course, but it can offer important benefits when used wisely, said Anupam Goel, vice president of clinical information at Chicago-based Advocate Health Care.
Another is where NLP is gaining traction is among health systems reaping is the of NLP technologies to advance value-based care initiatives.
NLP for value-based care
Mount Sinai Health Partners announced this week that it is implementing a natural language processing-powered risk adjustment system to advance is value-based care initiatives.
With more than 300,000 members enrolled in various risk-sharing programs across multiple payers, Mount Sinai Health Partners, a clinically integrated network formed by Mount Sinai Health System, was seeking to develop a risk adjustment program that could maximize the performance of its existing risk arrangements and expand its participation in value-based care programs.
Mount Sinai Health Partners specifically wanted to leverage natural language processing technology in an attempt to optimize the accuracy and completeness of its risk capture. As a result, the IDN entered into a multi-year arrangement with Health Fidelity to help set up a comprehensive program with the Health Fidelity HF360 Risk Adjustment natural language processing software.
Health Fidelity initially conducted an HF360 Blueprint assessment to identify and quantify the risk adjustment optimization opportunity, which Mount Sinai Health Partners said helped it recognize the potential of a successful risk capture strategy.
"We needed to develop a holistic risk adjustment strategy as we continue our growth in this market," said Michael Berger, vice president of population health informatics and data science at Mount Sinai Health Partners.
NLP: Now is the time
While NLP can offer value-based care and advanced diagnostic benefits, it depends heavily on the specifics of how clinicians enter their documentation, Advocate's Goel said.
That said, Goel added that now is the time for NLP.
The technology has satisfactorily evolved to be useful rather than counterproductive, and the benefits – ease-of-use, a shorter window between clinical documentation and the activation of care teams – make it a worthwhile investment.