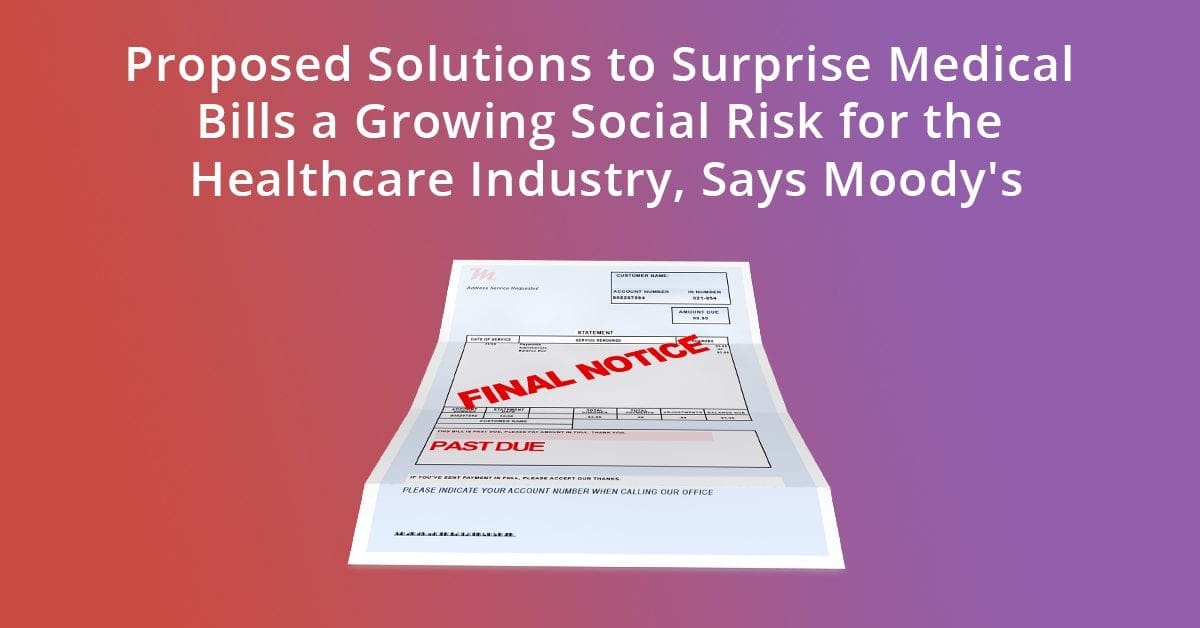 By Jeff Lagasse for Healthcare Finance
Solutions that have been proposed to resolve the problem of surprise medical bills are a growing social risk for the healthcare industry, Moody's Investors Service said in a new report.
Unexpected bills are generally received by insured patients who inadvertently receive care from out-of-network providers, mainly in emergency situations.
As a result, the impact of any legislation to curb surprise medical bills would be most pronounced for companies that have a high level of interaction with out-of-network patients, including hospitals, air ambulances and physician staffing companies that specialize in emergency care.
WHAT'S THE IMPACT
Solutions under consideration include capping out-of-network charges for emergency medical services at in-network levels, setting up an arbitration process to resolve out-of-network charges and requiring patients' consent for out-of-network charges. Other approaches would be to require a single, "bundled bill" for all care received in an emergency room, or have hospitals guarantee that all their affiliated doctors and service providers are in-network.
Among those options, bundled billing/in-network guarantee would be the most negative for hospitals and staffing companies, given that many hospitals outsource all their emergency department operations and billing to staffing companies. Meanwhile, an in-network guarantee would present steep challenges, since many physicians and ancillary service providers aren't employed or controlled by the hospital.
The largest providers would be least affected by any changes, Moody's said. Their scale gives them significant negotiating leverage with insurers, making them more likely to be in-network.
Subsequently, out-of-network exposure across Moody's-rated healthcare companies is relatively limited, though legislation could indirectly affect how they negotiate in-network rates with insurers and could pressure prices over time.
Plus, some of the proposed changes are likely to lead to industry consolidation as independent or smaller-scale providers look to become part of a larger in-network provider.
On Wednesday, the Senate Committee on Health, Education, Labor and Pensions is scheduled to consider the "Lower Health Care Costs Act," which includes a provision regarding surprise medical bills — a provision that's opposed by the American Medical Association. According to the AMA, the outline "fails to address some of the fundamental reasons why surprise billing occurs  — inadequate provider networks, higher patient-cost sharing requirements for out-of-network services, and non-competitive local markets that empower plans to offer take-it-or-leave-it contracts."
THE LARGER TREND
In March, Physicians for Fair Coverage, a nonprofit, non-partisan physician alliance, partnered with both state and national consumer organizations on a legislation model to protect patients from surprise out-of-network medical bills that they hope will inspire federal lawmakers.
The proposal seeks to ban providers and insurers from balance billing patients for unanticipated out-of-network care, also known as surprise medical bills. It creates a national protocol for alternative dispute resolution, or ADR, which is a model to prohibit surprise medical bills and establish reimbursement standards.
ON THE RECORD
"Curbing surprise medical bills, which is part of the conversation around the affordability and accessibility of U.S. healthcare, has rare bipartisan support, raising the likelihood of legislative or regulatory action at the federal level," said Jessica Gladstone, a Moody's associate managing director. "Even absent any action, surprise medical bills and the scrutiny around them represent a growing social risk for the healthcare industry and can ultimately harm some healthcare providers' relationships with their customers."