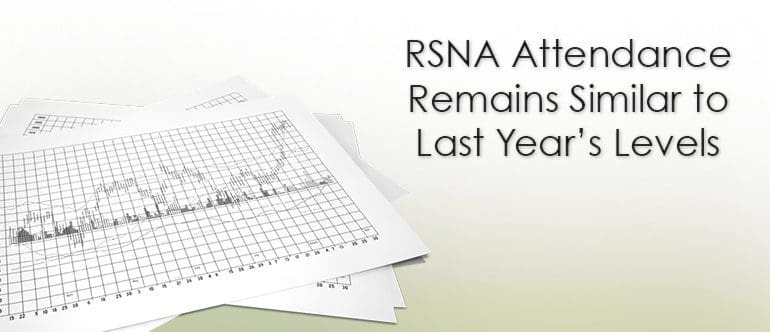 By Mark Hagland for Healthcare Informatics
As of Monday morning, advance registration at RSNA 2016 was 48,888—similar to last year's advance total
Attendance at the annual conference of the Radiological Society of North America (RSNA), which had been dipping in past years, saw a slight uptick this year, based on a preliminary estimate released by RSNA officials on Monday.
An association spokesperson released the following statement to the press on Monday morning: "RSNA 2016 total advance registration of 48,888 and professional advance registration of 23,656 are in line with our expectations. Audited registration totals will be available in early January." Still, while total advance registration was 1,828 over the 47,060 figure at this time last year, the professional advance registration of was actually slightly lower this year—last year, that figure was 23,856.
The total RSNA attendance figures for both this year and last year are down considerably from conference in 2014, but the way in which the association is presenting the numbers changed between 2014 and 2015, making clean comparisons impossible. As we reported last year at this time, the official audited total attendance in 2014 was 56,026, with 28,807 professional attendees, a result that RSNA executives trumpeted in a Jan. 21, 2015 press release as "the highest professional attendance recorded for an RSNA annual meeting." But last year and this year, RSNA officials chose not to provide daily attendance updates, breaking with past tradition; now, they are providing only a single advance-registration number, meaning that it is likely that the final numbers will increase at least slightly over this week, though they won't be reported, so those interested will need to wait until January to be able to make meaningful comparisons.
Meanwhile, the number of exhibitors at RSNA 2016 is 691, with 105 of those companies being first-time exhibitors. That is up from 656 last year (94 of them first-timers).