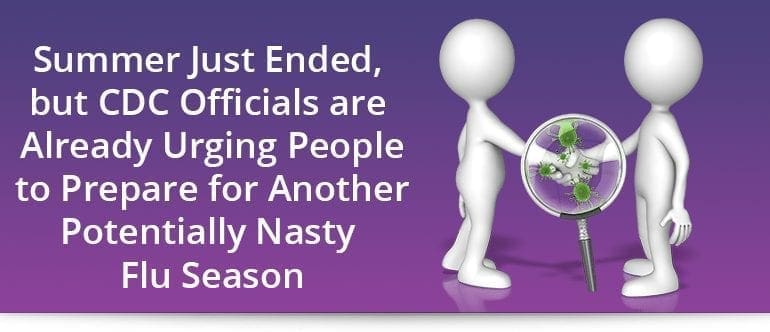 By Angelica LaVito for CNBC
Summer may still be lingering, but federal health officials are already urging people to start prepping for another potentially nasty flu season after last year's was particularly deadly.
The Centers for Disease Control and Prevention estimates that more than 700,000 people were hospitalized with the flu during last season, with epidemic levels of influenza or pneumonia for 16 consecutive weeks. Some 180 children died from the most recent bout of flu. The vaccine isn't perfect, but it offers the best protection against what can be a dangerous illness, the CDC said. About 80 percent of the children who died from the flu last season weren't vaccinated.
"Influenza is a potentially serious disease that can lead to hospitalization and sometimes even death," the CDC said on its website, adding that millions of people get the flu every year and thousands die from flu-related causes.
The season typically runs from October and can run as late as May, with activity tending to peak between December and February, according to the CDC. Yet the federal agency recommends getting vaccinated early, ideally by the end of October, before flu starts spreading.
Every year, the Food and Drug Administration chooses which strains of flu to put into the year's flu vaccine based on recommendations from the World Health Organization. They include three or four types, since multiple viral strains can circulate throughout the season.
Drugstores began rolling out this year's batch of vaccines in recent weeks. Most carry shots that protect against four influenza strains. There are almost a dozen different flu vaccines on the market, and the exact brand drugstores carry can vary depending on who they buy from. Seniors are usually given a high-dose formula.
CDC recommends babies older than six months get vaccinated, either with a traditional shot or, for those two years or older, a nasal spray called FluMist. The spray is available again this year after two years of CDC's Advisory Committee on Immunization Practices not recommending it over concerns it was not very effective against flu strains circulating.
However, the American Academy of Pediatrics recommends all eligible children receive a flu shot and the nasal spray be reserved for cases where children refuse the shot but agree to get the spray or when a pediatrician runs out of flu shots. The group made the decision based on data showing it was not effective against H1N1 strains of the flu virus and that it was less effective than expected against the H3N2 virus.
Manufacturer AstraZeneca reformulated the H1N1 portion of FluMist to make it more effective, but AAP decided to take a conservative approach when making its recommendation, said Dr. Wendy Sue Swanson, a spokeswoman for the AAP.
"It's not dangerous per se or ineffective, we just don't have the experience and confidence for the nasal spray to protect against one of the most commonly circulated strains," said Swanson, a pediatrician at Seattle Children's Hospital.
Walmart, CVS Health and Walgreens are not stocking FluMist, spokeswomen told CNBC. A Walmart spokeswoman said the pharmacists can order FluMist but the retailer will not carry it in all of its pharmacies.
AstraZeneca has submitted FluMist lots to the FDA, which has yet to approve the vaccines to be shipped. An AstraZeneca spokeswoman said once the lots are released, the manufacturer will ship FluMist to distributors in September, though availability will vary slightly depending on distributor.