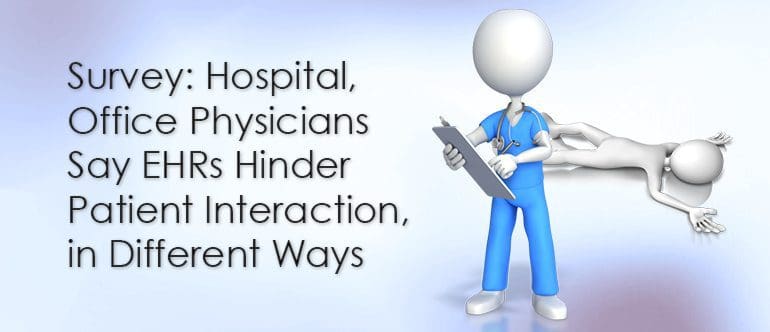 By Heather Landi for Healthcare Informatics
While it's no secret that physicians have complaints about electronic health records (EHRs) and the impact on patient interactions, one survey has found that hospital-based physicians and office-based physicians have slightly different concerns about how maintaining electronic records impacts clinical encounters.
An analysis by researchers at Brown University and Healthcentric Advisors, and recently published in the Journal of Innovation in Health Informatics, examines hospital-based physicians' perceptions of the impact of EHRs on patient-physician interaction and contrasts those findings against office-based physicians' perceptions.
The analysis is based on the open-ended answers that 744 doctors gave to this question on a Rhode Island Department of Health survey in 2014: "How does using an EHR affect your interaction with patients?"
The survey findings indicate widespread agreement among physicians that maintaining electronic health records undermines their connection with patients, however, hospital-based physicians cited different reasons than their office-based counterparts.
Hospital-based physicians commented most frequently that they spend less time with patients because they have to spend more time on computers; office-based physicians, on EHRs worsening the quality of their patient interactions and relationships.
According to the researchers, five main themes emerged for hospital-based physicians, with respondents generally perceiving EHRs as negatively altering patient interactions. "We noted the same five themes among office-based physicians, but the rank-order of the top two responses differed by setting: hospital-based physicians commented most frequently that they spend less time with patients because they have to spend more time on computers; office-based physicians commented most frequently on EHRs worsening the quality of their interactions and relationships with patients," the researchers wrote in the study.
Office-based physicians typically bring their computers into the exam room, leading one doctor to worry that staring at a computer rather than the patient seemed rude. One doctor is quoted as saying, " [It's] like having someone at the dinner table texting rather than paying attention."
Hospital physicians, meanwhile, typically perform their record keeping outside the exam room, and, to this point, one doctor said, "I now spend much less time [with] patients because I know I have hours of data entry to complete."
A Brown University article about the study pointed out that while "office-based physicians mainly complained about patient interaction and hospital-based physicians primarily worried over reduced time for patients, each group's second-most common lament was the other group's most common. They share the same concerns, albeit in distinct orders."
The researchers also point out in the study that hospital-based physicians report benefits from using EHRs, ranging from better information access to improved patient education and communication, however, "unintended negative consequences are more frequent themes."
"When comparing themes across settings, we note that hospital-based physicians more frequently comment on the use of EHRs to feel more prepared for the clinical encounter, while office-based physicians more frequently comment on alteration of workflow and the depersonalization of relationships. Our findings can be used to shape interventions to improve how EHRs are used in inpatient settings and to tailor those interventions to specific specialties, with the end-goal of improving both physician satisfaction and patient experience," the researchers wrote.
In the Brown University article, study co-author Rebekah Gardner, M.D., an associate professor of medicine at the Warren Alpert Medical School and a senior medical scientist with Healthcentric Advisors, noted that federal "Meaningful Use" standards have vastly expanded the amount of information that doctors must capture, and that studies have shown that the burden of meticulously filling out electronic health records is a major cause of physicians experiencing burnout.
"Physicians who are burnt out provide lower-quality care," Gardner said in that article. "What this speaks to is that we, as physicians, need to demand a rethinking of how quality is measured and if we're really getting the quality we hoped when we put in EHRs. There are unintended consequences of measuring quality as it's currently being done."