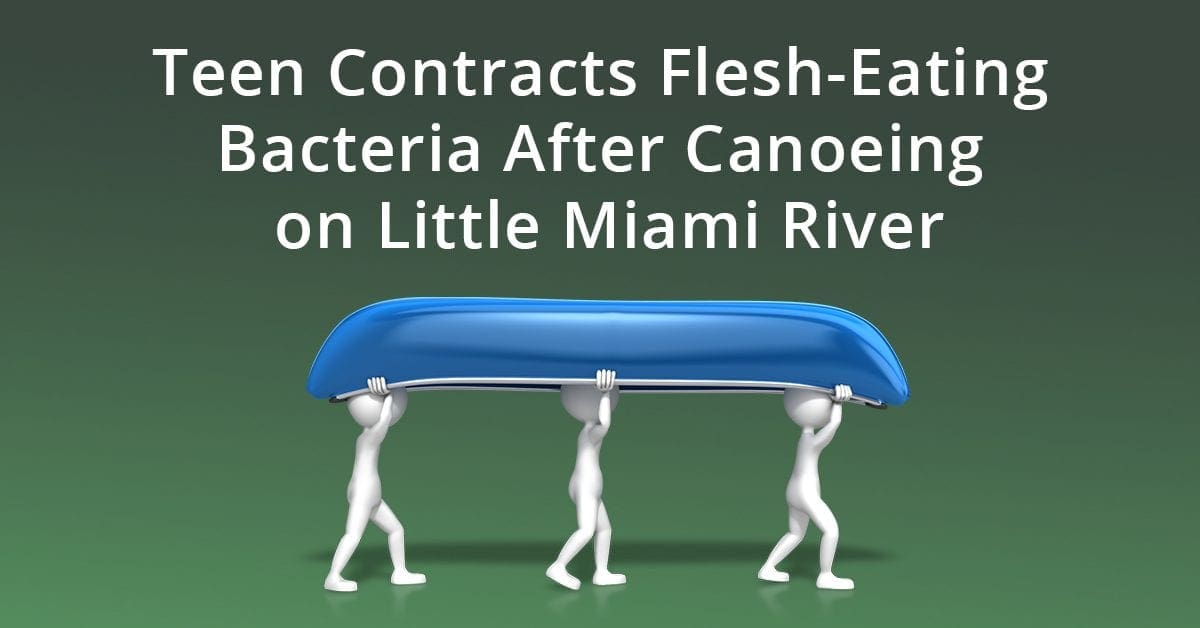 By Jessica Schmidt for Fox 19
WARREN COUNTY, OH (FOX19) – A local teenager is recovering from what medical records show was diagnosed as a flesh-eating bacteria after the teen canoed on the Little Miami River.
Kayley Coletta, 16, said she and her boyfriend spent time on the Little Miami River in June.
At the time, Kayley said she had a sore on her leg, so she covered it with a bandage and thought she would be all right. Following the trip, she said she changed the bandage several times and didn't notice anything unusual until three days later. She developed a headache, fever and swollen leg.
"She took the bandage off, and when we saw what the sore looked like, it was black, almost gangrene, we knew it was more serious than we thought," said her mother, Kathy Coletta.
The family said they ended up at Cincinnati Children's Hospital.
Medical records show doctors diagnosed it as group A Streptococcus Necrotizing fasciitis, a severe bacterial infection commonly known as "flesh-eating bacteria."
It's the same bacteria, per health officials, that often causes strep throat, but this time it was attacking Kayley's leg almost to the point of amputation.
"It was terrifying. The doctor had told her and told us that if we had waited for 24 more hours, she would not be with us today," Kathy said.
After three surgeries and eight days in the hospital, Kayley said she is starting her recovery and will soon be getting a skin graft.
Kayley and her mother said that right now their focus is on alerting other people about what happened so that they know to take extra precautions before getting wet.
"It does happen. I didn't think it could happen, but it did, and it was scary," Kayley said.
Kayley said she was recently diagnosed with an autoimmune disease, and she said that her doctors told her that put her at a higher risk of getting the infection.
The Ohio State Health Department said that they do not have any official reports of the bacterial infection, but said that not all cases are reportable.
FOX19 NOW reached out to Cincinnati Children's Hospital for more information on the case.
If you have any open sores or if you have a weak immune system, medical officials recommend being cautious in bodies of water.
To learn more about the flesh-eating bacterial infection, such as symptoms, ways to protect yourself, or more information, visit the Centers for Disease Control and Prevention's website.