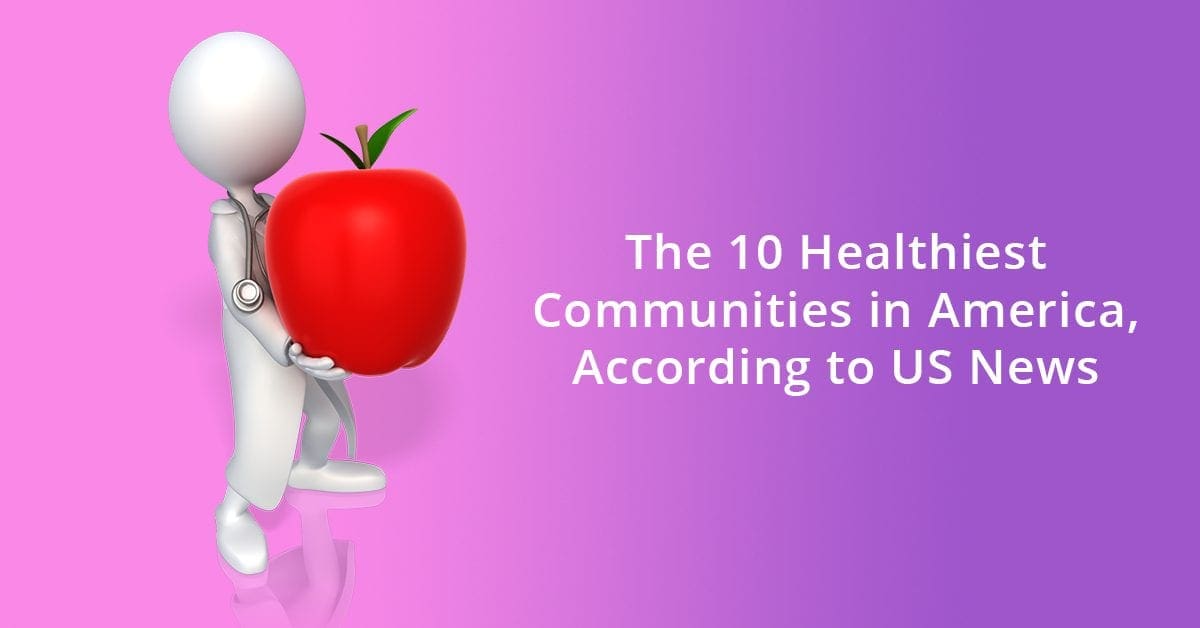 From Advisory Board
Los Alamos County, New Mexico is the healthiest community in the United States, according to U.S. News & World Report's 2020 Healthiest Communities Rankings, which lists counties and county equivalents that score highly on 10 health-related criteria.
Methodology
For the rankings, U.S. News and the Aetna Foundation evaluated and scored around 3,000 U.S. counties and county equivalents in 10 categories that the National Committee on Vital and Health Statistics considers to be key factors in community health:
Population health, weighted 14.1%;
Equity, weighted 12.2%;
Education, weighted 12.2%;
Economy, weighted 11.1%;
Housing, weighted 9.5%;
Food and nutrition, weighted 8.8%;
Environment, weighted 8.6%;
Public safety, weighted 8.5%.
Community vitality, weighted 7.6%; and
Infrastructure, weighted 7.5%.
Each county was scored on a scale of zero to 100 in each of the 10 categories. To calculate the overall score for each county, researchers took a weighted average of the subcategories, calculated in consultation with industry experts. Researchers used that score to identify the top 500 healthiest communities.
The healthiest communities in the US
The top 10 healthiest communities in the United States, according to U.S. News, are:
Los Alamos County, New Mexico;
Douglas County, Colorado;
Falls Church City, Virginia;
Broomfield County, Colorado;
Routt County, Colorado;
Loudoun County, Virginia;
Pitkin County, Colorado;
Carver County, Minnesota;
Summit County, Colorado; and
San Miguel County, Colorado.
For complete rankings, including a list of the 500 healthiest communities in the United States, click here.
How the 'Healthiest Communities' responded to Covid-19
Alongside their rankings, U.S. News published an editorial detailing how some of the communities listed on their "Healthiest Communities" rankings responded to the new coronavirus epidemic.
Morris County, New Jersey, for example, which ranked 22nd on the list, has seen more than 800 deaths related to Covid-19 and about 7,500 cases as of early September.
John Bonanni, an administrator for Morris County, said he met in March with the county's emergency services departments to establish a distribution plan for personal protective equipment (PPE) after it became clear that the virus was likely to travel from New York City to nearby Morris County.
According to Bonanni, by mid-April, hospitals in the county were short on ICU beds and equipment. "Our health care system was on divert because they had no ventilators left," he said. "I thought, 'Where the heck are all those people going to go?'"
Bonanni said he's assuming the virus is coming back to Morris County, which is why the county has stocked up on PPE and has EMS units prepared. "None of us have stopped preparing for the next wave," he said.
Meanwhile, Teton County, Wyoming, which ranked 16th on the list, has seen fewer than 500 Covid-19 cases as of early September and just one death.
Part of that is thanks to early action from officials like Jodie Pond, the county's director of health. Once the first case of the new coronavirus appeared, Pond and colleagues quickly implemented orders limiting gatherings to members of the same household and requiring high-risk adults to stay home.
"We closed down all three of our [skiing] resorts and asked people to go home," Pond said. "We lived in a bubble—nobody came in, and nobody left."
By the middle of April, infections in Teton County dropped precipitously, U.S. News reports, but in July, cases surged to new daily highs before coming back down in August.
For now, Teton County is working with a basic public health approach, Pond said. "The whole country has to get on board with public health," she said. "It's not going to be this bad forever. We all have to make sacrifices" (U.S. News & World Report, "Healthiest Communities Rankings 2020," accessed 9/23; U.S. News & World Report Healthiest Communities Rankings 2020 methodology, accessed 9/23; U.S. News & World Report release, 9/22; Williams, U.S. News & World Report, 9/22).