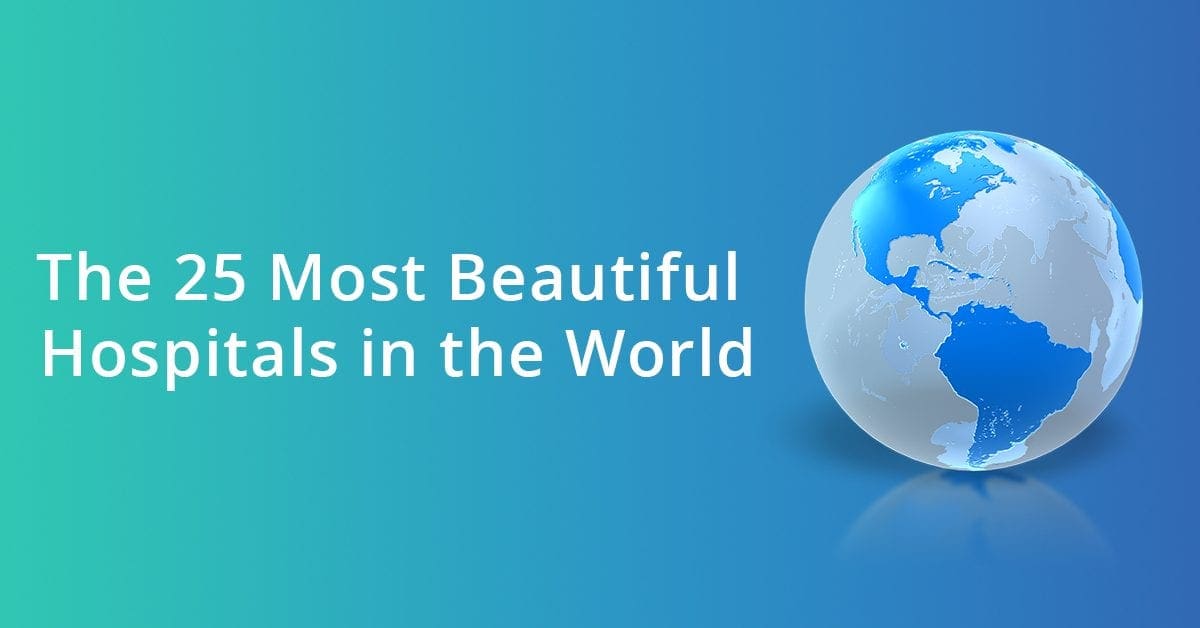 Renee Cocchi for Healthcare and Business for Technology
Hospital architecture and designs have transformed over time,  from the once sterile white walls and stark decor to vibrant colors and eye-catching materials on the interior and exterior. The elements in today's best designs have been proven to improve patient care.
Depending on the type of building, tying in elements of style and flair may be harder than expected. Hospitals  are one type of building where functionality and design must go hand-in-hand. In developing this list of The 25 Most Beautiful Hospitals in the World, we considered interior and exterior features and their health-promoting qualities. Designs including warm woods and nature-inspired elements, soft color schemes, and exterior facades designed with regards to their natural settings placed these facilities on the list.
The most beautiful hospitals span the globe,  including facilities in the United States, Austria, Thailand, Panama, Switzerland, China, and others – evidence that health-focused design has no boundaries.
Here are the 25 most beautiful hospitals in the world:
25. Forest Park Medical Center

Location: Dallas, TX, USA
Size: 84 beds
Website: Link
Recently expanded, the Forest Park Medical Center in Dallas offers many upgraded, state-of-the-art amenities and a beautiful design. In addition to the added 14 operating rooms, 48 private patient beds and 12 ICU beds, the expansion also includes a Class A, 6-story, 130,000-square-foot medical office building. The interior includes spaces with auditorium-style seating, modern lounge areas, floor to ceiling glass walls, and cool tones to give the building a modern feel. Patient rooms are warm and comfortable, utilizing elements like hardwood floors, large windows, and sleek finishes to make a patient's stay more like a luxury retreat than a recovery period. The modern design flows out to the exterior, where there are areas for drive-thru banking, restaurants, pharmacy and other retail opportunities to make this more than just a hospital.
24. Sumner Regional Medical Center
Location: Gallatin, TN, USA
Size: 155 beds
Website: Link
This 155-bed hospital is attractive to the eye on the inside and on the outside. The interior is finished with comfortable leather lounging chairs, marble accents, and entertainment-style televisions to allow patients and their visitors to feel at home. With careful consideration to the use of glass walls, the hospital also keeps a warm and inviting environment by their balance between natural and artificial light. On the exterior, a high glass tower takes center stage and is surrounded by a mix of glass and other warm materials. Lush landscaping completes the design, and is tended to by a in-house landscaping and maintenance staff.
23. Rudolfinerhaus
Location: Vienna, Austria
Size: 156 beds
Website: Link
This hospital is set in a quiet residential neighborhood, and its architectural design fits in perfectly with the surrounding buildings and homes. The exterior landscape complements the design, with lush and tended-to greens and shrubbery that invite patients and guests to spend free time outdoors. With the feel of a luxury hotel on the interior, patients can experience a peaceful and relaxing recovery time, and often remark that they feel more like a "guest" than a patient. Rudolfinerhaus has over 100 stylishly furnished private and semi-private rooms, with a total of 156 beds in 7 care units.
22. Carilion Roanoke Memorial Hospital
21. Hospital Punta Pacifica
Affiliated with Johns Hopkins Medicine International, this hospital has been recognized as one of Central and South America's most advanced medical centers and is a top destination for Medical Tourism. Facilities include 51 modern and private rooms, 11 suites and 1 presidential suite, all specially designed to promote and enhance rapid recovery. The setting of the hospital adds to its appeal, as it sits along the Pacific Ocean in one of Panama City's most prestigious neighborhoods. Light and dark contrasting materials allow the eye to be pulled in to its horizontal exterior design, where glass and concrete come together to create beauty near the sea.
20. Medical University of South Carolina Ashley River Tower
19. Prince of Wales Private Hospital
18. Providence Alaska Medical Center
Location: Anchorage, AK, USA
Size: 371 beds
Website: Link
17. Klinik Hirslanden
16. Community Hospital of the Monterey Peninsula
Situated on the California coast overlooking the Pacific Ocean on environmentally protected land, this hospital's description alone is enough to invite any potential patient into the facility. The redesign of the building in the early part of the millennium was intended to adhere to the design intentions from the original architect, Edward Durell Stone, with low, striking roof lines and natural lighting throughout each public space.
15. Legacy Salmon Creek Hospital
14. Clemenceau Medical Center
13. Dixie Regional Medical Center
12. Winnie Palmer Hospital for Women & Babies
11. St. Luke's Medical Center
SLMC has received international accreditation and is recognized as one of the best hospitals in Asia and the entire world.  As such, it regularly receives patients from around Asia, Micronesia, the Middle East, Europe and the United States. This hospital holds 650 patient beds, with almost half of those available as fully-furnished, private suites with televisions and other modern conveniences to make every visit as comfortable as possible.
10. Children's Hospital of Pittsburgh
9. The London Clinic
8. St. Rose Dominican Hospitals
7. Bumrungrad International Hospital
6. UPMC Hamot Women's Hospital
5. The City Hospital
4. Florida Hospital Waterman
3. Matilda International Hospital
2. Henry Ford West Bloomfield Hospital
1. Sharp Memorial Hospital